What Does Hands-On Parenting Look Like Today? 8 Dads Show Their Version

Nothing really prepares you for parenthood.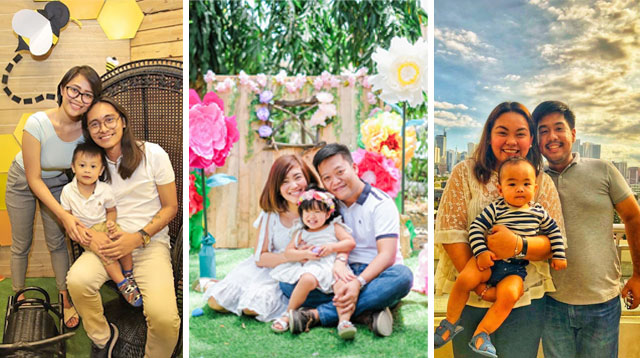 Whenever people say that my daughter Monica, is bright, talkative, and can confidently play on her own, even at a young age, I would always say "that's because her daddy is so patient in playing with her and in teaching her." They will credit me because I am a stay-at-home mom, and I look after my daughter 24/7, but I will always correct them and say, "Daddy nya talaga ang magaling dyan."

I cannot take credit for my daughter's love for books and learning — it's really her dad who's on top of all of these. And I love how my daughter clings to her dad because it's the result of my husband's love and affection. I count myself lucky that I not only have a responsible and loving husband, but he also happens to be a hands-on and present father.

Here are a few more good men like him.

What other parents are reading

Fatherhood made him want more in life

 

Bryce Larrosa is a proud work-at-home dad for two years now.

ADVERTISEMENT - CONTINUE READING BELOW

Bryce Larrosa and his wife Omni couldn't find a reliable and trusted yaya to look after the kids, so they decided he needed to resign as an investment training manager and stay home with their kids Zia, 6, Zela, 4, and Zed, 1.

Being with his kids almost 24/7, attending to their needs, calming when they're sad and fussy, feeding when hungry, and a whole lot more, made him realize the importance of a father's role in a kid's life.

"Many of the issues of the youth of today boils down to one thing — fatherlessness. They are at a loss because they didn't have their fathers guiding them while they were growing up," said Bryce.

When he found his wife was pregnant the first time, Bryce vividly remembers still how he kept telling himself that he will do everything to give their family the life they deserve.

He said, "Back then, tutulo yung ulan sa bubong ng maliit na kwartong inuupahan namin. Sakto pa talaga sa tummy ni wife yung tulo. Tapos babaha, and a friend of us would offer for us to stay in their condo. Habang lumalakad kami sa baha ni Misis, I would tell myself that lilipat kami ng bahay 'pag lumabas na si baby. True enough, we were able to transfer to our first condo and started living a somehow decent and comfortable life."

What other parents are reading

He hopes to raise daughters who know a man should treat a woman vice versa

Fatherhood made Geoff realized he needs to work extra hard because he now has three ladies relying on him.

ADVERTISEMENT - CONTINUE READING BELOW

Recommended Videos

It was one of the trips to the grocery when Geoff Zulueta realized his life has indeed changed now that he's a father to two kids, Bella 3, and Eliza, 1.

"We went to the grocery and instead of buying chips and chocolates we bought diapers, baby wipes, and other baby stuff."

He wants to provide the best future for his family, and it means being a present and available father who is as active as his wife Dette when it comes to child-rearing.

He has no problem preparing the milk at dawn, preparing the baby bag, buying milk, water, baby snacks, and other supplies in the grocery. Whenever he gets home from work, he plays with his daughters where Bella is likely to show her latest dance moves while he carries Eliza.

What other parents are reading

Being a father made him more in touch with his emotions

Kyle says, "A lot of studies show that a child with an involved dad is emotionally secure, confident about their roles, and have better social connections."

ADVERTISEMENT - CONTINUE READING BELOW

Fatherhood made Kyle Lasalita start a blog and promote hands-on parenting. "Our role in the parenting dynamic is equally important with our partner's role. I cam from a broken family, I have a first-hand experience of how it is to grow up without an involved parent. I want to prevent other kids my son included from experiencing this."

Kyle distinctly remembers the day he was called in the operating room, and the nurse showed him Joaquin, now 3. He had been overwhelmed with joy and fear that parenthood usually brings, and it took him several months before he overcame those feelings.

"I'm now more intentional with the things I do because I know that my son is always watching me. I started cultivating stronger relationships with family, friends, and even with my partner."

What other parents are reading

Life came full circle with fatherhood

The moment RJ held his daughter made him realize his life had changed forever. "Eto na talaga, tatay na talaga ako, may anak na ako at ang ganda nya."

ADVERTISEMENT - CONTINUE READING BELOW

Both RJ Camacho and his wife, May, work on weekdays so whatever time is left for them every night and the whole weekend it is spent their daughter, Lucia, 2. He wants to be there each time their daughter tries new things. "She will not remember all the toys we buy for her, but she will always remember how we play and laugh together."

Since his daughter's birth, routines were altered, and all his priorities changed, including the way he thinks and decides on things. "The things we want can always wait as long as we can provide everything our child needs. Everything changed for the better. My life came full circle."

What other parents are reading

Reality hits you strong when you are a dad

On parenthood, Seph says, "It makes me think twice before I say a word, makes me think thrice before I act, and makes me love more than I thought I ever could."

ADVERTISEMENT - CONTINUE READING BELOW

Seph Serrano, husband to Iam and father to Himig, 5, believes a dad's role is equally important as the mom's — no one is better than another and it should always be a joint effort.

"I personally can't see myself doing all of the work without any help. I know I can only do so much for Himig and I can see my wife can also only give as much. As parents, my wife and I both try to fill in the gaps as much as we can."

When his wife, Iam, went back to work, Seph took care Himig on his own for a time. "I changed diapers, gave baths, prepared thawed breast milk and/or food, sang lullabies, put her to sleep, and many more — I did it as well when I went back to work." That time with his daughter, "I truly felt that "totoo na' to, tatay na ako." 

Seph still read and sing Himig. They do pretend plays, and this time, it's the preschooler who directs and does the storytelling. "It's always an amazing experience for me when we do pretend plays. I get to take a peek of what my daughter's world is like, and I'd say her imagination amazes me every single time."

What other parents are reading

The many ways you show your love as a dad

 

Fatherhood taught Cristian to be patience and to be much more responsible, joking, "Di na iinom sa labas…sa loob ng bahay na lang lol!"

ADVERTISEMENT - CONTINUE READING BELOW

 

All Cristian Avenido could say was, "April Fools pa ba?" His wife Roma had just shown him the positive result of the pregnancy test on April 3. He went back to bed and closed his eyes, but the reality was kicking in fast. He got up, hugged and kissed Roma, and from that day on, their lives changed forever. 

Cristian grew up with a father who worked abroad, and they only got to see each other one to three months in a year. But Cristian did not mind that his dad would miss special occasions. In fact, he idolized his father and chose to become a seafarer as well. 

When Arella was born, now 5, Cristian thought he thought he would be fine when he missed events and milestones in his daughter's life. But not being there guide and protect her made him feel was not being a father. 

"I am her father, but I didn't know much about her. It feels incomplete for both of us. And I think the best way to cope with that is if I am with her, physically, every day. It must be God's plan that I stayed longer.

"I got to see my wife gave birth to my second child (Venhea, now 7 months), and I am now watching her grow. I take good care of my wife and kids and will celebrate more special occasions together. I think this is better."

What other parents are reading

Fatherhood made him hopeful about the future

 

Charles saw life in a different light when he became a dad.

ADVERTISEMENT - CONTINUE READING BELOW

 

Charles Joseph De Guzman embraced fatherhood when his son, Franco, now 1, was born, but he only realized the depth of what it meant the first time he bought his son's formula milk. It redefined what the future meant for him and gave him a glimpse of what life can still offer.

As a dad, Charles makes sure he spends quality time with Franco, he tries to go home early so he can play with him; read him stories (he even bought a Star Wars storybook trying to influence him of his favorites); and as a teacher, he always interjects lessons in every story even at Franco's young age.

Being a parent changes you

 

Like most first-time dads, Marvin wondered if he could really raise a child well.

 

Marvin Despi was stunned and happy when he first saw his daughter, Summer, now 3, in the nursery room. But he was also scared — what did he know about raising a kid?

ADVERTISEMENT - CONTINUE READING BELOW

But fatherhood made him more responsible than ever. He's a hands-on dad who loves to play, eat, sing, pray, and do everything with Summer. When the yaya isn't free on a workday and his partner Alfie Saniel, cannot take a leave from work, Marvin stays home with Summer.

"In my honest opinion, kids are braver in everything when they're with their father. Fathers play and at the same time discipline their kids — we give balance in their life."

Din Real Bautista is a proud fulltime homemaker. Most of the time, she's busy raising a kind-hearted and strong human being named Monica together with the most amazing husband, Beejay. And the rest of her time, she's making sure her life is better outside social media. 

What other parents are reading

Celebrate your pregnancy milestones!


Enter your details below and receive weekly email guides on your baby's weight and height in cute illustration of Filipino fruits. PLUS get helpful tips from experts, freebies and more!

You're almost there! Check your inbox.


We sent a verification email. Can't find it? Check your spam, junk, and promotions folder.

Trending in Summit Network