Join the next Smart Parenting Giveaway and get a chance to win exciting prizes!
Join Now
A Filipino Survey Says Dads See Themselves as Directors of Fun

Dads today view their parental roles differently, and they want to spend more quality time with their kids.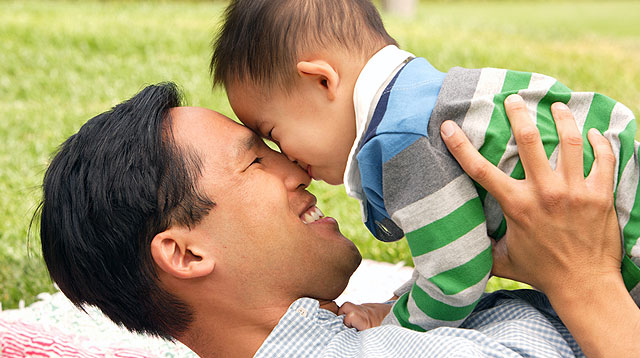 Society has always cast the role of breadwinner (and bad cop) upon the dads. However, as mothers have become part of the workforce and many fathers opting for non-conventional professions--the role of the dad is shifting as proven by this new study.

Top advertising firm McCann Worldgroup Philippines (MWG) recently released a report called "The Truch About Filipino Dads," that surveyed fathers all over the country and included one-on-one interviews with non-traditional Filipino fathers--gay dads, dads who work overseas, single dads, teen fathers, and late-bloomers or those who became fathers at a later age. The researchers also talked to psychology and parenting experts to help them make sense of their data.

More from Smart Parenting
According to the results of the survey, while many dads recognize their traditional roles as providers and disciplinarians, they feel they actually do more. They see themselves as their playmate or buddy, a teacher, and travel companion to their kids. (Friend or companion did not rank high based on their answers).
ADVERTISEMENT - CONTINUE READING BELOW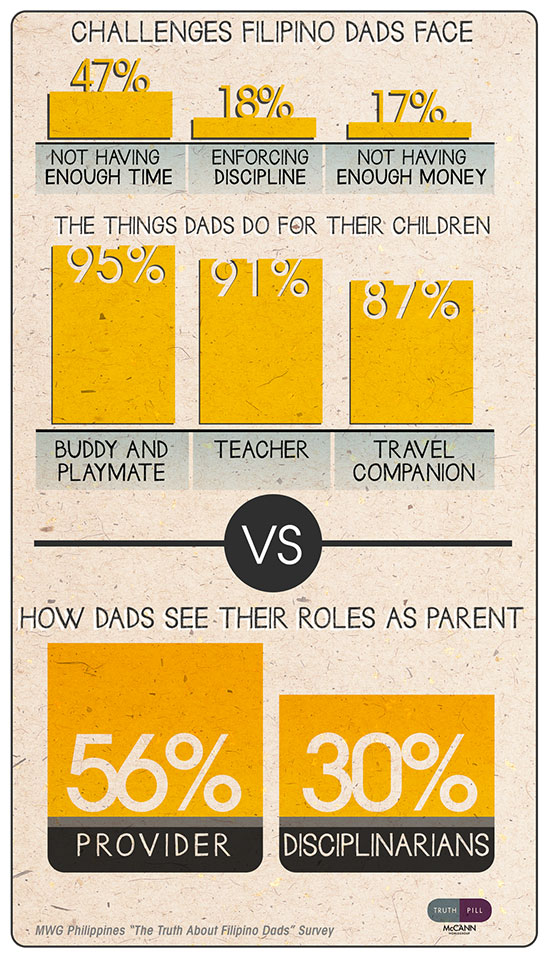 And here's something we found a bit surprising: the dads surveyed saw themselves as "directors of fun"--they decide what the family does for fun on weekends, where to eat, and which shows or movies to watch. It shows how dads now are focusing more and more on quality bonding time with their kids, especially among dads who work overseas.  

In an interview with GMA News, Mark de Joya of MWG said, "When we asked the fathers, if you had to choose between three things--happiness, success, or wealth--for their children, surprisingly, two-thirds said 'I want them to be happy.' Only one percent said that riches was important. Nag-iba na ang ambition nila for the children. Happiness ang goal nila. At kung nag-iba ang goal, obviously pati 'yung parenting style magbabago din." 
ADVERTISEMENT - CONTINUE READING BELOW
More from Smart Parenting
So, as the women fight for equality in the workforce, dads are also aiming to be of equal footing in the parenting arena. Sad to say, however, dads are still only given a week of paternity leave compared to at least three months that moms have. Online forums for dads also seem to be sparse compared to those for moms. More than 50 percent of dads would rather ask their friends or their own mothers for parenting advice.
Life's circumstances has been slowly pushing the mom and dad roles into a mush. Moms have always wanted dads to be more hands-on in raising the kids--and it's happening now. "In a 'sharenting' mindset," De Joya said, "everyone carries the load," whether you're a mom or a dad.

We think that's just great. Don't you?
More from Smart Parenting