First-Time Dad Vows to Always Be There for His Newborn: 'We'll Make Stories Together'

"Finding one happy thing that makes your day worth smiling is more important."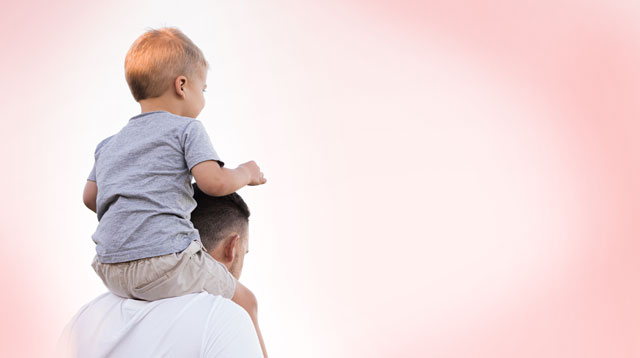 Ad Man by day and Comic Book Man by night, Budjette Tan is the writer and co-creator of the award-winning comic book series TRESE and The Lost Journal of Alejandro Pardo: Creatures & Beasts of Philippine Folklore. Seraph is his firstborn and his latest creation — a collaboration with his wife Wella.

To my dear Seraph, my blessed little angel,

Before you were born, everyone was telling us, "Get as much sleep as you can!" But then again, I normally don't fall asleep so early anyway.

I thought that my being an insomniac would come in handy during these nights, but I end up staying awake, not because of the next diaper change and not because I stay up with your mother as you demand another round of milk. After you've had your fill and you've finally fallen asleep and your mom has dozed off beside you, I stay up and watch the two of you.

Maybe I feel compelled to stay awake and make sure nothing creeps out of the dark that might do you harm and steal you away from us, like what happens in all those old stories we've been told. (Actually, sometimes I stay awake to make sure nothing gets ME and drags me off into the night while I'm snoring.) I stay awake until the sun rises and I feel safer and certain that you're okay.

As you grow up, there will be nights when you'll have a hard time going to sleep, worrying about what might come out of one of the dark corners of your room. You might be kept up by the creaking wood that sounds like something is squeezing its way out of the walls; the tree branches that scratch the glass of your bedroom window; the dogs howling in the distance. These are not things you should fear for they are stories waiting to be told.

ADVERTISEMENT - CONTINUE READING BELOW

Whatever it is you're afraid of, we can find the secret stories behind them and turn them into something not so fearsome.

Maybe the creaking wood is actually the sound of the house snoring. It is dreaming, and in its dream, it can stand on its wooden legs and explore what's around the corner.

The tree outside your room is not really a scary, old tree. It's a skyport for elves who command and steer flying ships made out of leaves. During the nights of the new moon, when the branches tap on your window, that's their last call for any additional passengers who might want to join them for a tour of the night sky.

The dogs howling in the distance are just practicing for their next big concert. They must sing and howl their best. The winner will get a chance to sing for the Great White Hound on the moon.

Every time you're in the dark and you feel afraid of the things you can't see, tell a story about it. Fill the dark with stories to help you push back the gloom. The darkness is your black canvas, just waiting to be filled with your colorful stories. Tell me about them, and we'll make those stories together.

Remember that your life is your story. Tell it the way you want it to be told and fill it with the best stories only you can tell.

As you grow older, there will be nights when you can't sleep because you feel you're in the dark about what might happen tomorrow. You might be unsure of how your story will continue, where to take your tale. You will hear stories of fortune tellers and oracles that can supposedly shine a light on what will happen to you in the future. You might hear of astrologers who claim to divine your destiny by observing the stars. What they have to say will not matter. Your future will be written by you and you alone.

CONTINUE READING BELOW

Recommended Videos

What other parents are reading

Have an end in mind and work your way toward that ending. Most people believe that their stories must end with "Happily Ever After" (which is not a bad ending as most stories go), but maybe the more important part is the middle of the story. No matter how bad your day might be, it is important not to think of it as "The End." Always remember that each day ends with a "To be Continued" and that you must continue the telling of this tale happily. Finding one happy thing that makes your day worth smiling for is more important than finding the buried treasure or the magic ring.

There will be chapters in your life that will feel like your story is just going around in circles, a manic pursuit of the next goal and the next goal and the next. On these days, you need to take a break from it all and just have fun. Do whatever you want. Then come back to your story and you'll see that you'll know what to do next.

Maybe you won't know what the next chapter will be like, but sometimes, all you need is the next line to get you going. Sometimes, figuring out the next word makes all the difference. And that'll be enough writing for the day. Get some rest. Come back to your story tomorrow and start a new page.

Anyway, I can't wait to tell you my stories, and I definitely can't wait to hear yours. We'll have so much fun making stories together.

ADVERTISEMENT - CONTINUE READING BELOW

Love,
Dad

This letter was originally published in the book Letters to My Children, a compilation of heartwarming notes penned by public figures and celebrities for their kids. The book is published by Summit Books.

What other parents are reading

Celebrate your pregnancy milestones!


Enter your details below and receive weekly email guides on your baby's weight and height in cute illustration of Filipino fruits. PLUS get helpful tips from experts, freebies and more!

You're almost there! Check your inbox.


We sent a verification email. Can't find it? Check your spam, junk, and promotions folder.
Trending in Summit Network