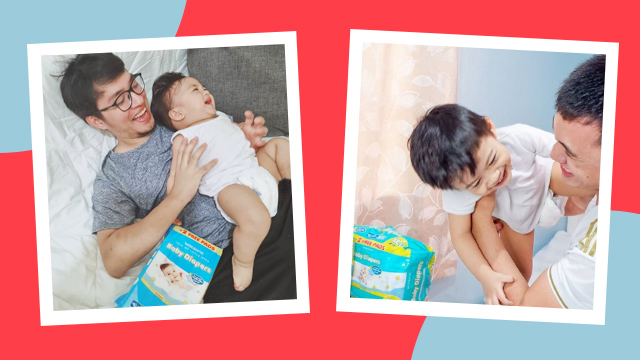 While dads are now more hands-on than ever when it comes to taking care of the little ones, changing diapers can still make them nervous.
To find out how much of an expert their hubbies have become when it comes to this specific duty, these moms tested their skill, nerve, and reflexes by asking them to take on the Watsons Baby Diapers Fathers Day Challenge.
Here's how it went down.
'Best Dad' honoree
Eliza Genito reminisces about her husband's initial struggles with changing their firstborn's diapers — "he was sweating a lot, unsure of what he was doing." But now that they have two boys, the mom knows her hands-on hubby has got diaper duty down pat, especially now that they're using Watsons Baby Diapers.
Competitive hubby
Kirstie Lagrada knows that her competitive hubby would welcome the Watsons Baby Diapers Fathers Day Challenge. "Wala talaga siyang uurungan na challenge," she says.
It's all because of his love for their daughter. "One thing that I'm grateful for, especially during the pandemic, is that Daddy has been more reliable and dependable when it comes to taking care of our little Kendall," Kirstie adds.
Great multitasker
For Shaina Santiago-Moraga, there's really nothing her husband, Jaycee, can't do — all the more when it's for their baby, Raha: "He cooks, cleans, and drives for us, and he manages to do these along with his daytime job."
But, she admits, he's still a little hesitant when he needs to change a diaper because their child did a "number 2." Good thing they have switched to Watsons Baby Diapers, which "makes the changing experience easy and pleasant."
Skilled pro
Joselle Ona's husband is no stranger to diaper mishaps, but with baby No. 2, he has now become a pro — a pro in wrestling with their child to get a diaper on!
"I asked Daddy Gene to take on a diaper-change challenge again. Tinignan ko kung keri niya ang wrestling skills na required to deal with baby boys sa diaper change," she says. "True enough para akong nanood ng wrestling! Haha! But to be fair, he still handled it like a pro."
Diaper master
For Ben, Rowy Bermudez's husband, changing diapers is "easy-peasy." She explains: "He was the very first person to change our baby's diapers, because, back then, I had a C-section. So, he did almost all the work for the first few weeks and mastered it!"
And now, her hubby even considers it an opportunity to spend quality time with their child. "Diaper-changing time is actually one of their favorite bonding moments!" says Rowy.
Diaper duty doesn't have to be difficult. To make it easy and effortless for you, your hubby, and your baby, follow in these parents' footsteps! Try it for yourself! Switch and save with Watsons Baby Diapers and find out why these moms and dads are saying that it's definitely #AChangeYouWillLove.
Watsons Baby Diapers have a snug fit, a breathable cover, and can help you avoid leakage. Get it for as low as PHP6.14 (SRP) per pad.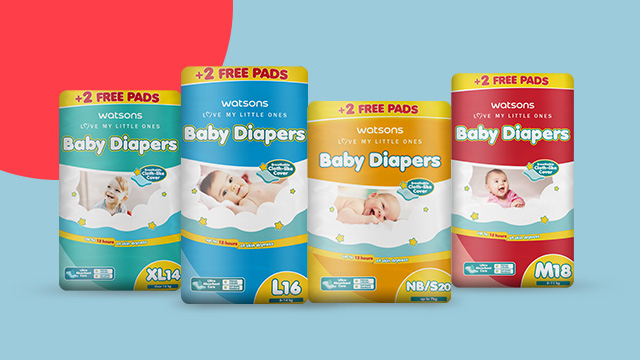 Shop Watsons Baby Diapers via the Watsons stores, website, official Lazada and Shopee stores, call and delivery service, and mobile app available on Android and iOS. Follow Watsons on Facebook.
This article was created by
Summit Storylabs
in partnership with WATSONS BABY DIAPER.