'Iba Kami Ng Boto Ng Asawa Ko': Here's Healthy Ways To Manage Election-Related Conflict

Being aware of how each one in your family deals with conflict is important so you can respond accordingly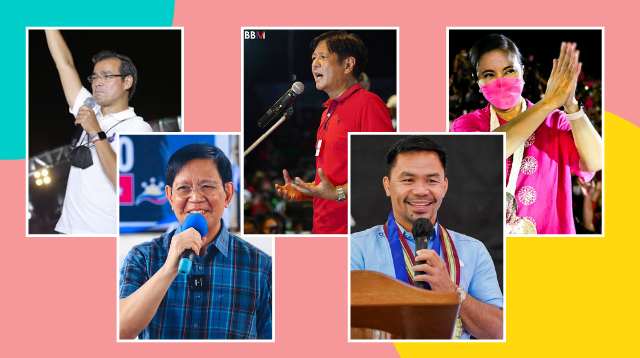 The 2022 Philippine election is only a few months away and the presidential and vice presidential race has become a hot topic within and among families.

Survey results and crowd estimates in grand rallies continue to fuel the growing animosity among loyal supporters of key candidates, making social media a breeding ground of trolls or people who deliberately provoke others online.

If internet trolls have the power to suck out energy from others, imagine how toxic it is to have someone in your own family instigating hostility and arguments. 

Unlike Facebook, Twitter, or Instagram where you can simply unfriend, unfollow, or block, it is hard to escape from family especially when you are locked down at home because of the pandemic. 

There are many reasons why family members argue about their respective candidates. Political differences can exist between spouses, siblings, parents and children, grandparents and grandchildren, and even among the closest of friends. 

While exchanging different political views is healthy, learning to deal with these types of family conflicts in a healthy way is crucial. Otherwise, it can harm relationships within and among families. 

5 ways we deal with conflict–and which one is the most ideal

There are different styles of conflict management. Being aware of how each one in your family deals with conflict is important so you can respond accordingly. 

1. Forcing

Sometimes it can happen that certain family members simply insist that they are right. It will be pointless to argue with these types because they care less about other people's point of view, much less how others feel. It is more important for these people to assert themselves than to please anyone.

ADVERTISEMENT - CONTINUE READING BELOW

If someone in your family is like this, should you waste your time and energy sharing about why you think your candidate is a better choice? Maybe it is not a good idea because you will never win without hurting each other in the process.

2. Avoiding

Perhaps as a response to someone in the family who forces their views on others, some family members choose to withdraw or become inaccessible. They just walk out of a heated exchange to avoid the conflict from escalating.

So if your spouse is so worked up already to the point of swearing or shouting, check if overlooking the difference or accepting the disagreement is a better option.

There is a saying, "if you can't take the heat, get out of the kitchen." Sometimes maintaining a safe distance from an explosive family member is wiser. This can be done by interacting less about politics or anything that can push red buttons that spark an argument. 

3. Accommodating

If you know you value good relations more than being right, then you can also opt to at least consider the other's view. If an issue is not really a big deal to you but a big deal for your spouse, to accommodate means acknowledging the opinion as important for your spouse to maintain harmony in the family. This means that you need not highlight the fact that you still feel strongly against it.

(Editor's note: To vote is the right of every citizen. Quoting the Government of South Australia Office for Women's article on 'What is suffrage', "Being able to vote is a key part of citizenship and allows each person to have their say about what is important to them and what they think their lives should be like.")

CONTINUE READING BELOW

Recommended Videos

4. Compromising

Knowing that no candidate is perfect, you may want to try to be reasonable by not asking your spouse to fully agree with your views, but make sure you get some of your views count as well. You can do this by stating facts about your chosen candidates: what bills have they passed, what positions have they held before, etc.

By simply discussing facts, you may be able to make a decision on who among the candidates for senators to include as your common candidate. The rest of the slots, you are free to pick your own.  

5. Cooperating

Ideally, family members should each be able to assert their views while also inviting others to do the same. This is the type of couples, siblings, parents and children who welcome differences, identify main concerns about candidates, generate options, while recognizing the need of the other to be respectfully heard. 

If you have major reservations about a candidate, explain calmly why you are not voting for that candidate, but take active steps to hear them out as well. 

Beyond the family, talking outside your echo chambers is a way to arrive at better options. People will not vote for those they know little about so initiate friendly conversations and suspend judgment. 

By listening to others reflectively, you are able to encourage others to be receptive to what you also have to say. The upcoming election is a crucial one for our country. Choosing the best leaders is a matter of careful discernment because our children's lives and future depend on it.   

ADVERTISEMENT - CONTINUE READING BELOW

Dr. Gail Reyes Galang is chair of the Family Studies program of Miriam College where she also teaches under the Department of Psychology. She is currently the associate director of the Center for Peace Education. Follow her on Instagram @gailfrancesgalang.

Celebrate your pregnancy milestones!


Enter your details below and receive weekly email guides on your baby's weight and height in cute illustration of Filipino fruits. PLUS get helpful tips from experts, freebies and more!

You're almost there! Check your inbox.


We sent a verification email. Can't find it? Check your spam, junk, and promotions folder.
Trending in Summit Network