Mom Writes Honest Poem About Dads Who Sleep Through The Night

You'll never guess how the dad reacted to having a poem written about his sleeping habits.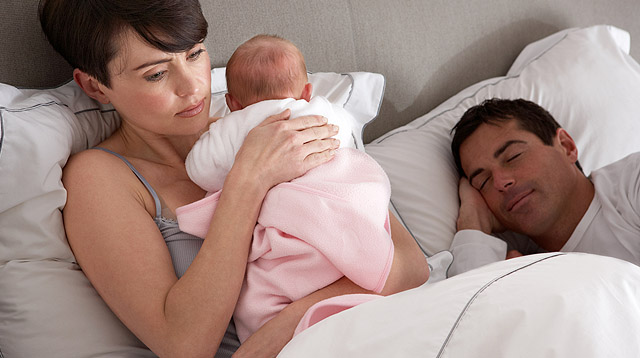 Every new mom has found herself in this situation: Awake in the wee morning hours attending to her newborn while her partner is sound asleep. If you're breastfeeding, the only way to trade in the night shift is if you've introduced the bottle. But even then, you may still find yourself awake and alone with the baby in the early hours. 

A new mom found herself in the exact situation, but instead of feeling pity for herself or getting angry at her husband, she wrote a poem. Caroline Olling Andersen was awake at 4:00 in the morning, and she produced a masterpiece of an ode to her husband who was lucky to sleep through the night. 

Caroline, a new mom who also manages the parenting blog The Mommy Poet, entitled her poem "Daddy's Asleep." Here is an excerpt of her literary piece that many moms could totally relate to. 

I love your daddy, I really do,
After all, without daddy, I wouldn't have you.
But from midnight till sunrise, it's just you and I.
And as each hour passes, I'm not gonna lie:
Mommy's love slowly fades, becomes angry and weak,
Because no matter what, your dad is f*cking asleep!"

The poem goes on to describe how mom, dad, and baby's night starts out lovely with a kiss goodnight. But every time the baby stirs for a feeding, it's the mom who acts while dad snores the night away. Even after the room smelt of baby vomit after a rather large spit-up and mom had to mop the floor and change shirts, the dad remained asleep. 

ADVERTISEMENT - CONTINUE READING BELOW

She continues that in the off chance dad notices the baby squirm, all he does is say to mom, "I think she's hungry," and rolls over back into his slumber. When mom pushes dad back on his side of the bed, he doesn't even notice mom's mad. Still, dad's slate is wiped clean as the morning comes. He slept and didn't do anything wrong, and all is well.  

Soon you'll grow up and be daddy's little girl.
You'll not remember me cleaning up sh*t and vomit hurl.
Whilst you sit on his lap and he sings you a song,
You'll love him and think daddy could do nothing wrong.
But my sweet love, here is a poem for you to keep,
So you know that all those long nights, dad was f*cking asleep.

Since Caroline posted the poem more than two months ago, in February, it has racked up more than 30,000 reactions, more than 20,000 comments and has been shared more than 16,000 times. Most of the reactions and comments came from moms tagging their partners. A lot of them found it funny, while some shamed the sleepy dad for not helping enough. 

You can read the poem in full below:

CONTINUE READING BELOW

Recommended Videos

What other parents are reading

"Truth is, we made a deal during my pregnancy that I'd take the night shift because I've been blessed with long maternity leave," Caroline told Bored Panda, defending her husband from parent shamers. She gives her husband his much-needed sleep so he would have the energy for full days of being an amazing teacher to 10-year-olds. 

Still, Caroline couldn't help but vent out her exhaustion as everything she wrote in the poem actually happened during that one night. "Tiredness will still cause you a lot of passive aggressive feelings in the early hours at night – hence my poem, which was written at 4 a.m. on a particularly tiring night," the new mom said. 

Caroline stressed that it was meant to be read with humor and love for both her daughter and her husband. "My husband is a fantastic dad. He has always brought a lot of fun and humor to our relationship, which he now also brings to daddyhood," Caroline said. When her husband read the poem, they just laughed it off together. 

"Parenthood is tough and rough and can really strain a relationship," the new mom said, adding that they always try to put their relationship above being parents. "Happy parents results in happy children," Caroline shared what her mom taught her when she got married. 

Sleeplessness has always been part of being a parent. At this time and age, when dads are more hands-on in taking care of their babies, it's crucial to agree on each parent's role or a schedule and follow through. It's not going to be perfect or easy, so don't expect it to be. But when things get out of hand, try a little laughter, creativity or a shift in perspective rather than dwelling on the negative.  

ADVERTISEMENT - CONTINUE READING BELOW

What other parents are reading

Celebrate your pregnancy milestones!


Enter your details below and receive weekly email guides on your baby's weight and height in cute illustration of Filipino fruits. PLUS get helpful tips from experts, freebies and more!

You're almost there! Check your inbox.


We sent a verification email. Can't find it? Check your spam, junk, and promotions folder.
Trending in Summit Network