Kris Aquino and her sons are back in Japan, their family's "travel addiction," not only to enjoy the sights and sounds, but also to mark the 23rd birthday of Kris's panganay, Joshua.

Besides the trip, Kris gifted Joshua with what looked like a limited-edition Rolex Pepsi watch that Josh chose himself, according to Kris. She posted this sweet message on Instagram this morning: 
"Happy 23rd birthday Kuya Josh. Bimb & I love you with every beat of our hearts. Thank you for inspiring us to always be gracious, generous, and respectful... #family"
In the comments, a netizen greeted Josh by saying, "happy birthday josh aguino [sic] salvador" which Kris corrected with a reply:
"@shaunagrant56 he is an Aquino. Birth certificate nya & year of birth was before the Revilla law."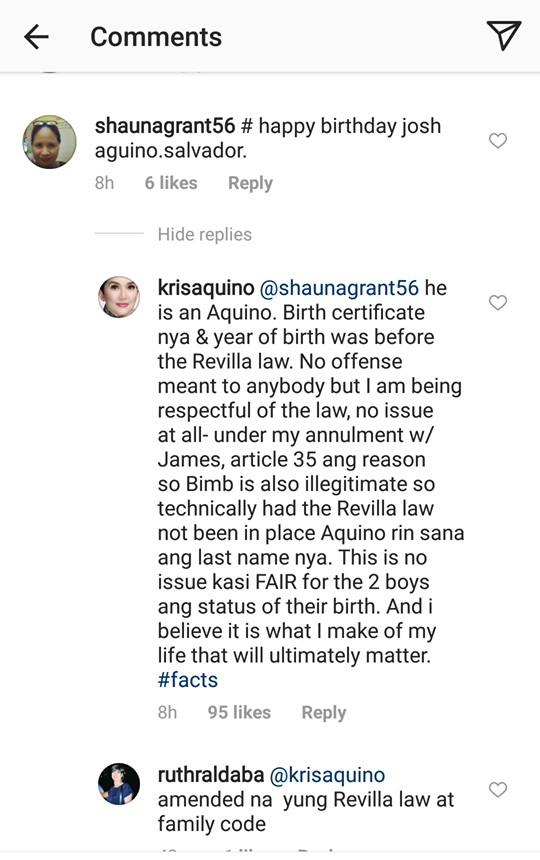 The Revilla Law that Kris mentioned refers to Republic Act (RA) 9255, which allows illegitimate children to use their father's surname if the child's paternity is recognized. It was signed into law by former President Gloria Macapagal Arroyo in February 2004 and took full effect on June 2 that same year.
Josh was born to Kris and her then-partner, actor Phillip Salvador, on June 4, 1995.
"No offense meant to anybody but I am being respectful of the law, no issue at all," she said, adding the hashtag "facts."
Kris also revealed in the same note that her younger son, James Carlos "Bimby" Aquino Yap had also been considered illegitimate, following the annullment of her marriage to cager James Yap in 2012. But the Revilla Law allowed Bimb to use Yap. 
"Under my annulment w/ James, article 35 ang reason so Bimb is also illegitimate so technically had the Revilla law not been in place Aquino rin sana ang last name nya," she explained.
Under Philippine law, children born in a marriage that was null and void from the beginning are generally considered illegitimate. 
Kris also expressed her gratitude to their family, friends, and supporters in the same Instagram post.
"Thank you for allowing me to give these 2 boys the very best of me because of your genuine love & support for the 3 of us. Admittedly i was a mom too early & under less than ideal circumstances- [Kris said in the comments that she was 23 when she was pregnant with Josh - Ed.] but God found a way for me to set my life's path in the right direction because of these 2 boys beside me."