Moving to Japan Inspired This Mom of 2 to Start a Minimalist Lifestyle

A self-confessed impulsive buyer, she decided to give away some of the things they didn't use nor need.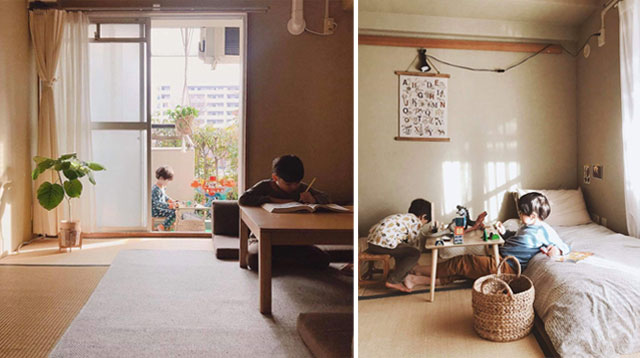 The thought of living with less can be terrifying – more so if you have children. How can you start a minimalist lifestyle if you have bins filled with toys in the bedroom or a closet full of clothes and shoes? Kat Lee, who lives with her husband and two kids in Japan, proves that it's possible to pursue minimalism even if you have growing kids.

We stumbled upon Kat's minimalist journey on the Facebook group Minimalist Philippines. Her post, which already has over a thousand reactions and over 700 shares, gives a glimpse of her family's life in Japan and how her kids are adapting to the minimalist lifestyle.

What other parents are reading

"They say living a minimalist life with kids is a challenge since having kids means the start of acquiring so much stuff inside the house. This is not the case in our household. We live a minimalist lifestyle with our kids ages 4 and 7.

ADVERTISEMENT - CONTINUE READING BELOW

"You'll be surprised to know that my kids can live without a lot of stuff, yet they never felt deprived. They only need love, attention, and time. Contentment starts with the parents. If you want your kids to grow up living a life full of meaning, pass it on to your children," she shares.

Smartparenting.com.ph reached out to Kat to learn more about her switch to minimalism and how it has benefitted her family. "For me, what makes [the] minimalist lifestyle important is appreciating what you have and the contentment you feel with the few things that you own. As a parent, I can see that it's not the things they have that makes them happy. It's going out there, playing, and being a child," Kat relates.

A self-confessed impulsive buyer

Kat shares they used to reside in South Korea, where her husband is from, before moving to Japan where they have been living for almost three years now. "Before we moved to Tokyo, I had to sell, give away and even throw away most of our belongings. That was the time I realized we had so much things in our house that we didn't use or we didn't need at all. I was an impulsive buyer. My number one enemy is the word 'sale.' I thought just because it was on sale, I needed to buy it. Well, I was wrong," she shares.

Kat's children love the outdoors, so she makes it a point to bring them to museums and parks.

CONTINUE READING BELOW

Recommended Videos

Packing for the big move became easier for Kat since she only had to bring their clothes, her kids' favorite toys, and their books. She learned that letting go can be an easy process. "It was the time I learned that material things didn't really matter. It's the things we do together as a family. This [fresh] start means you need to let go of the things you don't really need and feel contented with what you already have," she says.

What other parents are reading

The dining area is furnished with a dining set for the family. The shelf holds white storage boxes filled with the kids' toys.

In her Facebook post, Kat shares that they bring out the kotatsu table, a low wooden table frame covered with a heavy blanket during autumn and winter to conceal a heat source.

ADVERTISEMENT - CONTINUE READING BELOW

When the family arrived in Tokyo, their new house is almost empty, but it didn't pose a problem at all. In fact, Kat considered it as a positive sign. "Waking up in the morning seeing your house with a few things, neat, and organized gave me peace of mind. It's easier to clean and manage the house. That's when I realized that this is the lifestyle I wanted my family to have."

Teaching her kids the benefits of minimalism

Kat's children, Yohan and Sorin, are not materialistic, making it easier for Kat and her husband Kwangyel to embrace the minimalist lifestyle fully. "It's funny, sometimes my children are the ones reminding me to live with less. For example, we'd be out in the mall, and I want to buy them clothes or shoes. They would tell me, 'Mom, we have enough,'" Kat shares.

When not busy playing, the kids also love to draw and spend time outdoors.

ADVERTISEMENT - CONTINUE READING BELOW

Tokyo has a lot of public parks the kids can visit.

Aside from picking toys they want to keep, Yohan and Sorin got to pick their favorite books, too.

Yohan and Sorin love spending time outdoors as well. With fewer toys to play with, they can make the most of Tokyo's numerous public parks or simply play outside the house. "In summer, they would go out and catch bugs or go swimming in a public pool. I would bring them to museums, the zoo, or just simply play with sad and mud! When the weather is bad, we stay at home and like other kids, they enjoy books, watching cartoons, and drawing as well," she adds.

ADVERTISEMENT - CONTINUE READING BELOW

What other parents are reading

Decluttering as a family activity

Kat, who is also about to study to become a preschool teacher, empowers her children by asking for their help when decluttering. She asks them to sort out their belongings, encouraging them to identify what to keep and what to give away. "I think knowing what they have to say is also important. We don't randomly declutter our belongings. We discuss what can go and what can stay," she says.

Instead of a bed, the family owns a futon. Since starting a minimalist lifestyle, it was easier for Kat to clean and maintain the house.

Letting go of things they no longer need and going minimalist have multiple benefits to the whole family. While the kids discover the importance of playtime and exploring the outdoors, Kat has more time for herself and her family. "Less time and effort needed to maintain the cleanliness of the house. You spend less money, and you can save enough to travel and see new places with your family," she exclaims.

ADVERTISEMENT - CONTINUE READING BELOW

What other parents are reading

Celebrate your pregnancy milestones!


Enter your details below and receive weekly email guides on your baby's weight and height in cute illustration of Filipino fruits. PLUS get helpful tips from experts, freebies and more!

You're almost there! Check your inbox.


We sent a verification email. Can't find it? Check your spam, junk, and promotions folder.
Trending in Summit Network