Meet a Filipino Family Who Conquers Mountains With Their Toddler!

The 1-year-old has already ascended seven mountains!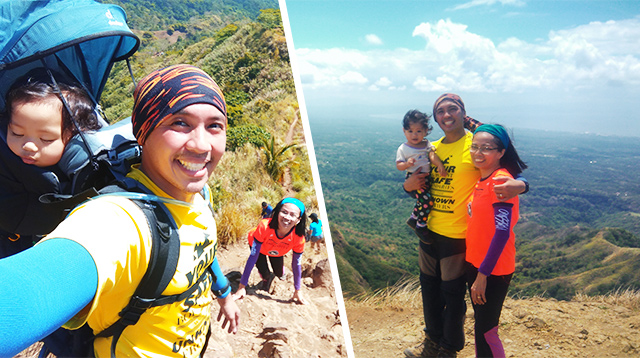 One good thing that came out of all the news about online dangers and the negative effects of screen time is the reminder that there's a whole world waiting beyond the screens. In this family's case, it's a promise of adventure up in the mountains!

A love story made in the mountains

May and Irone Boquiron met in Ateneo De Manila University and became good friends. They drifted apart after graduation until a Facebook message brought them together again.

"A high school friend invited me to an organized Mt. Pulag climb in February 2013 and told me to invite anyone else who would want to join to lessen the expenses," Irone shares in an email interview with SmartParenting.com.ph.

The one he invited contracted chicken pox several days before the climb. Since their slots were already paid for, Irone quickly scanned his list of Facebook friends to find someone willing to replace his friend at short notice.

"I found out that May was into long-distance running, so I messaged her about the climb. She quickly said yes to my invite because she was not doing anything that weekend."

It was Irone's first time to climb Mt. Pulag. May, on the other hand, never climbed any mountain until this point! After Mt. Pulag, they attended several mountaineering training sessions together, and Irone got accepted at ADMU's Loyola Mountaineers. Eventually, they became a couple and got married in 2015.

What other parents are reading

Choosing a baby over mountains

Apart from being mountaineering enthusiasts, May and Irone Boquiron love trail running and mountain biking.

PHOTO BY

courtesy of Irone Boquiron

ADVERTISEMENT - CONTINUE READING BELOW

Their outdoor lives were put on hold when May got pregnant in 2016. They thought it would be years before they could make an ascent again, but a few months after May gave birth to their daughter, Issa Margaux or Mags for short, they chanced upon the adventures of Wyatt Maktrav Bedural.

Wyatt had been climbing mountains since he was 3 years old and had scaled 26 mountains in the country with his parents (read Wyatt's Smart Parenting feature here).

"We were eager to bring Mags out, but we also had our fears," the 36-year-old father shares. "Reading about Wyatt's story empowered us that we, too, could do what they could do with the right preparations."

The couple wanted Mags to pick up their love for mountains at a young age. They started researching online about other mountaineers who brought their children to climbs. They read up on parents who brought their babies up mountains at only a few months old, but the two decided to wait for Mags to turn a year old before they introduced her to her first mountain climb.

To bring Mags along on hikes, the couple looked for baby carriers fit for mountain climbing. Luckily, they were able to find one from the exclusive distributor of Deuter, a popular brand of sports packs and bags. The carrier was expensive, but the couple viewed it as an investment that had all the features they needed.

"At the time, it wasn't available in any of their stores, so we inquired directly from the distributor. Fortunately, they had one unit left — in the entire country — so we immediately reserved it for us!"

ADVERTISEMENT - CONTINUE READING BELOW

Recommended Videos

What other parents are reading

Climbing Mags' first mountain

Irone and May bought a hiking baby carrier for Mags so she can tag along on their adventures.

PHOTO BY

courtesy of Irone Boquiron

On January 1, 2018, the family decided to make their first climb together. "May and I went to Sagada for our very first Christmas as a married couple in 2015, and we fell in love with its quaint, peaceful, and natural atmosphere. Mt. Ampaco was also our first day hike as a couple, and we decided that it would also be the perfect first hike for Mags," Irone shares.

They couldn't have chosen a better time and place for Mags' first ascent. The air was cool and there were a lot of trees on the trail, so it provided protection from the sun and prevented their daughter from getting dehydrated. Mags also enjoyed getting down on the ground and playing with grass!

Of course, climbing a mountain with your toddler in tow had its fair share of challenges. They brought all of Mags' baby essentials — several diapers, facial tissues and baby wipes, water and snacks, a few sets of clothes, sunblock, and insect repellant, among others. The couple was not used to bringing so much, but they all were important to make their baby safe and comfortable during the trek.

The couple also had to hike more slowly with their little one in tow. "She could not yet speak then, so we constantly observed her for any signs of hunger, boredom, pain, and sleepiness," Irone says. "She was an exclusively-breastfed baby, so we had several 'dodo' stops along the trail. It took us almost forever to finish our hike but because of this experience, we saw and knew that Mags was going to enjoy the mountains as much as we do!"

ADVERTISEMENT - CONTINUE READING BELOW

What other parents are reading

Mountain adventures with a toddler

Apart from day hikes, Mags also got to experience camping overnight and sleeping inside a tent at Mount Purro Nature Reserve in Antipolo, Rizal.

PHOTO BY

courtesy of Irone Boquiron

From their successful day hike, Irone and May planned an overnight camping trip in a controlled environment next. For their second trip, they availed of a camping package at Mount Purro Nature Reserve.

Apart from sleeping in a tent, Mags loved the big field where the family camped and was in awe of the many stars she saw at nighttime. "These were impossible to see on polluted Metro Manila skies," Irone notes.

Since that first hike, Mags has conquered seven mountains with her parents, including Mt. Ampacao in Sagada; Malvar's Peak at the Mount Purro Nature Reserve in Antipolo, Rizal; Mt. Batulao in Batangas; Buntot Palos Falls in Laguna; Papaya River and Tarak Ridge Trail in Bataan; Mt. Tapyas in Coron, Palawan; and Mt. Balagbag in Rodriguez, Rizal.

ADVERTISEMENT - CONTINUE READING BELOW

Mags usually falls asleep during hikes as she is lulled by the rocking motion of the carrier and the cool wind up the mountains.

PHOTO BY

courtesy of Irone Boquiron

According to Irone, each hike they've gone to presented different challenges, but the couple makes sure to only climb mountains that they've already hiked previously. Being familiar with the trail helps with the technical aspects of conquering the terrain, like stepping on stones or rocks, and ascending steep slopes.

Mags' safety is also their top priority. "We make sure she's comfortable even when it's hot, that she's never hungry or thirsty, and we always bring our essentials for every climb," Irone shares. They would even bring some of her favorite toys to keep her from getting bored.

The couple also keeps themselves fit and healthy and ready for hikes. "We do regular training runs and workouts, especially me since I'm the one carrying our daughter in the baby carrier," Irone says.

What other parents are reading

ADVERTISEMENT - CONTINUE READING BELOW

The benefits of bringing your toddler outdoors

Irone credits mountain hiking for Mags' strong immune system and physically fit body.

PHOTO BY

courtesy of Irone Boquiron

Bringing their toddler along on climbs definitely raised a few eyebrows. Both Irone and May's parents expressed their apprehension and wanted the couple to wait until their daughter was 3 or 4 years old before taking her up a mountain. Fellow mountaineers also argued against it in Facebook groups, but the couple believed that they prepared the whole family well enough before taking on any hike.

"It's never too early to start her young and after researching, choosing the right mountain, and preparing our bodies, the only thing left was for us to actually do it. And so we did," Irone shares.

Since they started going on treks, Irone and May observed the following in their daughter:

1. Mags developed a stronger immune system.

ADVERTISEMENT - CONTINUE READING BELOW

"Unlike babies her age that we personally know, Mags has not contracted any serious illness so far. Maybe because of the fresh air she can breathe in the mountains?"

2. Their daughter's body became stronger.

"Mags' legs are already shaped like a seasoned runner. There are times she wants out from her carrier and walk, sometimes even run, on her own. She also loves hanging from the monkey bars in our village, so she has upper body strength. Also, because of the uneven terrain, Mags already knows how to balance herself while stepping on rocks, whether it's up on the mountains or just playing in our village playground."

What other parents are reading

Since Mags is exclusively breastfed, they have to make time for many breastfeeding sessions during the hike.

PHOTO BY

courtesy of Irone Boquiron

3. Their daughter loves outdoor play.

"Yes, we admit that Mags is permitted screen time but every afternoon, she would always tug on my hand and ask to go outside and play. She loves playing in our village playground and doesn't mind picking up rocks and soil with her bare hands to play with them. We are okay with her getting dirty — in the outdoors, it's inevitable to get soiled, so we like that she's getting used to it at an early age.

ADVERTISEMENT - CONTINUE READING BELOW

"She might not vividly remember the experience when we hike, but whenever we show her pictures, she will always smile with glee. Whenever I clean our hiking carrier, she would squeal and ask to be put inside. We hope she's remembering the feeling of being carried by Daddy, the heat of the sun, and the coolness of the wind."

Mags is not the first toddler to climb mountains, but she still manages to amaze other hikers who would see her at rest stops. Irone and May do hope that they get to meet other parents like them on treks, but for now, they are just taking their time.

"We don't rush climbing mountains with Mags just to be able to brag that she has climbed mountains. The mountains have been, and will always be there, for us and for other mountaineers."

Irone and May secretly hope that Mags would also grow up to love trail runnng and mountain biking just like her mom and dad.

PHOTO BY

courtesy of Irone Boquiron

ADVERTISEMENT - CONTINUE READING BELOW

What other parents are reading

Celebrate your pregnancy milestones!


Enter your details below and receive weekly email guides on your baby's weight and height in cute illustration of Filipino fruits. PLUS get helpful tips from experts, freebies and more!

You're almost there! Check your inbox.


We sent a verification email. Can't find it? Check your spam, junk, and promotions folder.

Trending in Summit Network