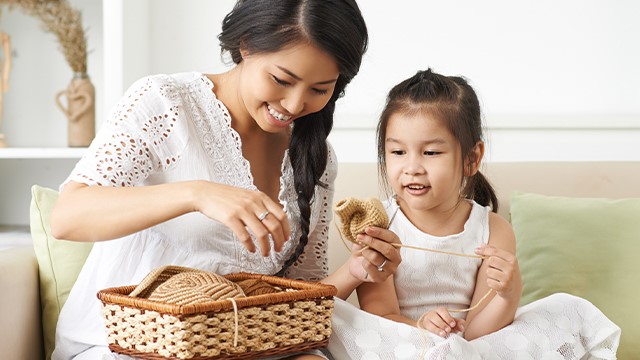 While experts say there are three distinct parenting styles (authoritative, authoritarian, and permissive), parenting actually boils down to each parent's brand of "diskarte." After all, no family is the same from circumstances to backgrounds to needs. And the way we have been raised will influence how to bring up our kids.
This, perhaps, is what some people often forget. Moms continue to receive unsolicited advice on the way they raise their kids—be it from a well-meaning family member to even a complete stranger.
Rafi Sartin and Chel Laygo are two moms who have experienced this. Here's how they dealt with them.
Raising an independent kid
A work-at-home mom, Rafi manages her family's catering business while taking care of 2-year-old Romulo and husband Christian. She practices the Montessori Way as her parenting style. It's a popular method that uses "Practical Life Work" to help kids become self-reliant and critical thinkers.
[ads:4]
Rafi says: "Noong pinagbubuntis ko si Romulo, follower ako ng [isang celeb mom] sa IG. Montessori din ang style ng parenting niya. Ang galing kasi independent talaga 'yung bata 'pag lumalaki, so 'yun ang in-adopt ko."
She counts herself lucky because Romulo is generally well-behaved, unless "inabutan ng sumpong." When that happens, she reminds herself not to panic.
"Kinakausap ko [siya] nang mahinahon na aalis na kami, babalik na lang kami… or [as] a last resort, binubuhat ko na at nilalayo sa reason ng tantrums niya," she explains.
The mompreneur said it's her own mom who mostly comments on the way she raises Romulo. Her mom notices that she allows him to make a mess at home.
Rafi points out, "Pero usually sa kalinisan, kasi kapag Montessori, hahayaan mo lang magkalat, 'di ba? 'Yun lang naman ['yung comment] kasi 'di naman nila halata na Montessori ['yung method]."
[ads:9]
Asked about what she learned from juggling work and mom duties, Rafi shares: "Parenting styles vary, depende sa parent, child, and circumstances. Walang one-size-fits-all, kahit Montessori pa. So unless in harm's way 'yung bata or [it's] obviously child abuse, I stop myself from commenting kasi anak nila 'yun, e. Your child, your rules."
Raising caring, respectful children
Rose Ann Esguerra-Narciso is a SPED teacher in a private school in Quezon City. She has three kids: 6-year-old Alnea, 2-year-old Aavery, and 1-year-old Randall.
A hands-on, disciplinarian parent, Rose Anne gets her children involved by setting rules because in doing so, she can easily explain to them the things they did wrong.
She says this technique brought her kids closer and more open about their feelings to her. She has observed that they've become more caring and loving, too.
Whenever any of them begins to throw tantrums at home or in public, Rose Ann wisely responds by calming herself down.
[ads:15]
She explains, "It is important you are calm in dealing with your child's emotions, or else you will find yourself shouting or badmouthing [them]. Then, I hug them. Trust me, it works."
Rose Ann lets her children cry or whine, and only interferes if they are already physically hurting someone else. "If that's the case, I will put them in one corner," she says.
As soon as her kids are calm, Rose Ann talks to them "to let them see what they did [wrong] and make them realize what they should have done instead." Sometimes, she also waits to have their talk after "family time," when everyone gathers in bed to have a midnight snack or read a storybook.
While her parenting style works for her children, others see it as "too strict."
"I'm just lucky my husband and I agreed on how to do it. We talk a lot. We both want our children to enjoy life but also know how to show respect," she says.
[ads:20]
Rose Ann says she appreciates it when people tell her she's doing a good job. One time, someone told her, "Hindi ko alam kung paano mo kinakaya, pero saludo ako sayo. Ang galing mo."
As for the most important thing she has learned so far, the mom of three says: "Your children will always remember how you made them feel. Show love and respect to [them], and they will do the same to you."
Rose Ann encourages other moms to "focus on your children."
"Make time to play. Listen to their stories. Forget about what other people think about your parenting style. Pray for God's guidance in bringing up your children in a righteous way," she says.
Moms, remember, your goal is to continue being the best parents you can be for your children–no matter what parenting style you ascribe to and what other people may say about it.
[ads:25]
Just as you have adjusted your parenting style to your kids' needs, make sure to adjust their diet to suit the right daily nutritional needs for their age. Give them age-appropriate meals and milk to help them develop healthy minds and bodies.
Toddlers and preschoolers, in particular, are curious, adventurous, and independent, so they would need extra protection. NIDO 3+ is formulated with nutrients for the brain, digestion, and growth of kids ages 3 to 5. It's the only growing-up milk that contains Lactobacillus Protectus with L. Rhamnosus, which is scientifically proven to help support your child's respiratory defenses and protect them against common coughs and colds, partnered with three balanced meals.
When your kid is properly nourished, you can be more confident to say yes to him as he goes through exciting learning experiences. No matter what your parenting style is, NIDO 3+ is your ally in helping your kids grow strong and healthy.
[ads:29]
Follow Nido Advanced Protectus 3+ on Facebook to know more.
ASC REFERENCE CODE: N111P051019N