There Is No 'Hack' to Work-Life Balance, Say These 6 Pinay Moms

How do working moms slay at work and at home without losing their sanity?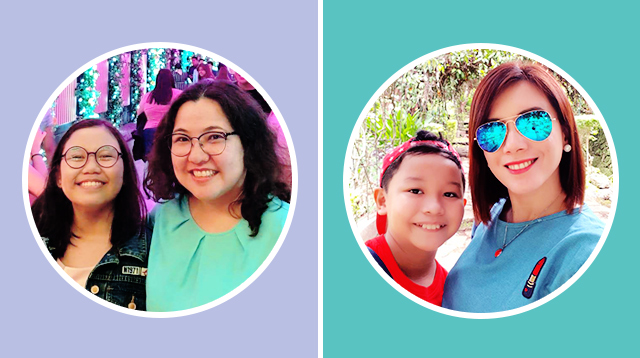 Ah, motherhood, so many words to describe it — messy, challenging, intense, tough, crazy, fun, emotional, surreal, rewarding, fulfilling. As soon as you become a mom, you surrender yourself to sleepless nights of nappy changing, nursing-feeding-burping after every two hours, and rocking your baby to sleep. You also deal with everyday spit-ups and boogers, crying and tantrums, and their 153,319 questions. 

And, as we're always told, and it is true (somewhat), it gets more comfortable in some ways especially as your child grows up. You may even catch yourself telling yourself, "I'm slaying parenthood day by day."

Just how do my fellow working moms slay it without losing their senses and sanity? Five working moms share how their typical workday is from the time they wake up until they put their kids to sleep, and how they keep everything running smoothly, like a boss.

What other parents are reading

Joam de Guzman, single mom of one
PE teacher and freelance events host

Joam de Guzman: "My son sleeps around 9 p.m. And that's the only time I could do my personal stuff."

ADVERTISEMENT - CONTINUE READING BELOW

Like most moms, Joam wakes up at 4:30 a.m. so she can attend to her 10-year-old son and get to her 9 a.m. class on time (she faces two to three hours of commute). She has had to deal with fatigue a lot because having two jobs means she is also working on weekends. Plus, there is the fact, she is doing everything single-handedly. 

How she does the juggling act

"Planning and organizing really play a big role in work-life balance." There are a few times when she cannot attend her son's school activities. "But I try to work my way around it. I promised him that I'd never miss any of his major school events."

Her sanity savers

Love the job. "I love my job, and it eases the stress that comes along with it. I'm blessed to do what I'm passionate about, so it doesn't feel like work at all."

Don't forget you. "Taking good care of ourselves makes us beautiful and healthy, inside and out. Whenever I feel tired, I squeeze in a pampering session, whether it be a good massage, a trip to the salon, or a great workout — anything that would make me feel good or relaxed!"

What other parents are reading

Donna de Jesus, married and mom of four
Accounts receivable specialist/ freelance events coordinator/host/singer

Donna de Jesus works at night yet finds the time to take on rakets.

CONTINUE READING BELOW

Recommended Videos

Donna works at night, and she doesn't get much sleep during the day from the way she describes it. As soon as she gets home, she's helping her eldest, and her twins get ready for school. Then she cooks lunch including her husband's baon (his shift starts at noon). Donna doesn't have household help, so it's still her feeding and bathing her youngest when she wakes up. She gets to sleep by 10 a.m. but wakes up again at 1 p.m. when kids are home from school, and she prepares their lunch and checks their notebooks for homework. She has trained them to take afternoon naps "so I can sleep with them."

How she does the juggling act

"I honestly don't know!" But she does have help from her husband who helps her "in every way he could" and her sister-in-law who stays with the kids when she goes to work. The only times she has gone on leave is when all four kids get sick at the same time, which has happened on several occasions. 

Her sanity saver

Have a daily routine. Donna says because the kids have a daily routine, it has helped manage her time even when she has hosting gigs during weekdays. "Even if I am so tired and sleepy, I still make sure their home works are done, and I am updated with their school activities."

What other parents are reading

Karla Mallari, single mom of one
HR services manager

Karla Mallari says, "Shopping for our weekly groceries de-stresses me."

ADVERTISEMENT - CONTINUE READING BELOW

Karla's day consists of meetings mostly. By the time she returns home in the afternoon, her daughter is back from school. "I cook dinner, which also serves as our lunch for the next day. While cooking, my daughter is studying. Sometimes, I attend meetings that are scheduled at night, when other attendees are in various parts of the globe. After dinner, my daughter and I clean up and prepare for bed. We're usually asleep by 9:30 pm."

How she does her juggling act

"I stick to a routine, so I know what to expect. I'm quite OC so I tend to thrive in schedule adherence. When I'm at work, I don't think about personal stuff. When I'm home, I try not to check my work phone and laptop, unless it's an emergency, or if I have a scheduled meeting. During weekends, holidays, and vacation time, I turn off my work phone. My team knows to contact me only if it's something that cannot wait until I return to the office."

Her sanity saver

Regular appointments with her hairdresser! Karla also sets aside time for mani-pedis and facial sessions! "I also have my car washed regularly. I also have a catch-up with friends. We go home to my parents' on weekends, where I cook, read, watch Netflix, and play with my dog. My daughter and I love to travel during long weekends and her school break. We love to watch movies and eat out."

What other parents are reading

Wendy Dianne Tan, mom of two
Accounting supervisor

ADVERTISEMENT - CONTINUE READING BELOW

Each morning, Wendy Tan, who works the graveyard shift, has this routine: "I prepare the kids for school and once they leave, I clean the house, do the laundry, and cook lunch and dinner."

Wendy, who also works at night, feels like she runs out of chores to do when she is at home. She is awed at how stay-at-home moms do it because she only lasted for three weeks! She says will continue to work until she gets to save enough money for her children's education, her and her husband's retirement. "Maybe, just maybe, when we have saved enough, I can give up my career, so I can fully focus on the kids 100%."

How she does the juggling act

"What I do is I keep a schedule — when to do the laundry, changing the sheets, semi-general cleaning — to make sure that I get to attend to all chores within the week and would not be too exhausted to go to work. 

ADVERTISEMENT - CONTINUE READING BELOW

Her sanity saver 

Keep quality time simple. Wendy feels she isn't spending enough time with her family, especially since her partner works at night. "I find the hours are too few. So I try to spend as much of my waking hours with them, especially on weekends. It can be as simple as catching up, watching a movie altogether or snuggling with them. I find it all comforting."

What other parents are reading

Christina Utanes, married and mom of two
Executive assistant and admin officer

Christina Utanes hopes she raises her kids with the "right attitude and proper mindset."

Aside from lack of sleep, Christina's challenge is finding quality time with her kids. "Work sometimes becomes so overwhelming that I feel so guilty whenever I have no reserve energy left for my children." That's why weekends are sacred for this mom who has no household help.

How she does the juggling act

"Most of the time, meals are already prepared the night before so we just reheat everything in the morning. I'll cook dinner before I go to work. 

ADVERTISEMENT - CONTINUE READING BELOW

Her sanity saver

Avoid unnecessary stress. "Whenever I'm exhausted, I prefer to be with people who matter most to me." 
Take time to be alone. "I go running to recharge myself. Sometimes, we have to clear our mind and do some self-reflection to take care of our family and be better at work."

What other parents are reading

Bessie Vega-Castellano, married and mom of two
HR business partner

Bessie Vega-Castellano will review her kids when it's exam week. "I review them twice, first at night, and then in the morning during breakfast."

Bessie works in the graveyard shift so she gets home at 6:00 a.m. to prepare her kids for school. "Breakfast is the most important meal of the day, so I ensure that they eat theirs before going to school ."

How she does the juggling act

Bessie, whose husband is an OFW and has no yaya, isn't afraid to ask her mom for help. "I cook the kids' lunch before I sleep. But if I am too tired to cook, I ask for my mom's help."

ADVERTISEMENT - CONTINUE READING BELOW

Her sanity saver

Just say no. "I decline last minute invitations from friends and workmates. In case of upcoming activities that would eat up my weekend off with my kids (or time with her husband when he's here), I make sure that I would spend quality time with them after school, like a simple lunch out or a quick trip to the mall or movies."

Though she works as a full-time HR practitioner, Carol Amistad is a proud hands-on mom to Zoey and Ethan. She makes sure that her weekends and holidays are well-spent with the hubby and the kids. While she and her husband are mostly #TeamBahay, they always find time to go out on dates.

What other parents are reading

Celebrate your pregnancy milestones!


Enter your details below and receive weekly email guides on your baby's weight and height in cute illustration of Filipino fruits. PLUS get helpful tips from experts, freebies and more!

You're almost there! Check your inbox.


We sent a verification email. Can't find it? Check your spam, junk, and promotions folder.

Trending in Summit Network