The Expert's Guide to Managing Your Child's Screen Use (0 to 14 Years)

How to parent our Generation Z when it comes to screen time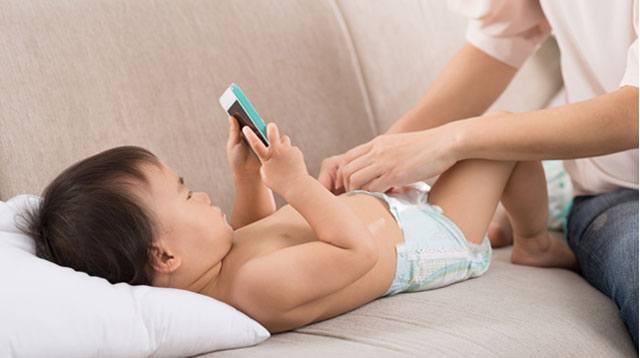 Whatever you've read about screen time and its harmful effects on children, it's not only true, but it affects YOUR kids, the so-called I-Generation or the Gen Z (those born from 1996 onwards). 

Screen overuse was the topic of an enlightening talk by Dr. Stella Guerrero, who is the chair of the "Ako Para Sa Bata" conference, an annual event that gathers social workers, parents, psychologists, educators and other child specialists in the Philippines to discuss trends in child care in the Philippines and around the world. 

Dr. Guerrero, who is the head of the Developmental Behavior department in Medical City and a Developmental Pediatrics consultant at UP-PGH, explained the context of the environment that the Generation Z now find themselves. They are growing up in a country where traffic, pollution, health scares, and pressure from school are affecting the time children have for play and leisure. Even family structures and dynamics are changing, partly due to the OFW phenomenon. The fact that we have computers that fit into the palms of our hands and we can receive virtually anything with the stroke of a few letters have made it increasingly difficult for parents to capture their children's attention.

ADVERTISEMENT - CONTINUE READING BELOW

What other parents are reading

Just what kind of negative or even harmful impact do childhood development experts see now from screen overuse? Dr. Guerrero breaks down the effects by age groups and provides tips how to manage screen time. 

IN BABIES AND TODDLERS

1. Gadgets have become babysitters. Many parents now use them as tools to calm irritable and active youngsters instead of allowing them to test their environment and practice controlling their impulses. 

2. Babies are growing up with a distorted perception of the world. They cannot discern what is real and what is not because they are bombarded with images on the screen rather than real-life objects. 

3. Toddlers are losing out on valuable socio-emotional skills. When the virtual world is so engaging, there can be a tendency to lose interest in connecting with humans. These babies are not able to practice eye-to-eye contact.

What other parents are reading

How you can manage your baby's screen time

Allow for active exploration. Let babies move and explore using their five senses. Keep in mind that movement calms the brain, which will help them learn to self-regulate as they discover things in their world.
Do back-and-forth interaction. It encourages face-to-face interactions and develops language and social skills. 

IN PRESCHOOLERS

1. We see a delay in motor skills. All they want is screen time, and it requires no body movement except their fingers.

2. You also get delayed language skills. Too much screen time significantly decreases language development with children who are engaging with screens but not people.

3. Attention span is affected. Young children can spend hours on end watching a screen or losing themselves in a virtual universe. But they find it challenging to finish real-life tasks, listen to stories, or participate in conversations.

What other parents are reading

How you can manage your preschooler's screen time

Play! It cannot be said enough that children in this age group need to play to hone their skills in all areas development (motor, language, cognitive, socio-emotional and moral skills).
Try play-based schools. Its method of teaching does not focus so much on worksheets.
Engage them in group games. Think of your childhood games, moms and dads, like Patintero, Luksong Tinik, Piko, Tumbang Preso). It's one of the best ways to teach children social skills.  

ADVERTISEMENT - CONTINUE READING BELOW

IN BIG KIDS (6 to 10 years)

1. Kids now have a sedentary lifestyle. They are not playing outdoors or getting involved in sports. 

2. They are sleeping late. The blue light from screens keeps children awake.

3. Screen time has led to concerning behavior and moods. Overexposure to media violence can contribute to aggressive behavior. Bombardment of negative images can affect their moods.

What other parents are reading

 

How you can manage your big kid's screen time

Encourage physical activities. Help children find their interests and get involved in sports, clubs, music or other hobbies like the theater or arts. Not only will the movement be significant for them, but they will be able to establish relationships with peers and set goals for themselves Which will also be great for their self-esteem. 
Provide a balance of positive messages. Take time in your day to share the good news, compliments, or funny stories. Help them develop a habit of sharing and communicating with others in positive contexts.

ADVERTISEMENT - CONTINUE READING BELOW

IN TWEEN AND TEENS (10 to 14 years)

1. There is Internet addiction. Many teenagers find it impossible to be disconnected from their devices. 

2. There is information overload. They become so preoccupied with scrolling through the available information that they overlook interacting with the people around them.

3. They are vulnerable to inappropriate content. Teenagers are in constant danger cyberbullying and sexual predators. 

What other parents are reading

How you can manage your tween or teen's screen time

Initiate a community outreach project within the family. It keeps them busy, and it gives a sense of purpose. They move out of the "I and Me" mindset, and they begin to develop empathy for others. 
Teach children to be more respectful of peers. It's easier to do when they deal with each other face-to-face.

Despite the fact that our kids are growing up in a world that is much different from our own, we still have a responsibility to show our children how to use devices in moderation and continue to engage in the real world in purposeful ways. We must teach children to be responsible, discerning and smart when using devices, especially when on the Internet. We should resist the pressure of handing children devices just because their classmates have it. There is no shame in waiting and allowing your children to use their time in other activities away from screens.

Finally, parents should always remember family time can often be just the simple act of sharing each other's company.

ADVERTISEMENT - CONTINUE READING BELOW

Barbara Server-Veloso, mom of Lucas, 10, and Verena, 6, has a Masters Degree from the University of the Philippines in Early Childhood Education. She has been teaching since 1993 and is known as Teacher Thumby in her preschool, Toddlers Unlimited, and Ms. Thumby in her grade school, Thinkers Unlimited (Alabang). She the Baby and Me Class in Spark Discovery Center (Jupiter Street, Makati) where she is a partner. 

Trending in Summit Network