These Photos of Motherhood Should Not See the Light of Day, My Instagram Says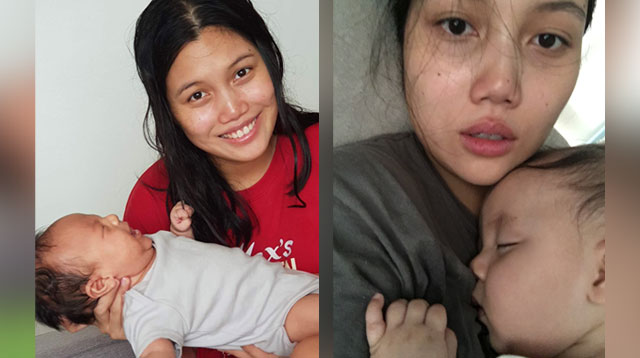 We were going to attend a lunch party. I was wearing a better outfit than I had in a while since between staying home and going out, I always opted for the one that made me be with my baby and didn't require me washing my hair. We were about to head fo the door when I took my son from the yaya for a final hug. I was whispering a soft "bye" when I felt something warm on my shoulder. Spit-up. Great. Thank heavens for wet wipes.

I have come to terms with the fact that I will never be spotless again since my son turned one month. It is the year of the spit-up, the year of fountain pee, the year of projectile poo and vomit. It's the year of letdown stains on my shirt. One day it will be the year of smushed bananas, then the year of stickers and paste. 

I was never the most organized person, but I've never been a bigger mess than I am now, from my selectively forgetful mom brain to the scattered toys (one in every room so we're ready any time) to the scattered diapers and wipes (a set in every room so we're ready any time) to the freshly laundered clothes that still haven't been folded and stored to my son's wild Einstein hair.

What other parents are reading

But the mess is all BTS (behind the scenes). When I post a video of my cooing baby, I place him strategically in the last neat space in our house. When I take a selfie of my baby sweetly sleeping on my chest, I don't disclose the fact that we bounced on an exercise ball for two hours to make that happen. When I put my baby in a gorgeous jumper and matching shoes, my hair ends up in clumps from his resistant hair-pulling.

ADVERTISEMENT - CONTINUE READING BELOW

Motherhood in 2018. It is beautiful, marvelous, and it feels like it should be completely edited.

Every day I question my decisions. Every day I look at my algorithm-curated Instagram feed to see flawless mothers in their matching designer mother-daughter outfits and contented children hamming it up for the camera, and I sigh with jealousy. I think about my baby and how it is a whole production to get him to sleep. It's at these onerous points that I scroll through my Instagram feed to see all his smiling photos to make myself feel better and to remind myself that yes, all this is worth it.

I glance through my Instagram feed full of smiling baby photos. The irony is that I have become one of those "flawless" mothers on Instagram who gives me parenting anxiety.

What other parents are reading

Motherhood is supposed to be the best job in the world. No one comes out of a musical thinking how grueling production must have been. We all applaud the final result. 

Motherhood is supposed to be a blessing, and no one wants to look at the gross side. No one wants to see my 5-month-old's sick sense of humor — that he chooses to spit up in my mouth and on my husband's crotch.

To be honest, no one wants to see the burden of being a mother.

One night, I was feeling particularly tired. My baby woke up in the middle of the night, and for two hours I was bouncing on the gym ball and doing half squats just to put him back to sleep. It's been 20 weeks of this ritual, and as is customary by now, I take a photo of my son sleeping on my chest, one that I shall show him when he gets older. I took a few accidental snaps before I was finally ready for that social media-passable shot.

ADVERTISEMENT - CONTINUE READING BELOW

Recommended Videos

What other parents are reading

As I swiped through the selection, I came across the first one, one of the few that I took before I was ready. It was blurry, my mouth open, my cheeks flushed from the workout, my eyes wide open, and my hair all over the place. It's the type of photo you delete right away, never to see the light of the Internet.

It must have been my lack of sleep because then and there, with my baby on my chest, the sun a few minutes away from rising, I posted the photo on Facebook with this message:

Posting this here instead of Instagram because I'm so tired of perfect moms. The booger woke up at 4:30, and I knew he had a lot of sleep left in him. He knew it too, and despite the yawning and eye rubbing, he'd instead laugh laugh laugh. It was an hour and a half-long battle of him resisting and me rocking, bouncing, and jiggling (he's usually out at most 45 minutes). I won but here's a hint of what I went through. (Plus, he can only stay up 1.5 to 2 hours at a time.)

I put my phone down to focus on my sweet baby sleeping. Hours later, I returned to my Facebook page and was surprised by the barrage of support, especially from moms whom I thought created natural little angels.

What other parents are reading

One seemingly perfect mom confessed that she had days when her baby only wanted to sleep cradled while she was standing up. Another — a jet-setter who always documented a peaceful little toddler during their many flights (cue envious sigh here) — revealed that her kid once latched for 10 hours on the plane because he couldn't settle. (She also lost nearly half her hair postpartum.) One dad talked about his 8-month-old who still continually wakes during the night and can only go back to sleep after breastfeeding.

ADVERTISEMENT - CONTINUE READING BELOW

Empathy is a wonderful thing. Why aren't we doing it more?

I say it all the time: when you're a mother grasping for answers and certainty, there's no bigger relief than learning that what you're going through is completely normal because others have been through it too.

It was a genuine moment for me. It reminded that I was not alone, but not all reactions were positive. Someone pointed out that I should be grateful. 

I am, by the way. Admitting that you're struggling doesn't mean you're diminishing the glory of having children. If anything, it makes the whole process more beautiful. Yes, it is that hard. Yes, we are all grasping at straws. But these are the most illuminating moments when you learn about your child and yourself. How I'm handling my son now will be as much a reflection of how he will turn out as it is my evolution as a mother. We're continuously making each other better.

One day, I'll look at my grown child, and the pain of my strained spine will merely be part of the awesome memory of bouncing him. It's a beautiful journey — bumps and all. It's a happy ending that I hope my son will also embrace. After all, what is a happy ending without a bit of conflict?

The sunny smiles, the first words? These are the moments worth remembering, but they're not the only moments worth sharing. Motherhood is a struggle but it's also a sisterhood so let's talk about it — without the filter.

Sasha Lim Uy eats to live and lives to eat. For five years, she handled SPOT.ph's food section and edited the last two installments of its Top 10 Food books. She is a curator for Madrid Fusion Manila and currently works as the managing editor for Esquire Philippines.

ADVERTISEMENT - CONTINUE READING BELOW

Celebrate your pregnancy milestones!


Enter your details below and receive weekly email guides on your baby's weight and height in cute illustration of Filipino fruits. PLUS get helpful tips from experts, freebies and more!

You're almost there! Check your inbox.


We sent a verification email. Can't find it? Check your spam, junk, and promotions folder.

Trending in Summit Network