This Single Mom Was Told Her Daughter Will Live With a Feeding Tube All Her Life

A Filipina single mom fought to keep her daughter alive alone in a foreign country.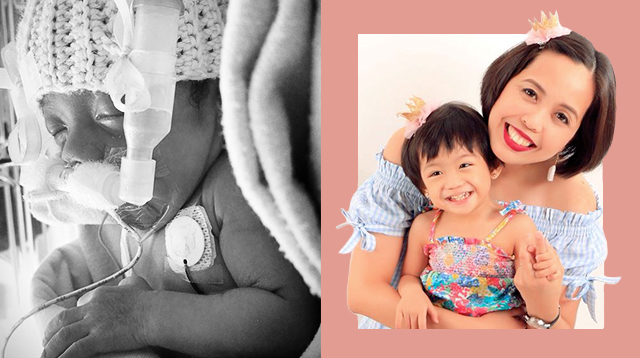 Joana Caoleng, 34, was alone and working in Singapore as a pharmacy technician when she became pregnant. Based on her pre-natal checkups, blood tests, ultrasounds, and anomaly scan, it was going to be a healthy pregnancy.

"I had my last prenatal checkup on December 21, 2015, and was reassured by my OB that everything was normal," Joana tells SmartParenting.com.ph in an email interview.

Joana, however, experienced sharp, shooting pains from her chest and contractions from her abdomen. But the doctor told her she need not worry.

On December 29, Joana's water bag broke as she was about to end her evening shift. She was only at 25.7 weeks in her pregnancy. She would later learn that her preterm delivery was due to chorioamnionitis, or an inflammation of the fetal membranes due to a bacterial infection.

What other parents are reading

'Don't think of the hospital bills'

Because she worked in the pharmacy department of a hospital, Joana's colleagues were able to take her to the labor ward right away. But she was advised to go to a hospital with one of the biggest NICU (Neonatal Intensive Care Unit) facilities in Singapore. Upon arrival, she was already dilated by 1 centimeter — the baby was coming anytime.

Faced with the reality of expensive hospital fees, Joana begged the staff to discharge her. A Filipina nurse told her it cost SG$7,000 or around Php273,000 for delivery alone and an additional SG$300,000 or Php11.7 million for NICU charges. 

"I wanted to go back to the Philippines and have my baby there, but a Filipina OB resident on duty told me that she will not allow it. She told me to stay calm and do not think of the hospital bills yet," she shares.

ADVERTISEMENT - CONTINUE READING BELOW

What other parents are reading

Joana was transferred to the ward, and her team of doctors did what they could to prolong her pregnancy. She was given steroid shots for her baby's lung maturation and was placed on IV antibiotics. "There were traces of spotting inside my amniotic sac," she explains. "Their goal was to deliver me at 28 weeks, or if possible, at 34 weeks."

However, nine days later, on January 7, 2016, the doctors saw that Joana had to give birth. There was continuous leaking of amniotic fluid and the onset of infection. She gave birth to her daughter, Isabella, at 27 weeks via emergency Cesarean section.

"It was the longest and most stressful week of my life," Joana shares. "I did not have any family members beside me during that time — one of my colleagues even had to tell the hospital staff that she was my sister just so she could go inside the labor and delivery room."

What other parents are reading

Isabella was born at 27 weeks and barely weighed two pounds.

PHOTO BY

courtesy of Joana Caoleng

CONTINUE READING BELOW

Recommended Videos

One day to live

When Joana woke up in the recovery room, two doctors informed her that her baby was born with the life-threatening condition of sepsis, a severe infection that was spreading through her bloodstream. Unfortunately, Isabella's body was resisting the treatment. "The neonatologist told me that my daughter only had 24 hours to live," Joana said.

To add to her agony, the doctors told Joana that she could only see her daughter after 24 hours, and no amount of begging would make them budge. She was getting updates about Isabella's condition through phone calls between the ward and NICU nurses.

Miraculously, Isabella lived beyond 24 hours, but her health battle was just beginning. The doctors gave her 48 hours to live because a massive bilateral brain bleed.

What other parents are reading

Doctors told Joana that she needed to prepare for the worst.

PHOTO BY

courtesy of Joana CAoleng

Doctors now advised Joana to have her family members fly to Singapore to say goodbye to her baby. Her mother and sister came, and they sat down with Isabella's team of specialists to discuss the options.

ADVERTISEMENT - CONTINUE READING BELOW

"They told me she will never be a normal baby."

"They [the doctors] had already decided not to do any more medical intervention in case another medical issue, like another bleed or infection, arises," Joana shares. "Her prognosis was no quality of life, and in case she would be able to live, we should expect the worst.

What other parents are reading

"She will either be hydrocephalic (accumulation of cerebrospinal fluid in the brain) or microcephalic (her head will be smaller compared to babies of the same age due to brain abnormality). She will have cerebral palsy and developmental delay, and I will either carry her for the rest of her life or move her around in a wheelchair. They told me I will bring her home with an oxygen tank and will feed her via tube for as long as she lives," she says.

Meet a little warrior

Joana was devastated and hysterical as her medical team gave her two options: extubate or do not resuscitate. At that point, she let go and surrendered to God's will.

Against all odds, Isabella survived and finally came home to the Philippines after 90 days in the Singapore hospital.

PHOTO BY

courtesy of Joana CAoleng

ADVERTISEMENT - CONTINUE READING BELOW

Isabella, however, was not ready to give up. She suffered respiratory distress, apnea, anemia, abnormal blood flow and various medical conditions, but the little warrior survived each time.

What other parents are reading

"I told my doctors I am choosing my daughter. As long as she's with us, as long as her heart is beating and she's breathing, we will fight." 

As soon as she was given the go signal, Joana and Isabella did kangaroo care. 

PHOTO BY

courtesy of Joana CAoleng

Joana says what helped was breast milk and kangaroo care. "I pumped and provided my breast milk, and we did kangaroo care four weeks after she was weaned off the ventilator," Joana shares. "Nurses told me that skin-to-skin is the best medical intervention for preemies. It was also our bonding time when I can pray over her."

Against all the odds, Isabella pulled through, and she was ready to come home to the Philippines after staying in the hospital for 90 days. "She came home with a list of health issues, including a feeding issue where she had to be fed through a nasogastric tube until she was 9 months. But she is a survivor."

ADVERTISEMENT - CONTINUE READING BELOW

What other parents are reading

Joana, with her little warrior, is one of the moms behind preemie clothing line, Bairns Clothing. 

PHOTO BY

courtesy of Joana CAoleng

Isabella is now 2 years old and has been diagnosed with Global Developmental Delay, but she is gradually recovering from her medical issues (she doesn't need thyroid replacement therapy anymore). She is attending a one-on-one SPED class and is also on physical, occupational, and speech therapy.

Last June, Isabella was finally able to walk unassisted! "Two years ago, I was told by her neonatologist that she might never walk. But now she's able to do it."

Though they only get to spend time together twice a year (the single mom is back in Singapore, but thank goodness for video calls!), Joana knows she has to keep working to give Isabella the best quality of life.

"I owe it to her for fighting and for having a strong will to live."

ADVERTISEMENT - CONTINUE READING BELOW

What other parents are reading

Celebrate your pregnancy milestones!


Enter your details below and receive weekly email guides on your baby's weight and height in cute illustration of Filipino fruits. PLUS get helpful tips from experts, freebies and more!

You're almost there! Check your inbox.


We sent a verification email. Can't find it? Check your spam, junk, and promotions folder.
Trending in Summit Network