A Mom Reflects on the Obsession to Have the Perfect Pregnancy Look, Photo or Party

She calls it the "glamification of pregnancy."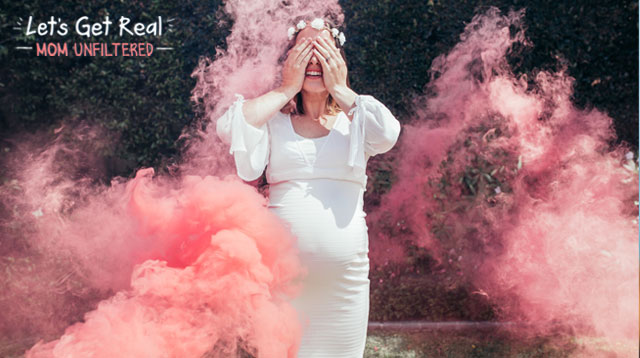 Mom Unfiltered talks about the realities that moms don't post on social media, or, as we like to say here, these are the thoughts we all have in the bathroom.

When did pregnancy become such a huge production number? 

Before the only first pregnancy goal was to have a healthy baby (and maybe find a good pair of maternity pants). Moms announced it only to family and a few close friends. We were excited but kept it to ourselves. Pregnancy was personal, private and quiet.

Now, having a baby is such a social event — and I don't use the word "event" lightly. The way some moms document their pregnancy you'd think giving birth was a nationwide product launch.

What other parents are reading

The pregnancy announcement

It's no longer possible to just call your mom and say, "Hey, guess what? I'm pregnant." Now you have to take flat lays of the pregnancy test and post it on social media. But, wait, why stop the pregnancy announcement there? Wear matching Mommy/Daddy t-shirts just in case the strangers across the street don't know that you're going to have a baby. Organize an elaborate family photo shoot, which may or may not include props and art direction. (Seriously, who has a white wicker basket just lying around in their backyard? What's up with the cleavage? And why does the mom have a weird smile on her face? Oh yeah, we get it: she's cringing inside, too.)

And if you're going to do a flat lay, you have to do it right. You can't take a boring picture of a pregnancy test. It's like you always need to order a "Pregnancy Announcement Flat Lay Kit" so your child can always look back and say, "I had a hashtag and went viral even before I was born."

ADVERTISEMENT - CONTINUE READING BELOW

Glamour maternity shoots

Hello, prenatal glamour shots that showcase you in all your beautiful belly glory. No one will ever see your stretch marks. No one will ever know how you stood in front of the mirror in shock and said, "What the heck is happening to my nipples?" You will rise like a goddess wrapped in nothing but gauze, artfully reflected studio lighting and pure maternal bliss.

Frankly, I miss the days when society gave pregnant women permission to live in yoga pants for months. But now — aside from thinking about wearing something stylish — you have worry about a maternity shoot where you wear nothing at all. Which brings me to the next point.

Belly bumps are the new "thigh gap"

Most of us don't get a bump. Most of us expand and swell in places that have nothing to do with the baby — ankles, arms, chin, even our freaking nose. This is perfectly normal, and wouldn't be an issue if social media didn't turn pregnancy into one long photo op.

My mom never had this problem. The 1960s fashion magazines didn't put half-naked pregnant rock stars and supermodels on their covers, and her "fat" pregnancy photos didn't circulate on social media platforms. Besides, old maternity clothes hid any kind of body shape — they were basically curtains with big ribbons and gold buttons.

 

Today's mommy fashion looks better but can be more unforgiving. Who was the evil genius who invented skinny maternity jeans?!

CONTINUE READING BELOW

Recommended Videos

Gender reveal parties

Gender reveal, circa 2008: Bored ultrasound technician points to a tiny clump of cells on the monitor and says, "Ay, ayan, finally nakakabukaka siya. Lalaki ang baby mo."

Gender reveal, circa 2018: Ultrasound technician secretly writes gender in an envelope, passes it on to the couple's friend, who then organizes a huge party complete with gender games, gender giveaways, gender surveys, and an elaborate gender cake. 

Don't get me wrong. I love any excuse to eat cake, but isn't that a whole lot of work just to find out whether you're having a boy or a girl? Is having a penis (or not) so earth-shatteringly crucial that you need to throw a party to celebrate it? And when did it become fashionable for parents to be the last to know?

Glam or scam?

I'm not mom shaming people who genuinely want to do this. It's your body, your baby, your money, and your choice. What bothers me is when you feel you're under social pressure to do something to keep up with a significant, glamorous pregnancy trend.

If you can't afford it, if you're too tired or too busy to do it, if you're only doing it out of guilt or a fear of being left behind, then stop. You're not supposed to have a glamorous pregnancy, you're supposed to have a happy and healthy pregnancy. It's not your job to impress other people or chase the standards they set.

ADVERTISEMENT - CONTINUE READING BELOW

In fact, the only person who matters to you right now is the one growing inside you. He doesn't need photos. He doesn't require parties. He doesn't need you to be anything except his Mom – and you're doing that already, really really well, and you don't need to throw a full production to prove it.

Do you feel the pressure? Share your comments and experiences below or send them on our Facebook Messenger and smartparenting2013@gmail.com. We'd love to hear from you!

Dedet Reyes Panabi was editor-in-chief of a parenting magazine for seven years, then quit to work from home and spend quality time with family and Netflix. She now works from home as a digital communications and social media manager for a multinational. (Or has her son described it on Career Day, "My mom's on Facebook the whole day.") 

What other parents are reading

Celebrate your pregnancy milestones!


Enter your details below and receive weekly email guides on your baby's weight and height in cute illustration of Filipino fruits. PLUS get helpful tips from experts, freebies and more!

You're almost there! Check your inbox.


We sent a verification email. Can't find it? Check your spam, junk, and promotions folder.
Trending in Summit Network