Mom Shares How This DIY Playhouse Helps Her 3-Year-Old Become an Early Reader

Through her "bookstore," 3-year-old Nadia gives book reviews and recommendations to her toy audience.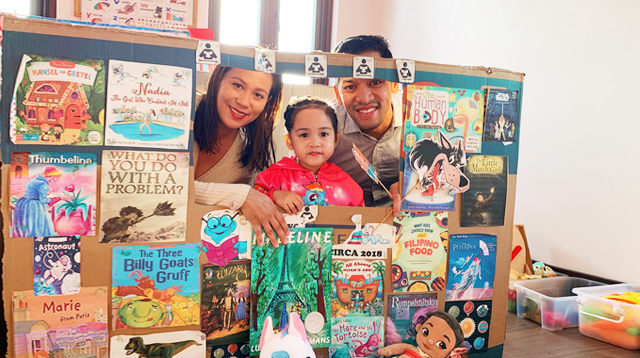 Walt Disney once said, "There is more treasure in books than in all the pirate's loot on Treasure Island." Teaching the joy and value of reading to your child aids in his overall development while igniting his imagination and opening up his mind to different worlds. From improving his comprehension to enhancing his vocabulary, picking up a book and getting lost in its pages can also teach him essential values that will guide him as he grows.

When Tippi Chavez-Lacson was pregnant with her daughter Nadia, she read that a baby can hear the mother's voice from inside the womb and be stimulated by external sounds.

"I sang to her and read simple storybooks aloud as a prenatal bonding activity. When she turned 1, I chose books with one sentence per page with the objective of sustaining her attention and to get her into books," she relates.

From then on, Tippi and her husband, Nico, make it a point to bond with Nadia through reading, turning it into an essential part of their family life.

What other parents are reading

Reading as a family affair

Tippi makes it a point to connect the books they're reading to things they encounter in the real world.

PHOTO BY

Tippi Chavez-Lacson

ADVERTISEMENT - CONTINUE READING BELOW

Tippi grew up surrounded by shelves filled with books and seeing her parents read. "My parents – my father was an English major while my mother was a Mass Communications major – emphasized the importance of reading, from newspapers and reference books to fiction books. This led me to be curious about the world, and I was in awe of the breadth of information before me," she says.

When she got married, there was no question about having a library in the house, and luckily, Nico is a voracious reader as well! "We made it a point to have a library classified into fiction, non-fiction, Filipiniana, travel and reference, for our family to grow up in the presence of books and reading. It was important for us to create an environment where it was natural to expect books in a home in the way one would expect a chair or a sofa to be in the living room or a refrigerator to be in a kitchen," she adds.

What other parents are reading

Tippi and Nico make it a habit to read to and with Nadia and would bring the characters to life by using different voices and acting out the dialogues. "In time, I began to notice that she started to appreciate storylines and comprehend underlying ideas. By age 2, we advanced to books with more sentences and took 'story pit stops' or dialogic reading to define a word, answer her 'why?' questions or to relate the story we were reading to another story – whether it was a story in a book or one she had encountered in real life," Tippi relates.

CONTINUE READING BELOW

Recommended Videos

Aside from acting out the stories, Tippi and Nico also do storytelling with props.

PHOTO BY

Tippi Chavez-Lacson/Instagram

Professor Elizabeth Stilwell from Cornell's Department of Human Development explains the process of dialogic reading in a blog post published on Cornell's website. "The adult begins by starting with the pictures, and then moves to the text. For example, as children look at the cover of the book, the adult may ask the child to predict what will happen in the story." Doing this allows the child to further engage with the story by interacting with an "attentive adult."

Going beyond the usual reading time

To further develop Nadia's appreciation of books, Tippi thought of creating an interactive space where she can read and understand the stories better. With the help of Nadia and Nico, Tippi created a "DIY bookstore" at home that doubles as a puppet theater and a playhouse using old cardboard boxes.

ADVERTISEMENT - CONTINUE READING BELOW

The details featured on the puppet theater are scenes from classic children's books including references from Hansel and Gretel and The Three Little Pigs. "I also made puppets for the characters of Little Red Riding Hood, The Three Little Pigs, the big bad wolf, Rapunzel, and Dame Gothel," Tippy happily recalls.

The puppet theater/playhouse features Nadia's favorite books when she was 2 years old.

PHOTO BY

Tippi Chavez-Lacson

On her Instagram, Tippi shares how they maximize the bookstore. During playtime, they don't just read, they infuse role playing into the routine with Nadia playing the role of a bookseller.

"I'm given an insight of her retention as well as her comprehension on the stories she reads. She gives book reviews and recommendations to her toys who 'want to buy a book.' In the process, the pretend bookstore has turned into an avenue for us to teach her basic math and the value of money as well," the mom explains.

ADVERTISEMENT - CONTINUE READING BELOW

What other parents are reading

The puppet theater has three facades, one of which is decorated with cutouts of donuts, lollipop flowers, and cookies inspired by the candy house in

Hansel and Gretel

.

PHOTO BY

Tippi Chavez-Lacson

Through the puppet theater, Nadia is given a chance to better understand each book through the dialogues Tippi and Nico use when acting out the story. As a puppeteer, Nadia's imagination goes into overdrive. "She creates dialogue and interactions among characters and consequently improves her vocabulary, articulation, and confidence in speaking to an audience," says Tippi.

Books versus screen time

Tippi says they make sure that Nadia spends enough time indoors and outdoors, including precious hours spent for rest, homework, and reading. Where does screen time come into play? The doting mom shares they allow Nadia to watch videos during weekends, short car rides, and when she and Nico need a break.

"Technology is heavily resorted to as a tool in both professional and personal interactions. In this regard, we also want her to be familiar with digital dynamics and its dangers, but with the emphasis that technology should only serve to aid in tasks and should not replace personal interactions," Tippi shares.

ADVERTISEMENT - CONTINUE READING BELOW

What other parents are reading

Tippi and Nico now allow 3-year-old Nadia to pick the books she wants to read.

PHOTO BY

Tippi Chavez-Lacson/Instagram

The role parents play in instilling a love of reading

Tippi sees her and Nico as the primary influencers to a child's cognitive and emotional development. "There is great responsibility that comes with the power of influencing their young minds. I believe that reading to her in her first two years greatly contributed to her wide vocabulary, comprehension skills, and made her naturally curious about the world. As she grows up, reading and being exposed to many storylines and ideas allow her to form opinions and understand fundamentally what it means to be a human being," she exclaims.

Tippi, who sees reading as an avenue for emotional and physical bonding, says there's no better investment than spending time with your child. She advises fellow parents to have patience, to be creative, and most of all, to be role models to their children.

ADVERTISEMENT - CONTINUE READING BELOW

"Show that you enjoy reading, and not from your phone or tablet," she says. It can be difficult to get children especially toddlers to sit down and focus on a book but by being creative and patient, you can get their attention and make time for reading.

"Do not tire when they ask you to read the same book over and over again. Each reading is an iteration and appreciation of something they didn't notice in the previous readings," she adds.

Since Tippi grew up surrounded by shelves filled with books, she knew the importance of reading early on.

PHOTO BY

Tippi Chavez-Lacson

Choosing the right books for kids

Now that her daughter is coping well with the challenges of short attention span and distractions, Tippi says Nadia has developed an interest for storylines and characters. "Apart from the benefits of cognitive development, reading allows children to introspect, reflect, and empathize. It teaches them about the human condition in the most basic and unadulterated of ways," shares Tippi.

ADVERTISEMENT - CONTINUE READING BELOW

Given this takeaway, she curates Nadia's books into three different categories.

What other parents are reading

During playtime, Tippi encourages Nadia to review a book she has read. The toddler even gives book recommendations to Chewbacca and Jollibee, her toy audience.

PHOTO BY

Tippi Chavez-Lacson

The first category, Nadia's intense interests, includes books that tackle things she's been curious about; the second category is psyche-shapers or books that help develop the inner self with themes that focus on values and behavior, embracing one's individuality and one's role in society; and lastly, anything goes or books that Nadia handpicked herself.

"At the end of the day, books and reading should be fun and based on one's passions and interests. When we travel, we also make sure to pick up a storybook about the place we're visiting for Nadia to understand, in her own terms, the culture and uniqueness of the people and place," Tippi adds.

ADVERTISEMENT - CONTINUE READING BELOW

Kick-start your child's reading journey with Tippi's recommended books:

What Do You Do With a Problem? by Kobi Yamada

It centers on conquering fears and how problems can teach you to be brave.

I Wish You More By Amy Krouse Rosenthal

It highlights the good things that matter in life.

Natsumi by Susan Lendroth

It is a book about how to be yourself and respect for others.

Nadia, The Girl Who Couldn't Sit Still by Karlin Gray

It's a story based on the life of Olympian Nadia Comaneci that tackles resilience and never giving up.

May Gulong na Bahay by Genaro Gojo Cruz

It's a children's book on social consciousness and appreciating what we have.

What other parents are reading

Celebrate your pregnancy milestones!


Enter your details below and receive weekly email guides on your baby's weight and height in cute illustration of Filipino fruits. PLUS get helpful tips from experts, freebies and more!

You're almost there! Check your inbox.


We sent a verification email. Can't find it? Check your spam, junk, and promotions folder.
Trending in Summit Network