Starting over in a foreign country is never easy — you'll need guts (and a lot of grit) to survive. You'll face many challenges and hardships, and perhaps the most difficult is battling loneliness as you yearn for the family you left behind.
Philip Joe Cepriaso, 34, knew this feeling very well. In search of better opportunities, he worked in Saudi Arabia in 2010 as a nurse for two years, leaving his wife, Joy and their 2-year-old daughter, Sapphira, in the Philippines.

"It was not easy, but thankfully, video calls were already possible at the time," Joy shares with SmartParenting.com.ph in an email interview. "We called and talked to each other every day despite the time difference, so my daughter could see and recognize him."

When Philip's two-year-contract was about to end, he decided not to renew his contract. "[Him working abroad] was not our goal. We wanted to be together as a family," Joy says.
Finding a new home in another country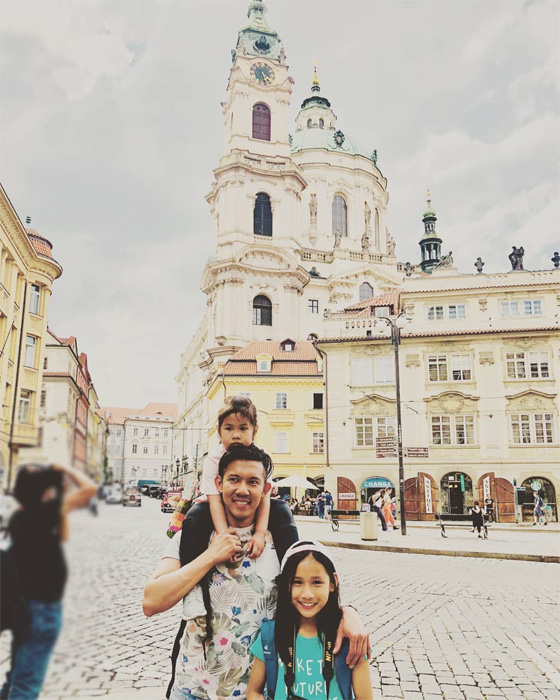 ADVERTISEMENT - CONTINUE READING BELOW
The couple yearned to migrate to another country as a family because Joy and Philip were never apart at the beginning of their relationship. "My husband and I studied in the same university in Naga City, and we first met in a P.E. class during our second year in college. We were both taking up nursing and were classmates in our third year. We became very good friends and eventually ended up together," Joy shares.

After graduating, Joy and Philip reviewed and passed the nursing board exams, and they sealed their relationship with marriage in 2008. They even worked in the same institution as clinical instructors before Philip decided to venture abroad. Joy stayed in the country and became a college instructor.

After Philip's return from Saudi in 2012, he and Joy began looking for jobs abroad. They planned for Joy to study in Australia, but it did not work out. Philip then applied to different agencies in Manila.
"This time, I will look for other countries na pwede tayo magkasama no matter what it takes," he told Joy.
The big break came when Philip was shortlisted for the Triple Win Project, a joint program between Germany and the Philippines where qualified nurses are provided job opportunities in Germany. The catch was that he had to study the German language (Deutsch) in Manila for a year.

"At first, I was hesitant because I felt a year of studying the language full time is too long. But Philip was determined to take it," Joy shares.

Philip passed all his exams, and he flew to Germany in 2016 to work as an assistant nurse and became a registered nurse after almost a year. He applied for a Family Reunion Visa immediately to bring his family to Germany that now had a new addition, youngest daughter, Sepphora. In May 2017, Joy and her daughters arrived in Munich.
CONTINUE READING BELOW
Recommended Videos
MORE FROM Smartparenting.com.ph
Starting over in Germany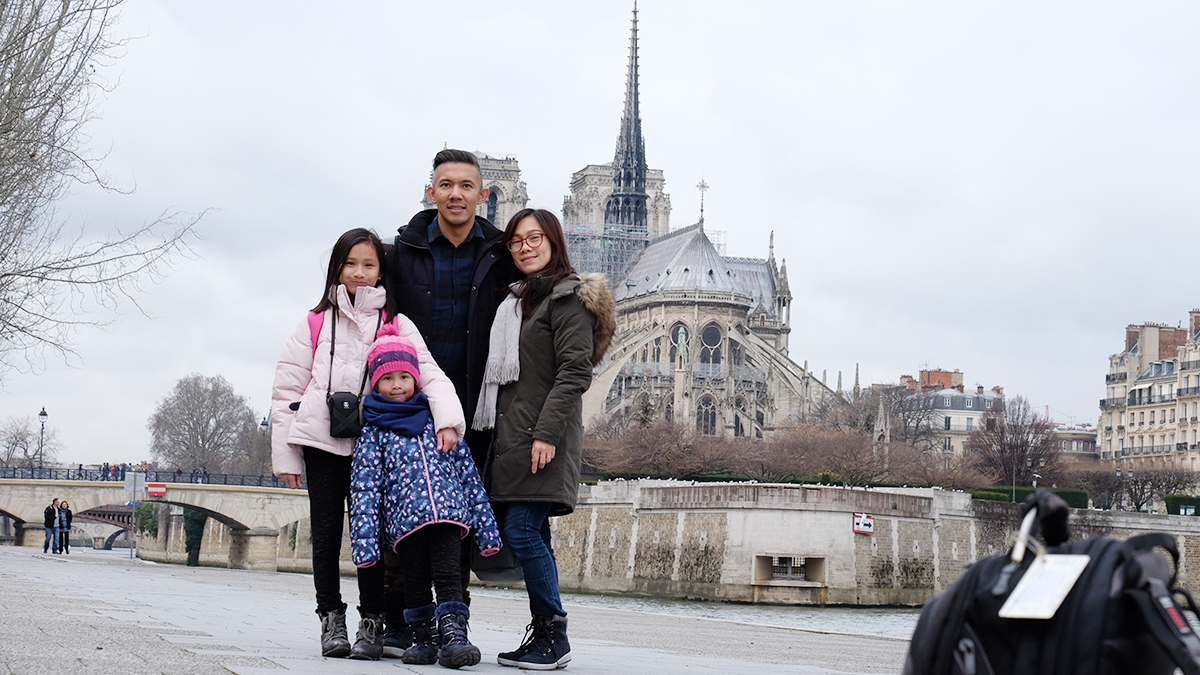 Thanks to their determination and hard work, the Cepriaso family managed to migrate to Munich, Germany where they've been living for almost two years now.
PHOTO: courtesy of Joy Cepriaso
Joy is now working to become a registered nurse, so she is currently attending a German language course in Munich. Her daughters, Sapphira, now 10 years old, is in 4th grade while Sepphora, 4 years old, is enrolled in kindergarten.

"Sapphira goes to school alone — minsan naka-bike siya or scooter. But she just walks during winter," Joy explains. "Si Sepphora hatid-sundo sa kindergarten where she stays from 8 a.m. to 2 p.m. while I attend my language course."

After almost two years in their adopted country, the whole family is well-adjusted after coping with their biggest challenge: learning Deutsch especially the Bavarian dialect.

"Three days after we arrived, the school where Sapphira was attend sent us a letter saying she should start coming to class the next day," Joy shares, explaining Germany has a law on compulsory education called "Schulpflicht" — a child who turns 6 years old is obligated to attend school.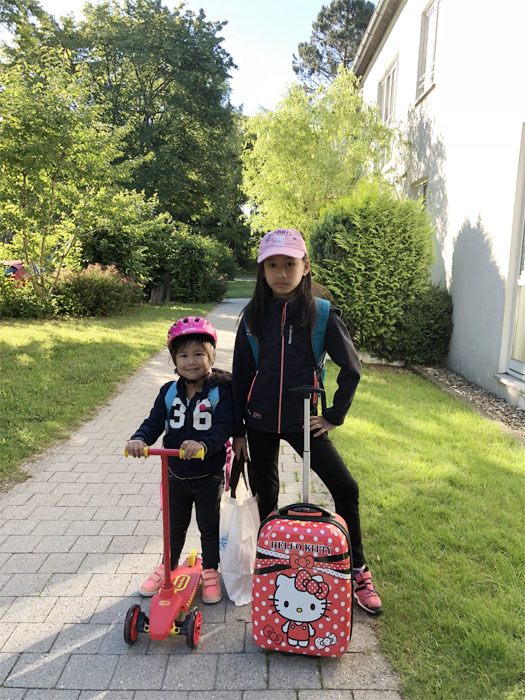 ADVERTISEMENT - CONTINUE READING BELOW
"We were so anxious because she did not know the language. But we are so thankful that she was so smart, and she did not cry on the first day. She even went to school alone on her second day," Joy says.
There are very few English speakers in Germany, and even teachers spoke very little English, but Sapphira befriended her classmates who were from Australia and England, and they helped her understand the lessons.

Another challenge was doing groceries. It was difficult to figure out what food to buy, and they also had a hard time buying formula milk for Sepphora, who was 2 years old at the time. Their daughter eventually learned to drink fresh milk. "There is an Asian store here, but iba pa rin ang food natin sa Pilipinas," says Joy.

Commuting was also tough initially. Buying tickets for the trains was hard because you needed to know your exact destination. "Merong nag-che-check ng tickets. If you bought the wrong ticket, you have to pay 60 euros (around Php3,500) as penalty," Joy explains.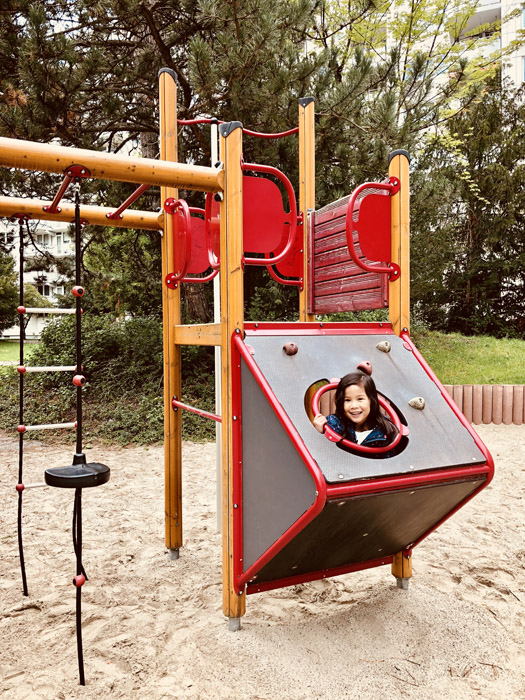 ADVERTISEMENT - CONTINUE READING BELOW
MORE FROM Smartparenting.com.ph
The benefits of living in Germany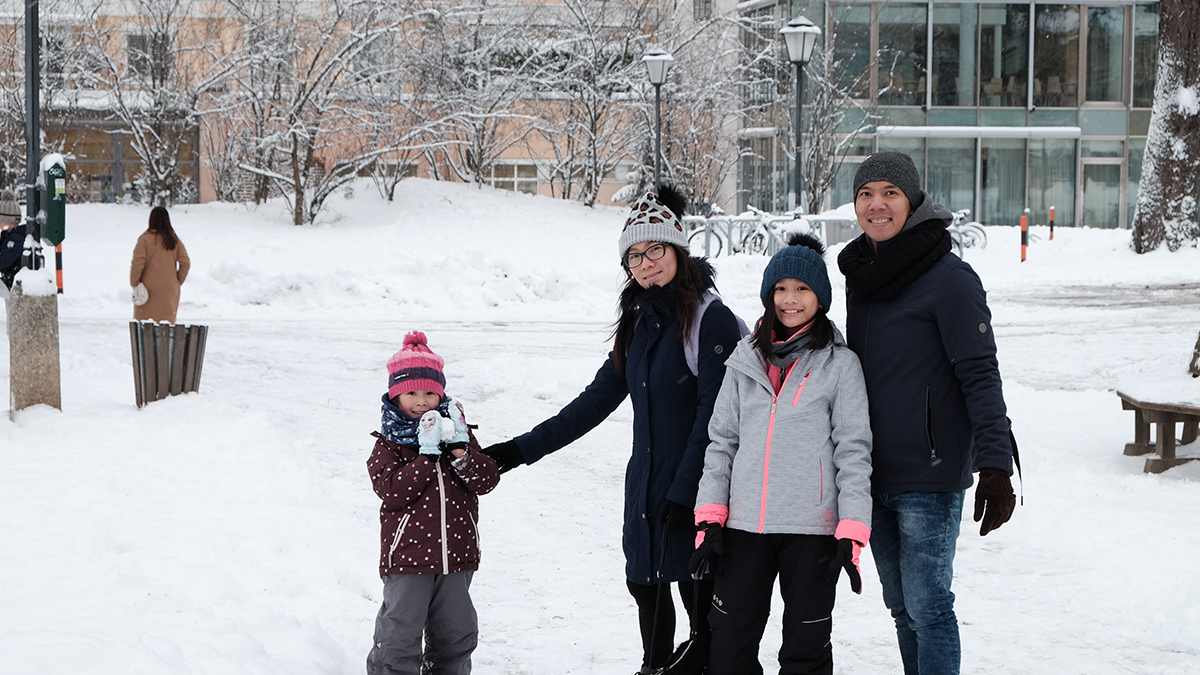 Joy shares that she does not regret moving to Germany even though life is easier in the Philippines.
PHOTO: courtesy of Joy Cepriaso
Free education
Joy says the quality of education in Munich, even in the free public schools, is high though it can be challenging to get a spot in kindergarten. Classes are from 8 to 4 p.m. but usually ends at 1 p.m. Kids don't bring books at home, and assignments are typically printed out. "They have a 'Hausaufgabenheft,' a notebook given at the start of the school year that parents sign as proof that their child accomplished the homework themselves," Joy explains.

One of the perks their daughter Sapphira enjoys is a well-stocked public library, which lets her borrow books for free.
Efficient public transport
Joy says that public transportation in Munich is incredible, but it is not cheap. Buses, underground and suburban trains, and trams are "highly efficient, clean, and well-organized." They are almost never late, and delays are always announced well in advance. They have group tickets for families and offer weekly, monthly, and yearly passes for frequent travelers. Students get discounts, and employees get discount cards from their respective employers, too.

Even with a lot of options for commuting, Joy says most people prefer to ride their bikes — it is the easiest way to get to your destination, and you feel secure even with the kids riding alone. "Hindi nakakatakot kahit mag-isa pumupunta sa school si Sapphira," Joy shares.
Kid-friendly areas
Joy points out a significant difference between Germany and the Philippines. "Dito halos lahat ng grocery store and department store, makakapamili ka ng maayos kasi pwede mong iwan ang bata sa isang corner where they can play with other kids or watch movies for free," she says.

Instead of just playing with gadgets, her daughters like playing outside because there are a lot of playgrounds in the city. "They get to have more physical activities and interact with other children," Joy notes. Apart from playgrounds, there are various museums, libraries, and art centers around Munich.
ADVERTISEMENT - CONTINUE READING BELOW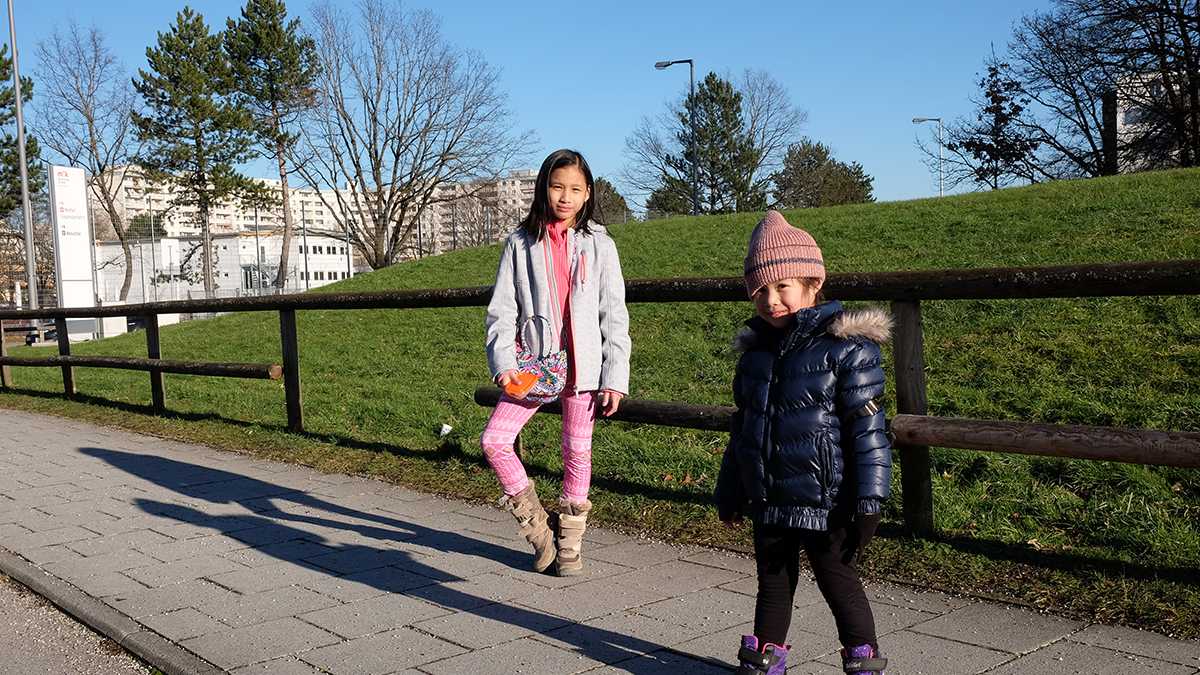 In Germany, kids prefer playing outside whatever the weather, according to Joy.
PHOTO: courtesy of Joy Cepriaso
Festive celebrations
Local holidays are a blast. "People dress up in costume for Fasching (carnival season that starts in November and lasts for three months before the Lenten season), go to the Christmas markets during the holiday season, and children have a lantern parade during St. Martin's Day," Joy shares. "Of course, the most famous festival is Oktoberfest!"
Proper waste management
Another thing that stands out for Joy is Germany's waste segregation system called the PFAND system, a policy that encourages people to recycle. "There's a refundable deposit on all plastic and glass bottles as well as cans. Once you have finished using the bottles, you can return it to the automated machines found in most supermarkets and get a coupon from the shop. It's usually around 20-25 cents (around Php14) and can be used in the supermarket where you returned the bottle," Joy explains.
Settling down in Germany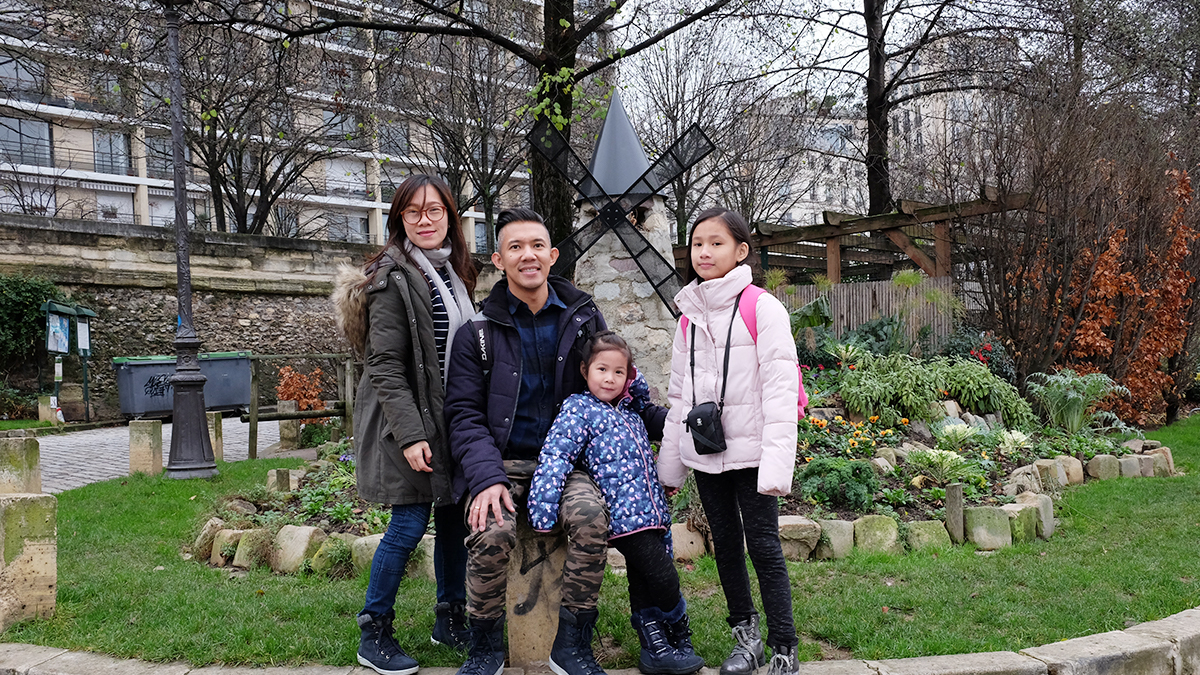 The Cepriasos get to travel outside Germany whenever there is a holiday. Here they are visiting Zurich in Switzerland.
PHOTO: courtesy of Joy Cepriaso
The couple's two daughters love their new home — they've made new friends, adjusted in school, and even speak better Deutsch than their parents. The happiness of their children is vital to Joy and Philip, which is why they want to live in Germany permanently. "We want our children to finish their education here. So far, we are enjoying our stay here," Joy says.

Going back to the Philippines is an option, but perhaps when the couple is much older. "The most important thing is we are together. For now, Munich is our home away from home."
MORE FROM Smartparenting.com.ph