Should Your Child Have His Own Social Media Account?

Meet parents who did make one, from an Instagram account to YouTube channel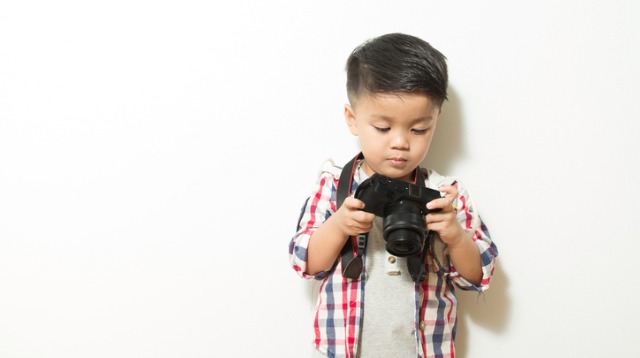 Your toddler just started feeding himself. The oatmeal is all over his hair, his face and his pajamas. He just looks so adorable! You snap a picture and post it on your Instagram account. Then you realize, almost every picture you've posted this past month is of your little one! Hmm, is it time to make a separate Instagram account for him? 

Meet a few parents who went ahead and created Instagram accounts, Facebook pages and YouTube accounts for their kids. They share how they came to the decision (never lightly!), how the experience has been like, and where they draw the line. 

(Click here to read our interview with security and data privacy experts who weighed in on children having their own social media account.)

What other parents are reading

Odessa and Renzie Baluyut
38 and 44 years old, Tagaytay-based small business owners
Parents to Tywin Pablo, 6 months old
Instagram: ingpablo (113 followers)

We didn't want to flood our regular Facebook or Instagram timeline with baby photos and videos. 
But we wanted a channel where we can post all these pics and videos of our little boy. Then we thought: maybe there were other first-time parents out there who were struggling just as we were, especially during the first few months. We felt that there was an overwhelming amount of information and advice online about raising a baby, so maybe we'd curate the ones we found useful for ourselves and throw in bits of advice every now and then from our own observations and experiences.

ADVERTISEMENT - CONTINUE READING BELOW

His social media account becomes a nice online journal. 
As parents, we get warm fuzzy feelings just going through them, and then thinking, "Wow. We must be doing something right to have our little one turn out this way." Drawbacks? None that we can think of now. I suppose it helps we're not celebrities in any way. We can still go about our merry way with relative ease and anonymity.

We like it when we connect with other parents around the world.

Of course, there will be no obligatory 'pututuy' shots. 
Nothing that he might be embarrassed about when he's like 12 years old or something. We try to keep it real as much as possible. Audiences are smarter now, and they can easily tell what's fake and what's real.

What other parents are reading

Dea Macachor Mesa
35, Baker
Mom to Audrey, 5 years old
Instagram account: @audrinalovestosing (161 followers)

My daughter was singing before she could talk!
Audrey loves to sing. So I have a lot of videos of her singing posted on my personal Facebook and Instagram account, but I wanted to have all of her videos in one place. Some friends and family — even our dentist! — had encouraged us to make a YouTube channel for her. Instagram is easier for me to manage though. Her father and I are mighty proud of her, and we love sharing her videos.

ADVERTISEMENT - CONTINUE READING BELOW

Recommended Videos

Having a social media presence would be a big plus.
She might decide to pursue singing or music in the future, which would not be surprising because her dad is a professional musician.

My daughter doesn't know about likes and comments yet. 
We read to her the comments, if they come from someone she knows. She likes it when her titas, titos and relatives leave comments.

What other parents are reading

Catherine Joyce G. Garcia
37, Businesswoman
Mom to Ryeca Francesca Angel, 14, Earl Carye Edd G. Garcia, 12, and Cara Louisiana Charlize, 5
Cara's Instagram: @prettytec (13,900 followers)

I originally posted my daughter's OOTDs on my personal Instagram page.
I kept receiving likes and comments, so I continued to post her pics and created another Instagram account for her. But I found it difficult to handle so many Instagram accounts. So @prettytec became our main account, especially when we got so many followers, and international fashion pages started to feature her.

ADVERTISEMENT - CONTINUE READING BELOW

I read the comments we get from our followers to her, and they make her happy. I think it helped her boost her confidence about herself.

I post whatever I like, I post whenever I like.
So far everything is positive. People love Cara. They love what she's wearing, they love her style. Mostly we get positive comments, like 'gorgeous,' 'pretty,' 'beautiful,' 'cute,' etc. Some local shops get her as an ambassador for their brands. Seller would send items from their shop, and we model and mention their shop's name or promote them in return.

As much as possible, I only post two pictures of her in one day.
I usually post one in the morning, a caption in between, then one at night. I don't want to flood my followers with all of Cara's OOTD. Of course, in terms of her outfits, it should always be wholesome. No naked photos. As my account is public, I need to protect her from pedophiles.

What other parents are reading

Michelle Katigbak Alejandro
38, Entrepreneur and journalist
Mom to Bella, 7 years old
Instagram: @bellakalejandro, 3,374 followers

My daughter was fond of watching YouTube videos like Mother Goose Club and Disney.
Eventually, she began watching videos by child-friendly kiddie vloggers, like Grace's Room and JillianTube. She was exceptionally fascinated with toy unboxing videos and other kids' fun adventures. She kept asking if she could make a channel of her own. 

I put it off, telling her she was too young, thinking she would eventually forget. But then last year we went to visit family in the US, and her cousins both had YouTube accounts. I would catch her making vlogs in her room or pretending to make videos whenever she unboxed new toys. I realized she was really serious about it. I made a deal with her: if she did well in school and got exceptional grades, I would help her make her channel.

ADVERTISEMENT - CONTINUE READING BELOW

Channels must keep churning out content, and the pressure to keep up is intense. We both learned a lot doing this.

I was worried about the pressures of social media
How many likes you have, or subscribers, or what people think of your videos — I didn't want to expose her to that so soon. Social media is a very public outlet, and there are a lot of unscrupulous characters online with bad intentions. I also kept telling her that a channel is a lot of work, and that making videos takes time and patience. I needed to confirm her dedication because I knew I would have to put in a lot of time as well. In the end, she kept up her end of the bargain. We put up her channel last year. 

My daughter's level of dedication and involvement surpassed my expectations.
She was extremely involved in the process, from choosing the name to selecting photos and giving me ideas for videos she wanted to make. I was really surprised. She exhibited enormous amounts of patience over Christmas by not opening her presents until we were able to shoot unboxing videos for them. She learned pretty quickly that making videos is not as easy as she thought. But she practiced and doesn't mind doing it again and again until it's right. If we haven't posted in a while, she'll always remind me about it.

What other parents are reading

Celebrate your pregnancy milestones!


Enter your details below and receive weekly email guides on your baby's weight and height in cute illustration of Filipino fruits. PLUS get helpful tips from experts, freebies and more!

You're almost there! Check your inbox.


We sent a verification email. Can't find it? Check your spam, junk, and promotions folder.

Trending in Summit Network