This Dad Draws the Everyday Moments in Life He Never Wants to Forget

His wife's miscarriage drove him to start documenting his family's life with his drawings.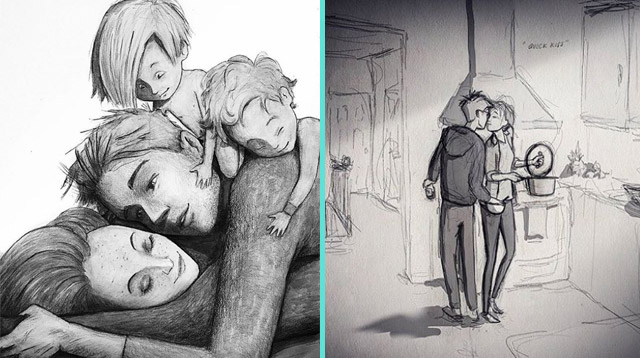 We have no control over the painful and tragic moments in our life, but we have a choice when it comes to what we do afterward. Photographer Curtis Wiklund decided to use art to help him cope with his wife's first miscarriage, and his work has inspired and touched the hearts of thousands of other parents . 

Wiklund, dad to Casen who is 4 years old and Hayden who is 3, drew sketches of his family occasionally. But it became a constant part of his life when he and his wife Jordin lost their unborn daughter Ellie. (The coupled suffered another miscarriage afterward.) 

"That first loss was actually what drove me to start drawing again," Wiklund told The Huffington Post. "I realized I needed drawing, like somebody might need to write music, journal or go for a run. Drawing was helping me process."

What other parents are reading

The sketch shows a heartbreaking image of Curtis and his wife the day they found out about the baby. They are in their car, still parked in the parking lot, crying in each other's arms.

ADVERTISEMENT - CONTINUE READING BELOW

The one after is titled "Closure," a sketch of Curtis lying next to Jordin with his head beside her stomach. "I didn't realize that I needed it, but last night, I asked Jordin if I could touch her stomach. What I needed was to feel it and say goodbye to our baby before it was physically gone. I needed it...Like closure," he wrote in the caption.  

What other parents are reading

That was back in July 2016. Today, congratulations are in order. The Wiklunds are expecting another addition to their family (they now have two kids), and Curtis' drawings carry a much different tone. They still very much resonate with moms and dads as they depict the simple but beautiful and tender moments that might have slipped past if it were not for Curtis documenting them. 

"I tend to draw moments that made me feel something," he told HuffPost. "Those moments are sometimes hard to notice in real life, and even harder to articulate to someone else… I would've missed those moments if I hadn't drawn them, and those are the moments I never want to forget." 

You may recognize a few of the dad's sketches yourself. He draws his family huddled together in bed reading a book, sleepovers in mom and dad's room, a day at the aquarium (with his wife's chin resting on his shoulder), and even more intimate and silly moments (with one where they share a kiss in front of the kids). 

CONTINUE READING BELOW

Recommended Videos

ADVERTISEMENT - CONTINUE READING BELOW

What other parents are reading

The dad shares that it's not unusual for him to cry in the middle of sketching his family. "Suddenly I see the whole finished picture in my head, and it breaks me to tears, because I'm so overwhelmed at how beautiful the final image is in my head, and how thankful I am for the people in it," he said in one of the image captions. "Then it's a matter of work, to try to show someone else the image I see in my head."

Curtis has built a following of near 73,000 on Instagram and more than 79,000 on Facebook. Just last December 2017, he was also able to launch a book of his drawings titled "Us" which is, of course, inspired by none other than his wife. Here are a few more of his drawings: 

ADVERTISEMENT - CONTINUE READING BELOW

ADVERTISEMENT - CONTINUE READING BELOW

Above is the lovely family in color. See more of Curtis' artwork on his Instagram and Facebook page. 
Trending in Summit Network