That Was My Son Holding a Placard at UP That Said 'Reconsider Me'

"My son has long been enamored with the university."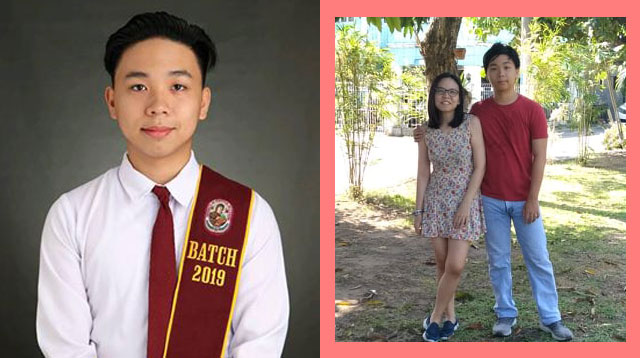 Parenting can be a lonely job. What helps is having a community who cheers and listens without judgment. And that's what our "Real Parenting" section is for: a space where parents can share the joy, pain and the mess that is parenthood. 

When the UPCAT results (University of the Philippines College Admission Test) came out last April 1, 2019, my 18-year-old son Ino came into my room and cried. "I've let you down." My heart broke in tiny pieces as I rubbed his back, something I used to do more when he was younger.

It was always Ino's dream to get into UP. He had been talking about it when he was a high school student at the Miraculous Medal School where he reaped so many awards on his graduation day. He told me that day, "Ma, sa UP, ganito din tayo." When I joked about him attending a school that is literally a skip away from our house, he would look at me firmly and said again, "Ma, basta UP."

Ino has long been enamored with the university because of the impressive lineup of graduates it has produced. He wants to become a lawyer and go into politics, and he long believed that being an "Isko," (Iskolar ng Bayan) would help him fulfill his dreams.

What other parents are reading

Tuition is an issue, too. Ino has three other siblings, all brothers, and our family relies on me, a solo mom, and my writer's income to live. While we've had help (my aunt in the U.S. has supported Ino through the years), I know Ino wants me and my aunt to worry less about spending for his college education.

ADVERTISEMENT - CONTINUE READING BELOW

I knew how disappointed Ino was, and how he blamed himself for not passing the exam. While we were talking, the grown-up in me was already calmly talking of the other options he could take. But the mom in me cried inside. I knew that I had to keep it together to show him that I was confident that we could get through this new crisis.

Our old crisis? In a nutshell,  Ino and his three brothers had to leave the house they grew up in  — my in-laws' house — to escape abuse. We managed to get past that already and found a new home that made us feel safe and happy. Then came this new challenge.

What other parents are reading

My son lied to me

The night before Ino headed to the UP campus in Diliman after he found out about the results, I chastised him for making so much noise. He was making this wooden frame of sorts, and it was already 9 p.m. I was afraid the neighbors would complain about the racket he was making.

"Ma, there's something I need to do. I need to finish this tonight because I am leaving early in the morning," he explained while wiping the sweat off his brow. When I asked him what it was, he replied it was a secret.

I am used to Ino acting this way. He always says that I have to learn to trust him, and I try. I try not to pry. I try not to stand in his way, but I am always ready to step in when he asks for help.

CONTINUE READING BELOW

Recommended Videos

There was the time that Ino had his prom outfit sewn by a tailor that he found himself. I had my not-so-happy comments about the suit when I first saw it. Then he won the prom's Best Dressed. 

So, when he told me that whatever this thing he was doing was a secret, I respected his wishes; okay, I tried. When he went out to buy something that he needed for his project, his yaya told me that she saw a tarpaulin hidden in one of the garage cabinets. "Ma'am, tignan mo kasi baka kung ano yun," she suggested.

So I looked, and I saw he had made a sign that says, "Reconsider me?"

I freaked out but in the privacy of my room. Ino was up to something, all right, but I could not — and did not — want to stop him.

The next morning, at around 5 a.m., he came into my room and told me he was leaving for PICC for graduation practice that day. "This early?" I said incredulously. "Do you want me to book a Grab for you?" He declined, of course.

What other parents are reading

My son made me proud

The rest of my morning went about as usual. I had a meeting and was about to write something to meet a deadline when I saw something on my Facebook feed. My friend reposted a photo of a boy on the UP campus who was holding a sign that said, "Reconsider me?" 

My heart leaped. I cried. There was my boy, all by himself, trying to get his message across. Trying to get into his dream school through his efforts, through means that I would not have even dreamed of doing. Then, like any worried mom, I messaged him and asked him to come home right away.

ADVERTISEMENT - CONTINUE READING BELOW

I showed the post to his brothers, and they were very proud of their kuya. That touched my heart even more; he is their best role model.  My heart was swelling with pride, and so were my eyes. With one of his brothers and his yaya, we stood vigil, waiting for his return.

What other parents are reading

Ino came home so many hours later. He went straight to my room, kissed me on the forehead and recounted his adventure. Many people stopped to talk to him, he said, "even the [university's] vice-chancellor came over!" He also spoke with political science students, Lumad students, and student leaders who were there for an assembly.

"They told me it is about time to change the system at UP, so there would be more students who could get into the college that they want," Ino shared.

I looked at my son. His eyes were blazing with conviction and passion. Even though he had spent the day under the hot sun, and lugged around a placard on his commute, he was full of life. He had a renewed sense of hope. He was a man on a mission, a far cry from the sobbing boy I held only a few days ago.

ADVERTISEMENT - CONTINUE READING BELOW

I knew I could have stopped him from carrying out his plan. I also knew it was not my place to stop him. As parents, all we can really do is raise them to the best of our abilities, guide them along the way, and watch them soar on their own. Like I told him when we talked about his plans after UPCAT, I am just here, ready to support him in whatever he decides to do.

Want to get something off your chest? Or share a slice of your parenting journey with fellow moms? Send it to our Facebook Messenger or email at smartparenting2013@gmail.com with the subject "Real Parenting."

What other parents are reading

Celebrate your pregnancy milestones!


Enter your details below and receive weekly email guides on your baby's weight and height in cute illustration of Filipino fruits. PLUS get helpful tips from experts, freebies and more!

You're almost there! Check your inbox.


We sent a verification email. Can't find it? Check your spam, junk, and promotions folder.

Trending in Summit Network