Child Wants a Weird Costume? Let Him Be or Join in the Fun

The initial reactions of shock and disbelief are normal. But let's make sure our kids can count on our love and support.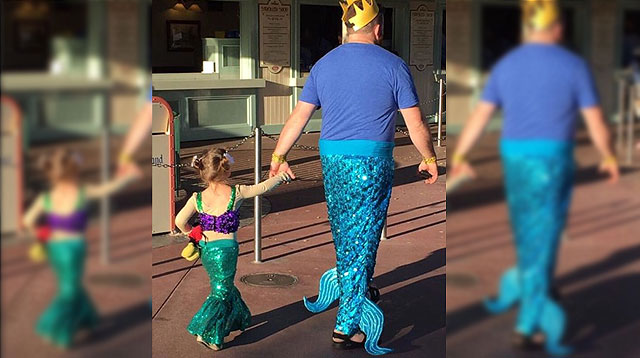 Around this time each year, kids and their parents are having serious talks: what to wear for that playful annual event called Halloween. For those with babies and toddlers, it's a no-brainer -- mom and dad often decide the costume. For preschoolers and big kids, however, Halloween presents an opportunity to express themselves, and their costume choices don't always follow the "norm." As parents, we try our best to be supportive, but often our first honest reaction is a yelp. 

The initial reactions of shock and disbelief are normal. Remember the 7-year-old girl who shaved her head to go to AsiaPop ComicCon as Elle of Netflix's Stranger Things? Her mother and grandmother had a huge fight about it because a girl with a shaved head is not the norm. That incident probably won't be the last. 

Hollywood actor Will Smith reacted the same way when he learned that his son Jaden's new clothing featured skirts. He told News.com.au that he first told Jaden he could not wear it. "[Jaden] said to me, 'Dad, it's fine. It's going to be so hot all the kids will be wearing it.' I said, 'No, the kids are not going to do it because their parents will have sense enough to not let them do it.' But he's confident in who he is and who he wants to be."

What other parents are reading

Jaden and his sister Willow, in Interview Magazine, shared where that confidence came from. Jaden said they really experimented with clothes they wore when they were younger. Willow added, "When we were old enough to start dressing ourselves, my mom was like, 'Are you sure you want to go out like that?' And me and Jaden would be like, 'You know what? Yes.' And she'd totally accept it. I feel like that's where most of our confidence comes from." 

Understanding and accepting our kids' choices, however, can come after the shock subsides. But, unfortunately, it won't be so easy for other people who feel they need to say something. In May, mom Wendy Armitage felt the need to defend her son's fairy costume (he was playing with his sister who had on a similar outfit) when a delivery guy told the boy, "You can't be a fairy, you should be a superhero." 

ADVERTISEMENT - CONTINUE READING BELOW

Wendy told The Huffington Post UK, "If [the delivery man] had said it's unusual to be a fairy, we wouldn't have thought too much of it. But saying someone should take Isaac to one side implies he was doing something wrong. I feel disappointed that there are still people in this world that ask questions like that and think it is their right to tell other people what they can and cannot wear."  

Another mom, Jen Anderson Shattuck, also took to social media to call out the man in the park who demanded to know why her son was wearing a tutu. In her Facebook post, Jen said the man directly told her son, "She shouldn't keep doing this to you. You're a boy. She's a bad mommy. It's child abuse."

Jen took a firm stand on the matter: "I will defend, shouting, his right to walk down the street in peace, wearing whatever items of clothing he wants to wear. I will show him, in whatever way I can, that I value the person he is, trust in his vision for himself, and support his choices---no matter what anybody else says, no matter who tries to stop him or how often."

What other parents are reading

In an essay entitled "My Son Wears A Dress -- So What?" by Suruchi Krieglstein for Mashable, she explained why gender-bending costumes should not be a big deal. "Our notions of value associated with male and female identities are challenged in so many ways. Many parents are perfectly comfortable with their daughters portraying stereotypically masculine traits. And these portrayals aren't necessarily assumed to be trans or gender-questioning explorations. I believe we can have the same understanding and acceptance for our sons," she wrote. 

CONTINUE READING BELOW

Recommended Videos

Krieglstein, who lets her son dress up as anything he wishes during Halloween even as a princess, shares that her son tells her that some of his boy classmates also want to dress up as princesses, but their parents won't allow it. Some refuse to let their sons do it mostly out of fear. They don't want their kid to be teased or bullied for their unusual choice of clothing.

Experts have carefully distinguished between "sexual orientation" and "gender conformity" -- the former doesn't kick in until puberty, but the latter is extremely relevant from age zero onwards. For our country, it's still an uphill battle due to a still predominantly traditional society. However, to change the perspective of many, one has to start small and stand up for it. 

A great example is this photo of a dad and his daughter that has been making the rounds on social media. Complete with a gold crown and sequin tail, father and daughter are dressed as King Triton and Princess Ariel as they conquered Disneyland, and it was not even Halloween! With a glittery tail and united with his daughter, this "mer-dad" shuns costume stereotypes, and his courage makes him a superhero in our books.




ADVERTISEMENT - CONTINUE READING BELOW

Jen ends her post by sharing their family motto: "We are loving. We are kind. We are determined and persistent. We are beautiful and brave." It's something other parents might also consider adopting. So if your toddler child wants a "unique" costume, if it would make him happy -- which is what every parent want for her kids -- just go with it and have fun!

What other parents are reading

Celebrate your pregnancy milestones!


Enter your details below and receive weekly email guides on your baby's weight and height in cute illustration of Filipino fruits. PLUS get helpful tips from experts, freebies and more!

You're almost there! Check your inbox.


We sent a verification email. Can't find it? Check your spam, junk, and promotions folder.
Trending in Summit Network