The 5 Dad Commandments

In a nutshell, this is how one can be a good father to his children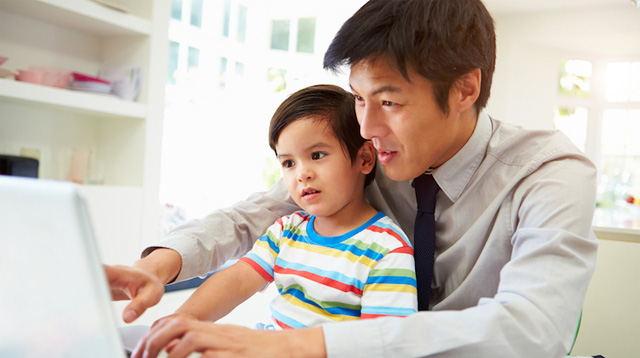 There is a lot of natural instinct that goes into being a good mom. Cradling and cooing to the tiny infant, stroking his head or wrapping your arms around a toddler in tears, and even haggling over meals and bath time with a precocious child -- these are actions so innate and ingrained in the DNA of mothers that even animals also do these without a second thought. 

But what comes naturally to fathers? In the animal kingdom, they protect the family and the home, and they provide the food. What about in our modern world? What roles do fathers play? Providing for the family and being the brave one to kill the ipis with a tsinelas are just for starters, but it should not end there.

Please allow me to express a personal opinion: I think a father who does a lousy job at parenting can do great damage to the well-being of his entire family. He is traditionally the head of the family in our patriarchal society, so whether present or absent, his attitude sets the tone for the home and the people who live in it. 

What other parents are reading

The following are some dad commandments that I drew up. These may sound harsh, but that is because I have seen many times how an unthinking father can affect his children. My goal is to help fathers approach parenting in a deliberate way, not just by mimicking the way they were raised, but by really trying to be the dad they wished they had.

ADVERTISEMENT - CONTINUE READING BELOW

1. Do keep your temper in check.
You can get angry, of course, but that is no excuse to shout, curse excessively, hit, or throw things. There is nothing as damaging to a child's self-confidence as having his father shout at him and call him names. Should you ever do that, I urge you to apologize formally to your child, one on one, when you are no longer in an emotional state.

This commandment applies not just to conversations with children but also to your relationship with your spouse, your domestic employees, and even to the nasty driver who cuts you off on the road. Anger is for gangster movies or Ultimate Fighting Championship matches. In real life, losing your cool is not cool and frightens kids. If you can't hold your anger, then count to 10 or step outside. Alone.

2. Don't display reckless behavior in front of your children. 
One would think this is an obvious rule, but I am still surprised by how many people think it doesn't apply to them. Getting obnoxiously drunk in front of your kids, taking drugs, and brandishing weapons are never okay. And don't invite to your house buddies who don't understand that basic rule.

What other parents are reading

3. Don't undermine Mom's authority.
Mom may have particular rules about the kids' mealtimes, sleeping schedule, etc. that took her a lot of effort to draw up. If you think one of these rules isn't necessary or could be adjusted somewhat, discuss it privately with Mom first.

If you want your children to treat others properly, be a role model yourself. Your son will learn how to treat women based on how you treat your wife. Your daughter will learn what kind of behavior to expect from her boyfriend or suitor based on how you treat your wife. So when you and your wife have a discussion or a disagreement, be mindful of showing respect at all times -- not just because your wife deserves it, but also because you are modeling mature behavior for your children.

CONTINUE READING BELOW

Recommended Videos

4. Don't be too excited to turn your little boy into your clone.
When you were a kid, you used to roam the streets of your village alone late at night, but you weren't scared. You were the captain of your basketball team who scored all the winning shots. You could climb trees barefoot and swim across rivers. You got gold medals in Math without the need for a private tutor. That's great! Well, times are different, and your son is not you.

What other parents are reading

It is okay to relive and share with him the things you liked to do when you were his age, but don't impose your past on him as a standard to be met. He may not be inclined to do the same things, or he may not even be capable. Conversely, he may be interested in things you know nothing about. See where he leads you. If he likes chess, reading books, volleyball, or the glee club, then so be it. No matter how much he looks like you, he is not your mini me, and forcing him to be one is so old school.

5. Don't be too cool for a hug.
Your child may have a fancy stroller and a yaya tailing him all the time, but don't let those deter you from carrying your child as often as you can. Carrying him is a hug, eye-to-eye contact, and ultimate bonding all rolled into one.

Some dads are not good at verbally expressing their affection, so start with carrying your baby. It does not make you look "under the saya" or an overly ganado dad. Don't worry about Baby messing up your shirt or your hair, or manhandling your cell phone. When your child turns into a conscious middle-schooler who refuses to take your hand or even walk side by side with you, you are going to regret not having hugged him endlessly when he still craved your hugs.

ADVERTISEMENT - CONTINUE READING BELOW

This article first appeared in the June 2014 issue of Smart Parenting magazine. Minor edits have been made by the Smartparenting.com.ph editors.

What other parents are reading

Celebrate your pregnancy milestones!


Enter your details below and receive weekly email guides on your baby's weight and height in cute illustration of Filipino fruits. PLUS get helpful tips from experts, freebies and more!

You're almost there! Check your inbox.


We sent a verification email. Can't find it? Check your spam, junk, and promotions folder.

Trending in Summit Network