The Santa Claus Concept: Should You or Shouldn't You?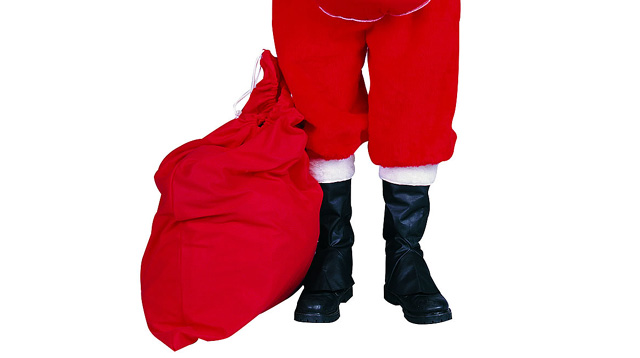 Santa Claus is a well-known "symbol" of Christmas, and many of us probably have memories of making "wish lists" and letters to Santa when we were still children. Indeed, the concept of Santa goes way back, and, to this day, many families still incorporate him in their annual Christmas traditions.

But did we ever wonder how the concept of Santa Claus came about in the first place? Where exactly did he originate from?

To answer these questions, a detailed article on National Geographic gives a good account of the "surprising origins" of Santa, who actually traces his roots back to Saint Nicholas of Myra in Turkey. Saint Nicholas was known to be a generous man, which is likely why the Santa Claus of today is also known to give gifts.

Of course, not everyone believes in Santa, nor includes him in their family holiday traditions. "Different folks, different strokes," as they say, so it's not surprising that every family has its own "take" on Santa too.

Santa Claus all the way
Take, for example, Joizee Alvarado-Javier, an online English teacher, and mom to Zami, 5, and Fio, 1. She grew up with the Santa Claus tradition and says it was "fun and merry and joyful," which is why she introduced Santa to her kids.

What other parents are reading

"I want my children to have the same excitement for Christmas as I did in my childhood," Joizee shares. "Big or small gifts, lots or just one, I want my children to think of Christmas as a season or day of fun, a celebration, of family gatherings, a day of sharing – not only giving."

She elaborates, "I think I started telling Zami about Santa when she saw him on cartoons or animated movies. I simply said, 'Santa gives gifts.' When she started asking the thousand-whys-a-day question, I gave her an example instead. Last Christmas, we left her gift on her bed as a surprise when we came back home after attending Mass. She was so happy and we told her it was from Santa."

Zami's reaction was unexpected though. Joizee recalls, "She asked, 'Will I have another one tomorrow night? And the next night? And the next night?'"

Zami's continuous questions about Santa leaving more gifts, especially after Mass, led Joizee to tell her that "Santa only comes during Christmas," to which Zami reacted with a tantrum.

Joizee wasn't that affected though. "That's fine, it's a natural reaction," she explains. "Now that's she's 5, I'm trying to introduce the naughty-nice list idea. Maybe she would have a greater understanding of Santa's gift-giving abilities."

ADVERTISEMENT - CONTINUE READING BELOW

What other parents are reading

When it comes to telling her kids the "truth" about Santa Claus, Joizee laughingly remarks, "Oh, is Santa not real? He's real, I say to you! He's real!"

Seriously speaking though, Joizee shares, "I think as long as I live, I will not initiate talking about the 'reality' of Santa Claus to my kids. I will reserve the explanation for when they ask, but as long as they don't question it, there's no need to talk about the reality of Santa Claus or fairies or unicorns or dreams. Maybe they would discover it on their own, somewhere, somehow. I'll let them discover it instead of me dictating what's real and what's not."

Santa, Saint Nicholas and Jesus
Writer and editor Rheea Prudente, on the other hand, has a different opinion on Santa when it comes to her kids Raine, 8, and Breeze, 5. She and her husband don't "play Santa" during Christmas and have no plans to.

"We tell the girls that Santa is a Christmas tradition, someone who gives gifts to girls and boys at Christmas, and that some families have the tradition," she explains. "We tell them that Santa is based on St. Nicholas, who, in his time, used to give gifts to children on Christmas Eve."

Rheea and her husband made this decision primarily because of their faith. "Although I grew up with the thrill of Santa, we wanted to focus on the real reason for the season: our Savior," she shares.

What other parents are reading

"So instead of the Santa tradition, we do the Jesse Tree or Advent Calendar. We read from the Bible every night leading to Christmas, stories that lead to the birth of Jesus."

Rheea adds that they still introduce Santa Claus in a different way to their kids. "On a side note, we also tell the girls that some kids and their families do Santa, and that their parents chose to do that tradition, so we shouldn't spoil the fun for them," she says.

Experts weigh in on Santa Claus
Now, if you are a parent who has introduced Santa Claus to your kids, or have plans of doing so, you might want to consider what our experts have to say about telling kids the "truth" behind him. Hopefully, this will help you – and your kids – have a meaningful Christmas, with or without Santa in the picture.

For starters, if your child already knows of Santa, you need to know that there will come a time when you will have to tell him or her the truth. Michele S. Alignay, registered psychologist, counselor, resource speaker, author and mom of two school-aged kids emphasizes this.

"When the kids have reached the age of wonder turning into concrete knowledge, like late childhood, parents should tell them the truth," Alignay explains. "They need to know, too, that Mom and Dad played 'Santa' because they want to grow the spirit of giving and receiving something special."

ADVERTISEMENT - CONTINUE READING BELOW

Recommended Videos

What other parents are reading

Josefina "Nina" Quintos Era, educator, child and family specialist, and mom of two, agrees. "It is always best to be honest with your kids," she shares. "That is how I deal with my children."

Alignay suggests parents spill the beans about Santa when their kids are "about middle school age, or during late childhood" because this is the time when they "no longer have a sense of awe and mystery."

"Children in that age group concretize everything around them. They look for answers, and so they understand things better too," she adds.

If you're wondering exactly how to tell your kids about Santa, Alignay gives the following advice:

"Personally, the best way is also through a Christmas gift, so they know that the 'spirit' of Santa can live on in their hearts. Also, they need to be encouraged to have the spirit of giving, which Santa symbolizes. Then, simply explain to the kids that the spirit of giving, represented by Santa, lives in the hearts of both the young and the parents."

What other parents are reading

Era shares similar thoughts. "Tell them that Santa is one of the many symbols of Christmas because he gives gifts, especially to children who have been good the past year," she expounds. "It means that we should share our blessings, most especially during the Christmas season."

As a mom herself, Alignay also shares how she and her husband "play Santa" in their home:

"I have not told the kids the truth yet. My son is in the process of putting things together when it comes to how Santa does things and sends gifts. He is 9. And so in a year or two, he will know how Santa sends gifts.

"We don't give expensive gifts as Santa. We tell them that Santa has so many kids to give gifts to, so they should request for something affordable. We don't want Santa to outdo us parents in giving gifts.

"I tell my kids that Santa knows what they like and gives it to them, yet he cannot give expensive gifts because he wants to share Christmas cheer to other kids as well."


As we can see, whether you believe in the concept of Santa or not, it's always best to be truthful with our children, and to engage them in open, honest dialogue. We should also emphasize the fact that Christmas is the season for giving, not just receiving gifts, and the best gift we can give to others is not necessarily material in nature.

What do you tell your kids about Santa Claus? Share your inputs with us in the comments below!

ADVERTISEMENT - CONTINUE READING BELOW




Celebrate your pregnancy milestones!


Enter your details below and receive weekly email guides on your baby's weight and height in cute illustration of Filipino fruits. PLUS get helpful tips from experts, freebies and more!

You're almost there! Check your inbox.


We sent a verification email. Can't find it? Check your spam, junk, and promotions folder.

Trending in Summit Network