'Basketball Helped Me Bond With My Son,' Solo Parent Celebrates UP's Historic Victory, And Says It Helped With Her Mental Health Struggles

This mom from Quezon shares, her son is an aspiring basketball player partly because of her love for the sport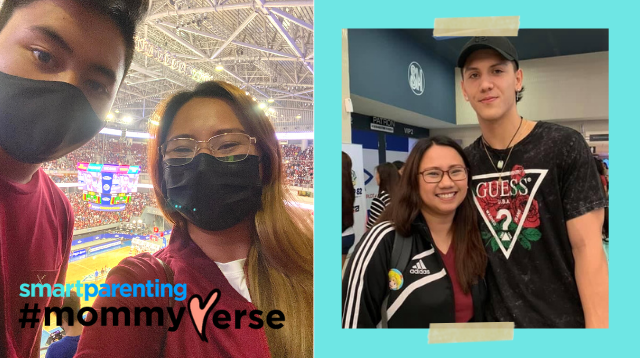 When the University of the Philippines Men's Basketball Team (UP MBT) was declared the UAAP Season 84 Champions for the first time in 36 years, among the thousands of supporters who felt they've won was Sam de Asis.

On the day of the do-or-die game against the Ateneo Blue Eagles last May 13, Sam, 34, together with her 15-year-old son Zaden Skyler, traveled 4 hours from their home in Lucena, Quezon Province to the SM Mall of Asia Arena in Pasay City to witness the historic game.

ADVERTISEMENT - CONTINUE READING BELOW

She said, it was their first live game since the Covid-19 pandemic started in 2020. She patiently queued online to score some tickets, and it was all worth it.

'Basketball helps with my mental health struggles'

Overjoyed, Sam shared in a Facebook post the next morning, "Since last night, I've been replaying in my head all the things I wanted to say, all the stories that I wanted to share, all the cute anecdotes I've accumulated over the last 16 years. There's just so many. I guess it's important to start in the beginning."

"Almost all my close friends and relatives know I am a basketball fan. But not everyone knows why. Basketball helps with my mental health struggles. I love the game with my entire being  and games have become a source of comfort when I am not okay. (Yes, even in the many games we lost.) This is why I always looked forward to watching games live or even on TV," she adds.

Sam has been vocal about her mental health struggles on social media. She was clinically diagnosed with depression in 2015, but she said she was suspected to have it since she was a little girl. She said she used to go for counseling often, starting grade 3 up until college.

READ ALSO: 4 Ways To Combat Feelings of Panic And Dread According To A Psychologist

Sam gave birth to her son Zaden Skyler on her 19th birthday

CONTINUE READING BELOW

Recommended Videos

 

'Coming from La Salle, I didn't know I'd fall in love with UP too'

"Coming into the UAAP part of my life, I cheered for La Salle. Of course I did. It was my brother's alma mater. And then I ended up studying there too. I was ready to cheer for La Salle (I still do) when I entered college but little did I know I'd fall in love with UP too."

Sam eventually studied in UP Manila, and she felt that minute feeling of affiliation and belongingness with the UP MBT in 2006. Back in high school, she was batchmates with Martin Reyes, Dan Salvador, and Migs de Asis, who also became part of UP team. Migs was her nephew, and she said she got game tickets from him most of the time.

Sam with Migs De Asis, Vicmel Epres, and Marvin Cruz from 2006

ADVERTISEMENT - CONTINUE READING BELOW

Sam wrote, "The years would pass and what erupted as an ecstatic first win (over UST) in 2006 with a combined 10 triples from Migs and Martin would eventually be some very sad basketball years for UP. Since then, UP struggled to get the wins, so much so it actually had two winless seasons."

"Despite it all, I never lost hope. Sure, the team would be mocked year in and year out, and I've gotten used to the banter/insults from other people about the team I keep supporting but keeps losing. Sometimes I would even laugh/joke with them even though deep inside masakit rin."

PHOTO BY

FACEBOOK /NOWHERE TO GO BUT UP

 

'A source of joy'

"I think it was in 2014 when I watched one of the games live, and the venue was almost empty save for a few people who were probably related to the players and got free tickets. It was also usually the first game (pre-pandemic, there were 2 games per game day) because less people watched when it's a UP game. I even think some other teams considered games against UP as a sure win for them," she said.

ADVERTISEMENT - CONTINUE READING BELOW

"Through the years, despite the losses, the goal was always to make it to the final four. The year before "Atin 'To" era, we almost made it. I broke down in tears when we didn't."

Sam said supporting the UPMBT helped her compartmentalize. Watching the games was a source of joy for her, so she did her best to protect these moments. When she's in game, nothing else matters. It was her escape from all the stress brought about by work and relationships.

READ ALSO: 3 Secrets to Go From Chaotic to Stress-Free Family Life

 

'I was always hopeful for the team'

She continues, "In Season 81, fans finally took notice. What seemed to be the easiest thing in the world then - getting tickets to a UP game - became crazy difficult. But I was happy because more people were supporting the team."

ADVERTISEMENT - CONTINUE READING BELOW

Being UP basketball fan, Sam was always hopeful for the team. She always had something to look forward to every year. 

Sam and her son with UP MBT's Diego Dario

 

"That same year, the goal of the final four appearance became an unexpected trip to the finals. We lost that finals to Ateneo, yet at the end of that finals game 2, the UP crowd just seemed like the happier crowd. My friends and I joked we'd never seen a happier runner up."

 

'The wins started coming over'

Sam recalled the hardships that the team faced that led to this victory. 

"I remember back when we were in college, the team didn't even have a legit bus, post-game meals, or any real support. They would share the CHK gym with a lot of other varsity teams even though water made it dangerous for them when it rained because the roof had holes. Fast forward to today, not only do they have a gym, a bus, and recovery meals, but also funding support, training support, and a legitimate sports program."

ADVERTISEMENT - CONTINUE READING BELOW

Sam's genuine love for basketball rub off on Kyle, who is now 15 and is 5'9" tall. She said all those days that she brought her son to games and all the games they watched together on TV could have partly been an influence.

READ ALSO: How to Be Your Child's Role Model: Let Him See You Do These 5 Things

She goes on, "The wins started coming, over La Salle, over Adamson, and then the rest. And UP would be known to be the Cardiac Maroons/Cramming Maroons, always having close games and having to climb their way back up from some seemingly insurmountable leads by the opposing teams. We brought this even to Season 84. Cardiac game after cardiac game. We even bungled the twice to beat advantage over La Salle, but made up for it by going getting into the finals."

'My knowledge about the sport helped me bond with my son'

ADVERTISEMENT - CONTINUE READING BELOW

Aside from being her escape, Sam is grateful for basketball because being a solo parent, she said her knowledge of the sport helped her bond with her son too.

READ OUR OTHER #MOMMYVERSE STORIES: 'Every Single Bad Day Is So Much Better Than No Day At All': 39-Year-Old Breast Cancer Warrior Arms Her Two Daughters With Awareness For Their Future

 

With UP MBT's Paul Desiderio

 

"Going toe to toe with Ateneo in the finals couldn't have been easy. It's such a strong, almost machine-like team. But we won game 1 thankfully. We could have won finals game 2, and brought home the victory, but I guess it wasn't in our cards. Ateneo is the defending champion for a reason after all. And thus, we had to go to a game 3. UP literally played its longest season this year."

She said having something in common with her son keeps her mental health in check. And through the moments they shared over their love for the game, her son understands her and her mental health more. 

ADVERTISEMENT - CONTINUE READING BELOW

At 15 years old, she said her son knows how to protect her peace, and helps her cope when she is not 100% okay.

READ ALSO: 6 Questions About Parental Leave for a Solo Parent, Answered!

'A big source of happiness'

"For the Season 84 Finals, we wanted to watch. Not so much for the win, because that's never guaranteed, but because of our shared love for the sport and because it's our team. It was difficult to get tickets, but I persevered and finally got some.  We were both excited and agreed to wear maroon too! I'm glad we got to experience this milestone together."

The win allowed her to recall and share with her son more stories of previous years, and told him that these things, no matter how difficult, are possible. "With hard work, dedication, teamwork, the team finally won the championship. I'm sure it inspired him to do better in training and maybe someday achieve his basketball dreams too."

Sam with UP MBT's James Spencer, who is part of this year's championship team

ADVERTISEMENT - CONTINUE READING BELOW

 

Sam said, the victory of UP MBT felt like a thank you gift for all the years she cheered for the team. "I felt relieved that all that I did to support the team is not in vain. It has become a big source of happiness and I know I will always look back on that championship game with fondness and joy."

If there's one thing that Sam wishes for her son, who is an incoming Grade 10 student and has dreams to become a collegiate basketball player, it's this:

"I hope he learns from the story of the UP MBT, that despite the hard times and dark days, there will always be light. I hope to impart with him that the win is a combination of hard work and relentlessness, of support of the community, and a lot of prayers. And my prayer is that he would also be able to apply these learnings not just on the court, but in real life as well."

ADVERTISEMENT - CONTINUE READING BELOW

Congratulations, UAAP Men's Basketball Season 84 Champions! And salute to all strong and relentless solo parents like Sam.

What other parents are reading

Celebrate your pregnancy milestones!


Enter your details below and receive weekly email guides on your baby's weight and height in cute illustration of Filipino fruits. PLUS get helpful tips from experts, freebies and more!

You're almost there! Check your inbox.


We sent a verification email. Can't find it? Check your spam, junk, and promotions folder.

Trending in Summit Network