5 Strange Behaviors of Toddlers and How to Deal

What's your little one up to with the headbanging and pulling the dog's tail? Find out: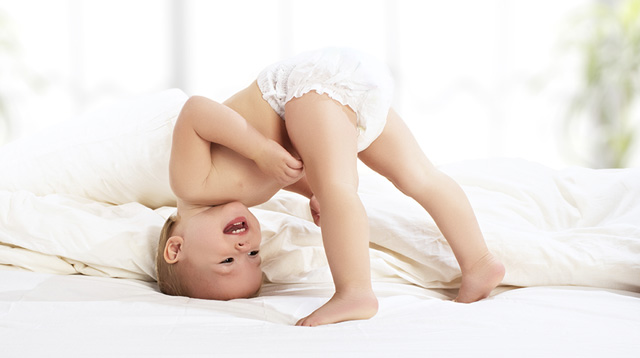 Lyla Cohen, a 2-year-old from Darien, Connecticut, sleeps through the night, eats almost everything, and always wears a big smile. But there's one thing that drives her parents nuts: Lyla wants to be naked all the time. "She fights like crazy whenever I try to put her clothes on," says her mom, Shannon. "Then she strips down as the day goes on." 

From eating dirt to wanting to be carried everywhere, toddlers have some odd quirks. "They have their own ideas about what they want to do," says Casey Hoffman, Ph.D., a child psychologist at The Children's Hospital of Philadelphia. Learn how to deal with their head-scratching (but not uncommon) antics. 

1. Being in the buff 
There are a number of reasons why kids this age love to go au naturel. For starters, it feels good to be unfettered. Being able to remove clothing is also a point of pride for a toddler, who enjoys showing off this new skill. Keep in mind that young kids crave attention -- both good and bad -- from Mom and Dad. "If you show annoyance about her being naked, that turns it into a fun game," says Dr. Hoffman. Avoid reacting when she takes garments off, and set limits. Allow her to run around the house nude, for instance, but make it clear that she must keep her clothes on when she's outside. When your toddler resists putting clothes on, try letting her decide whether to wear pants or a dress. "If you trick her into thinking getting dressed is her idea, she's more likely to agree," says Dr. Hoffman. Running around buck naked tends to be a short-lived phase. Soon your child will become bored with the battle (or decide that she's cold) and choose to leave her outfit on. 

ADVERTISEMENT - CONTINUE READING BELOW

What other parents are reading

2. Drinking and eating the strangest things
Toddlers are impulsive, curious, and use their mouth to explore. So  it makes sense that they'll consume anything within reach, whether it's bathwater, dirt, sand, or dog food. Look for a way to stop your child from doing it. "Whenever my 2-year- old slurps from the bath, I direct  his attention to a flamingo toy he likes to play with," says Angela Mattke, M.D., a pediatrician at the Mayo Clinic Children's Center in Rochester, Minnesota. End tub time if he continues to do it. If your child munches on sand or dirt at the playground, chances are he'll quickly realize it doesn't taste good and spit it out. But if he doesn't? It could contain broken glass,  cat pee, or who knows what else, so take action right away. "Say, 'No,  we don't put sand in our mouth,' and remove it from his hands," says  Dr. Mattke. If he keeps doing it, transition him to the swings or the slide. Also be sure to keep any poisonous substances, such as laundry-detergent pods and sweet- smelling cleaning products, locked up at all times.

3. Begging to be carried
Your independent, always-on-the-move child may suddenly need to be held and cuddled -- especially if her routine changes (starting child care, say) or if you've recently welcomed another baby. "Toddlers want to act like big kids, but they still seek comfort and reassurance," explains  Dr. Hoffman. Avoid making your child feel bad about this temporary babyish behavior, and look for opportunities to give her the extra TLC she craves. Talk to her when she's sitting in the stroller so she doesn't feel lonely. If you don't have it with you, make a deal: Let her walk halfway, then pick her up. 

CONTINUE READING BELOW

Recommended Videos

What other parents are reading

4. Banging his head
As alarming as it is to watch your child thwack his head against the crib, floor, or wall repeatedly, it's normal. For a toddler -- especially an overtired one -- the rhythmic motion can be surprisingly soothing.  "The worst thing you can do is rush over and make a big deal out of  it," says Rebecca Dingfelder, Ph.D.,  a psychologist in Durham, North  Carolina. Calmly tell him that bumping his head against things is a no-no. Then give him a few minutes of undivided attention. Let your doctor know if your toddler intentionally bangs his noggin on a daily basis or seems to use it as his primary coping method. 

5. Pulling the dog's tail
Your toddler is still learning how  the world works and may not realize that animals don't like having  their tail pulled. Teach her the right way to pet a dog by practicing on a stuffed animal. Praise her when she does it properly ("Wow, you're being so gentle—the doggie loves it!).  If she continues to act aggressively with a pet, say, "No, we don't do that," and put the dog in another room, says Dr. Dingfelder. 

This is an excerpt from Parents Magazine (August 2015). Copyright © 2015 Meredith Corporation. All rights reserved. Reprinted with permission. Subject to national and international intellectual property laws and treaties.  Parents © is a registered U.S. trademark of Meredith Corporation.



Celebrate your pregnancy milestones!


Enter your details below and receive weekly email guides on your baby's weight and height in cute illustration of Filipino fruits. PLUS get helpful tips from experts, freebies and more!

You're almost there! Check your inbox.


We sent a verification email. Can't find it? Check your spam, junk, and promotions folder.
Trending in Summit Network