To Raise Resourceful Toddlers, Resist the Urge to 'Rescue'

This Psychologist-mom shares you need to let your toddler deal with difficult situations on his own.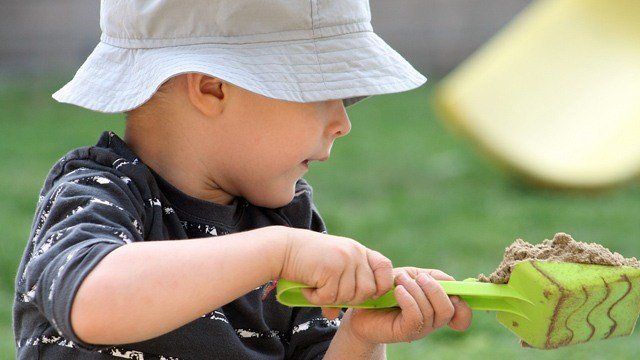 If we were to ask people how they define someone who was resourceful, words like persistent, optimistic, open, confident, and solution-oriented might come to mind. These are traits we want in our kids, and if we do our jobs right, then they are set for life.  

Take a look at the options below, and try to imagine which one may better describe the resourceful child:

Is he the one getting high grades all the time or is he the one that knows how to take steps to keep improving even if he fails from time to time? 
Is she the happiest looking person in the room all the time, or is she the one that confidently and adaptively handles emotional setbacks? 
Is he the one who has to have all the gadgets, books, materials in his possession to accomplish a task or is he the one who can use his imagination, creativity and push to use whatever materials are at his disposal at that particular time to get things done?

What other parents are reading

Obviously, the latter options paint a better picture of a resourceful child. True, that by being resourceful, one may also attain success (i.e., higher grades, happiness, maybe material possessions), but as we psychologists always like to say, we value the process rather than the end product.  

It is never too late (or too early for that matter) to pile on the building blocks that can cultivate resourcefulness in toddlers. The habits of today become, as they say, the character traits of tomorrow. Below are some tips for starting them off early to acquire or strengthen their capacity to be resourceful. 

#1 Let them play. A lot. With real things. 
Even in this day of gadgets, children will still play with toys and natural objects. Play is how they interact with and learn about their world. Given a problem and given half the chance, they will use play to fashion a solution.

ADVERTISEMENT - CONTINUE READING BELOW

Give them the chance to entertain themselves. 

Lost their superhero movie/video on a slow Saturday afternoon? Don't just rush to find a replacement movie. Instead, leave them alone and watch them -- they might just find that colorful blanket and daddy's black socks to assemble their superhero costume and act out their fight scenarios (make sure they are safe!). Bringing them along to the mall and they are getting bored while you are trying on some clothes in the store? Watch them use that spare clothes hanger as a pretend sword or as a pretend guitar while they sing their favorite song.

In other words, from time to time, leave them to their own devices to play freely. Give them the chance to entertain themselves. It teaches them that they can manage their own emotions like disappointment when they can't watch a movie they like or boredom of tagging along with mom. 

#2 Teach them decision making.
It can mean different things for different ages. For toddlers, offering two options may be helpful. "Someone else is still playing on the jungle gym. Would you like to join them or would you like to play in the sandbox instead first?" Sometimes, being given options this way jumpstarts their creative juices, and they may think of their preferable action too. When a problem comes along, brainstorm with them.

Try to help your kids seek answers rather than you handing it to them.

#3 Support them as they struggle.
So, yes, resist the urge to "rescue" them when it feels like you have a ready solution. The more they think, become frustrated, and try out different ways of doing things, the more they become an "expert" at figuring things out on their own many times.

You can be sympathetic though. I had watched my baby try to fit a square shape inside a circle shape in her toy shape sorter and get increasingly frustrated. It would have been easy for me just to show her how it's done. But I watched and tried to see how she did it instead.

ADVERTISEMENT - CONTINUE READING BELOW

Recommended Videos

What other parents are reading

#4 Value mistakes and "do-overs."  
What my baby did next was to pound on the block shape, and then she threw it when wouldn't go in. That game was abandoned in a fit of frustration. I commiserated with her and acknowledged what she felt: You didn't like that.

The next day, she tried to fit it in another shape (triangle). It would not go in. Block was thrown on the floor. Game abandoned. Mommy commiserated again: Yes, I know it's hard, baby. Finally, on the third day, she just opened the lid of the box and popped that block in there! Not the best solution for me, but at that moment in time, she found a solution herself. (Note: story had a happy ending -- she did finally figure it out on her own). 

What other parents are reading

#5 Challenge then praise.
Praise has been given a bad rap these past few years, as some experts say we are raising children who are unable to handle frustrations and solve problems creatively. Well, other experts (I align myself with them) contend that it's HOW you praise your kids -- make the praises count. Let them figure things out a bit (challenge). Maybe give a few nudges along the way (what if you try it this way?).

Once they can find creative or effective (even if not perfect) solution to their problem, provide concrete praise about what they did. Praise self-reliance and persistence. "You thought about how to do it yourself, and you worked hard to get it right!" So, now, they know what they did exactly that made them resourceful.

ADVERTISEMENT - CONTINUE READING BELOW

What other parents are reading

#6 Be resourceful yourself and make it a daily habit.
Think aloud or show them how you try to work through a solution with the given resources you have at hand. They pick up different ways of problem-solving and getting solutions to novel problems by watching you do it.  

Finally, teach through stories as well. Do you remember the children's tale about the thirsty crow? The parched bird finds a pitcher half-filled with water, and uses pebbles to raise the water level so he could drink. Now that was resourceful. It's one of the childhood stories that have stayed with me as I grew up.

Nowadays, there are a lot of books geared for young children that do the job of imparting these life lessons:  

My Gum is Gone: A Story About Resourcefulness by Richard P. Yurcheshen, Kate Flanagan
Changes, Changes by Pat Hutchins
Isang Mayang Uhaw by Virgilio Almario, Marcus Nava
Naaay! Taaay! by Kristine Canon, Vanessa Tamayo

Given a few mindful parenting behaviors (outlined above), we can foster resourcefulness in our own children as they grow up. 

Ma. Araceli Balajadia-Alcala is a registered psychologist who holds both private and hospital-based clinical practices. She has also recently become a part-time lecturer in the Psychology Department of De La Salle University in Taft.

What other parents are reading

Celebrate your pregnancy milestones!


Enter your details below and receive weekly email guides on your baby's weight and height in cute illustration of Filipino fruits. PLUS get helpful tips from experts, freebies and more!

You're almost there! Check your inbox.


We sent a verification email. Can't find it? Check your spam, junk, and promotions folder.

Trending in Summit Network