7 Gentle But Effective Ways to Teach Your Child to Stop Interrupting Conversations

The key is respectful communication.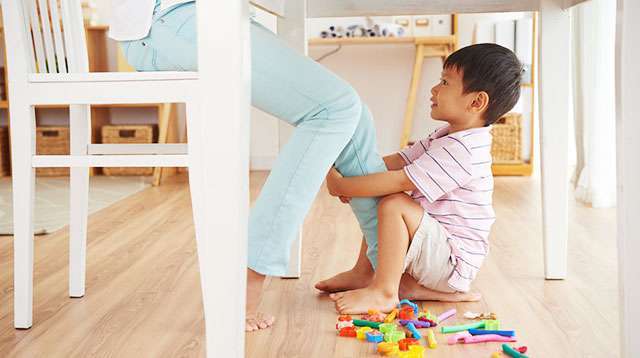 It's something that every parent of a toddler knows well. Whenever you're focused on something else, say, a phone call or grown-up conversation, your child will constantly feel the need to interrupt. Why? There can be lots of reasons but mainly to get your attention. While you're happy your tot has found his voice, interruptions can be annoying, so much so that you find yourself yelling. 

Before you lose your temper, understand that interrupting is perfectly normal behavior, and it's an action that stems from previous interactions with your kids. "For the first years of life, many parents respond instantly to their child's cries, needs, and desires," says Dr. Alex Packer, a psychologist and parenting expert in an interview with Care.com. "Children are to be forgiven for assuming this will continue forever. Thus, the child needs to be weaned off an expectation parents helped to create."

Interruptions happen because at this stage in their life, toddlers think that the world revolves around them. They're so focused on their needs that they don't realize mom and dave have needs of their own. Their short-term memory is still being developed, so their instinct is to say things right now before they forget.

What other parents are reading

The concept of interrupting will eventually make sense to your children when they grow up, but see it as an opportunity to teach them some basic lessons on good manners and waiting for their turn . Here are some gentle but effective ways to stop those interruptions:

1. Show them how it's done.

It goes without saying that your kids model their behavior after yours, so be mindful of how you act around them. Teach them about respectful communication. If you're going to interrupt their train of thought, remember to use the same respectful language that you reserve for adults.

2. Teach them to be polite.

Showing your children that there's a "nice" way to interrupt will ease the tension that builds from their constant disruption. Teach them to wait for a pause in the conversation and to say "excuse me," if they have something to say. Of course, this is still an interruption, but these baby steps will eventually lead them to have more self-control and learning to be sensitive to situations. Remember to acknowledge their good behavior whenever they remember to interrupt in this manner.

3. Give examples.

There are times when interrupting is okay, especially in case of emergency. But your kids may have a hard time knowing when an interruption is justified so make sure to discuss examples of when they can interrupt, like if they're feeling ill or their siblings get hurt. Also discuss when they shouldn't interrupt, like if they're just doing it to show off or because they're jealous.

ADVERTISEMENT - CONTINUE READING BELOW

What other parents are reading

4. Use signals.

Instead of shouting to be noticed, teach your little ones to get your attention through body language. Ask them to gently squeeze your hand when they have something to say and you're currently in another conversation. Respond by squeezing their hand in return so they'll know you'll get to them in a bit. You can also try the Interrupt Rule—your children can put their hand on your shoulder and wait patiently until they're acknowledged.

5. Play a game.

Teach your kids to wait turns to lessen the interrupting. Ask them a question that requires a long reply like, "What do you want to do this weekend?" Wait for them to finish and then tell them that it's their turn to ask you a question. If they interrupt while you're answering, gently put a finger on their lips and finish what you're saying.

6. Keep them busy.

Your kids want to interrupt you whenever you're doing something else, like when you're on the phone, because they feel threatened and they want your attention to themselves. Calm them by explaining what you need to do and then offering an alternative activity while they wait for you to finish. Say, "Would you like to play with a toy while I'm on the phone? Or would you like to sit at the table with some snacks?" Offering them a choice will satisfy their need to be in control, but make sure to keep the choices simple and specific.

7. Don't answer the question.

If you keep reprimanding your children for interrupting but respond to their questions anyway, then you're just reinforcing the habit. Sometimes, it's okay to simply not respond.

Because your children are still young, don't assume that they will learn how to stop interrupting overnight. Manage your expectations and be patient as they learn self-control and awareness. Don't worry too much. With your help, they'll get there.

CONTINUE READING BELOW

Recommended Videos

What other parents are reading

Celebrate your pregnancy milestones!


Enter your details below and receive weekly email guides on your baby's weight and height in cute illustration of Filipino fruits. PLUS get helpful tips from experts, freebies and more!

You're almost there! Check your inbox.


We sent a verification email. Can't find it? Check your spam, junk, and promotions folder.
Trending in Summit Network