You Can't Be Your Child's 24/7 Playmate: How to Make Sure She Doesn't Think This Is Normal

As early as the toddler years, let kids learn how to find ways to keep themselves occupied.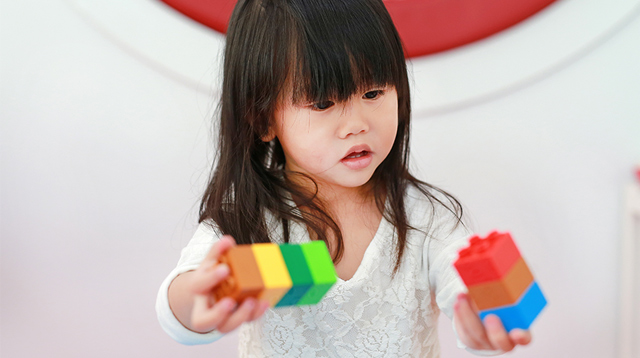 As early as the toddler years, it is important for children to know how to find ways to entertain themselves even without the help of their parents. The process won't be fast or easy, especially for kids who have grown used to the reassuringly constant presence of their moms and dads.

1. Embrace a less intrusive way of play

Many parents may think that playing with their children means they have to take the lead and direct how playtime goes. However, letting her play freely can be just as important and nurturing an experience (and a more relaxing moment for the parent).

How do you begin to embrace self-directed play at home? Let your child play with her toys the way she wants. When you find her hesitant because she doesn't quite know how to use a specific toy, don't be too quick to her rescue. You can show her what to do — for instance, you can set up the tracks for the toy trains or stack the blocks on top of one another. Once she knows what to do, give her space to play and explore by herself while keeping yourself nearby in case she needs you.

The key to promoting independent play is to follow your child's cues.

During playtime, parenting educator and author Janet Lansbury suggests asking lots of questions and keeping your assistance to a minimum. If your child is working on building a tower of blocks, you can provide support by making remarks such as, "Now that you have stacked the red and blue blocks on top of one another, what block are you going to use next?"

ADVERTISEMENT - CONTINUE READING BELOW

2. Set boundaries

You may be worried about leaving your toddler by herself while she's playing. Or she constantly wants you to just be there while she plays. According to Lansbury, set boundaries by telling her clearly and firmly that you have things you need to do, and you, too, need time by yourself. You can also try allowing her to choose between playing alone and helping you finish that chore.

Another way to be firm about your boundaries is to keep yourself occupied while still being accessible to your child. The Tot writes, "Having something you're physically working on signals to the child that you're not available to play." While your child is playing on the floor, you can sit nearby and fold the laundry or catch up on some reading.

3. Provide opportunities for play that will engage your child's mind

Pick toys that capture her imagination and provide endless opportunities for play. Some kinds of toys you can give her are open-ended toys like blocks and cardboard boxes. As much as possible, keep screen time to a minimum.

No toys? Don't be afraid to let your child get bored! It is one way to get them to find ways to entertain themselves. When you prod your little one to find ways to keep herself occupied — whether it's by observing a line of ants outside your house or by putting together an imaginary community with her collection of stuffed animals — you are also helping her develop important skills like creativity and problem-solving.

ADVERTISEMENT - CONTINUE READING BELOW

Recommended Videos

According to developmental psychologist Richard Rende, M.D., it is vital to "recognize that it's not your place to come up with solutions to the boredom problem. It will lead to more boredom because boredom is a signal that your child needs to come up with something on their own," he writes in an article for Psychology Today.

Dr. Rende continues, "When they say 'I'm bored,' smile sweetly and say 'Okay, got it. So enjoy your free time and figure out something to do that isn't boring to you.' And leave it at that."

4. Include solo play in your daily schedule

Every new day brings with it a new set of chores that need to be done, which means that parents need as much time as they can get to finish their to-do lists. Let her time for solo play help you. Including it in your child's daily routine establishes independence and will make it easier for her to accept being separated from you.

5. Take independent play one step at a time

Don't expect your child to immediately love solo play. After all, she has grown accustomed to having you around to play with whenever she wants. At times, it might feel like you're going one step forward, two steps backward — but that's okay. As you consistently give her the opportunity to play by herself, she will become more and more used to independent play and learn to enjoy it. Just be patient and encourage her every step of the way!

ADVERTISEMENT - CONTINUE READING BELOW

What other parents are reading

Celebrate your pregnancy milestones!


Enter your details below and receive weekly email guides on your baby's weight and height in cute illustration of Filipino fruits. PLUS get helpful tips from experts, freebies and more!

You're almost there! Check your inbox.


We sent a verification email. Can't find it? Check your spam, junk, and promotions folder.

Trending in Summit Network