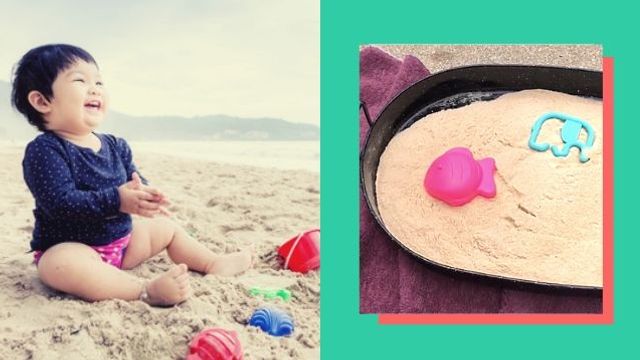 Can't take your baby to the beach? Bring it home — the sand, at least. Technically speaking, you can't bring home sand from the beach. (In some beach towns, that's illegal!) But you can recreate it at home. 
Commercially available play sand can be expensive. These go through a rigorous process of making it feel like sand and safe for little hands to play. Most of the time, they come in sets, too. But one mom found a cheaper way to let her kids play with sand safely at home.
TikTok user @elleannachristine shared a genius idea many parents found useful. She makes edible sand for her kids by grinding Cheerios cereal in a blender. Then, she transfers it in a low basin, drops some toys, and lets her toddler play. She doesn't even have to worry about her daughter putting her Cheerios-sand-dipped toys in her mouth. 
Her TikTok video has been viewed 1.6 million times and has gotten more than 370,000 likes and 3,817 comments, most of them amazed at the discovery. 
Sand play is sensory play activity that lets your child explore through the stimulation of one or several senses — touch, hearing, smell, sight, and taste. It helps build nerve connections in the child's brain and strengthens already established brain pathways.
As the child grows, these nerve connections help him to accomplish more complex learning tasks like gross and fine motor development, cognitive and language development, as well as social and emotional development.
Sensory play is one reason why taking your babies to the beach helps their brain development. But since the pandemic, everyone is on stay-home orders. Many beaches are also closed, or if not, traveling to one will have you going through hoops. This Cheerios sand hack is a great alternative. 
Cheerios may not be a famous cereal brand in the country, but it is available in some supermarkets and online grocery stores. Or you can try several other cereal brands that you can easily purchase.