I Placed My Child in Daycare: Why It's Worth the Money and Heartache

A mom shares her experience with daycare and why it's an ideal setup for working parents.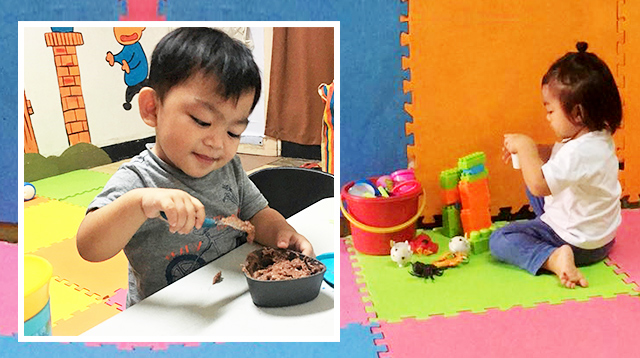 For a year now, my husband Third and I have been working full time, and my son, Fourth, who is now 2 years old, never had a nanny or yaya to look after him. We were really uncomfortable with the thought of having to leave Fourth alone with someone even with CCTV, but we didn't have relatives to help out. For a year or so after giving birth, I worked from home and was hands-on taking care of Fourth. It was when I returned to work when our daycare journey began.

I've been keen on writing about our experience because there's not much written about daycare in the Philippine set-up. I must have typed a gazillion keywords on Google looking for daycare experience. Even some of our families and friends weren't aware that such a service existed. In fact, during a job interview, the HR head even asked me about our daycare set-up because she got really curious.

What other parents are reading

Fourth's first day in daycare a year ago.

PHOTO BY

courtesy of Alyssa Lara Garcia-Salang

ADVERTISEMENT - CONTINUE READING BELOW

Looking for a daycare center in the Philippines

I know there are daycare centers set up by local governments, but these were not the ones I was looking for. Since Fourth was just a year and a half that time, our goal was to find a private, safe, straightforward childcare facility (that's not really a school of any sort) that looks after children for a whole day while their parents are at work. Daycare centers like this were common in the US, Singapore, and Australia.

From my research, some of the institutions that were labeled as "daycare" were more like a preschool with structured classes for toddlers (they even have uniforms), which I found a bit confusing. I learned that most daycare facilities that specialize on whole-day childcare operate in central business districts (CBD) like Makati, Bonifacio Global City, and Ortigas. While there are a few based in residential areas like Parañaque, Marikina, Alabang, Quezon City, and Mandaluyong, there more options in CBDs. In Makati, there were less than 10 facilities that could provide what we needed. Our choices got smaller and smaller because of our considerations.

Age and approach

There aren't many daycare providers that take in a 1-year-old. Most would accept children ages 1 year and 6 months and up. Daycares also have a cap on the number of children in the facility, usually just around 10-15 kids in total, so it's on a slot availability basis. You can't come in anytime.

Some of these daycare centers have short classes facilitated by preschool teachers. Some facilities are inspired by a specific approach (Montessori, Waldorf, and Reggio Emilia were some of what I remembered). It can be a good transition to formal schooling for toddlers.

CONTINUE READING BELOW

Recommended Videos

However, we were only looking for a babysitting facility for Fourth while we were at work — much like how they do it abroad.

What other parents are reading

In Fourth's daycare, the adult to child ratio is 1:3.

PHOTO BY

courtesy of Alyssa Lara Garcia-Salang

Daycare rates

The rates for the daycare ranged from Php10,000 to Php25,000 per month per child. You can get lower rates if you avail of annual, quarterly, monthly or even weekly packages.

If you do the math how much it will cost for the whole year (Php120,000-Php300,000 annually), it is like sending your child to a formal preschool already — and he's not even school-age yet. It is also more costly than hiring full time, stay-in helpers, so maybe it is also a reason why daycares aren't the norm here. Do take note that these daycare facilities are considered commercial entities with operational expenses, rent, and salaries to pay. That's why the overhead cost can get steep.

ADVERTISEMENT - CONTINUE READING BELOW

Daycare operating hours

One major setback for us was the operating hours because it can be very limiting. Some have an 8 a.m. to 5 p.m. schedule, while some do 7:30 a.m. to 5 p.m. or 9 a.m. to 6 p.m.

If you work in corporate, you can instantly tell that you can't possibly avail of the schedule. Factor in the time you have to travel or walk to pick up your child, and it incurs even more cost for overtime charges. Sadly, there are no night care centers around Makati that would have been so convenient for those on a night shift.

Fortunately, we were able to find a daycare within our route that offers 7 a.m.-7 p.m. open schedule, meaning we can drop-off or pick-up anytime within that time frame.

What other parents are reading

Adjusting to the daycare set-up

Fourth was grumpy on his first week and refused to leave his stroller.

PHOTO BY

courtesy of Alyssa Lara Garcia-Salang

ADVERTISEMENT - CONTINUE READING BELOW

As you probably know, it takes time for kids to adjust to anything new or different in their routine, and the first months were really the most difficult. I like to think that I have a good grip on my emotions, but nothing prepared me for the heartbreak of seeing my baby cry looking so hurt and abandoned as I left him in the company of a stranger for a whole day. During the first few weeks, I remember fighting guilt and tears in the hallway and in the car as we left, but Third would always reassure me that it was for the best and we would always pray for Fourth's resilience.

We chose not to stay for the first few days because the daycare said it was not going to help with the transition. For the first weeks, Fourth wouldn't sleep well, he wouldn't play with the other kids, and he wanted to be held all the time as he looked for "mommy, daddy." He would still cry on some drop-offs after months into daycare because come on, he's a 1-year-old, but it would only last for a few seconds.

What other parents are reading

The daycare has a CCTV which parents can access at any time. Here's a shot of the kids during nap time.

PHOTO BY

courtesy of Alyssa Lara Garcia-Salang

ADVERTISEMENT - CONTINUE READING BELOW

Somewhere along the way, Fourth got used to the routine and fully adjusted. He took naps really well, too — needing no 'hele' whatsoever. When it's nap time, all of them would lie down altogether and sleep with some assistance from the carers.

Now, whenever we're in the car in the morning, Fourth knows we're heading to daycare and do a roll call of his friends' names.

The daycare has a CCTV that parents can access through a phone app any time and anywhere. At the end of the day, there will be a small slip provided by the daycare stating what time he ate, drank vitamins, slept, peed, or pooped, their activities for the day — and his general disposition throughout.

Fourth's daycare routine

All daycares have routines and schedules. For Fourth's daycare, this is how their typical day looks like: 

(Note: We don't wake him up when we leave the house. We usually give him a bath before bedtime and carry him to the car in the morning in his pajamas. If you want your child to take his shower at daycare, you can just tell them, too.)

The kids take turns drawing on the boards as one of their daily activities.

PHOTO BY

courtesy of Alyssa Lara Garcia-Salang

ADVERTISEMENT - CONTINUE READING BELOW

7 a.m. Drop off Fourth at the daycare
8 a.m. The carers feed the kids breakfast, change clothes
9 a.m. to 11 a.m. Free play, plus group activities like arts and crafts, music, etc. Sometimes, they also go to the playground, and then have lunch.
11 a.m.  to 2 p.m. Naptime
2 p.m. to 7 p.m. Wake up, free play, and do group activities. They also watch movies or videos.
7 p.m. Pick-up

What other parents are reading

As time went by, Fourth adjusted and was able to make new friends.

PHOTO BY

courtesy of Alyssa Lara Garcia-Salang

In Fourth's daycare, the adult to child ratio is 1:3. The facility is not as expansive as the others, plus the owner manages to keep costs reasonable because her staff isn't necessarily composed of teachers and nurses, but are usually caregivers.

Daycare life isn't perfect and ideal. There were many times I questioned whether this was the right choice and the proper facility. There were so many frustrations as well and sometimes, I'd end up searching for hours for alternatives only to end up with the same options. But, look, we made it to a year!

ADVERTISEMENT - CONTINUE READING BELOW

What other parents are reading

Here are some personal thoughts on the good and not so good things our experience brought us this past year:

Advantages of toddlers being in daycare

1. Development of social skills

Hands down the most significant advantage of putting Fourth in daycare is the improvement of his social (and speech) skills. They have many activities (arts and crafts, music and movement, playground time) that stimulate learning and socialization that he might not have developed if he was at home with the yaya. He has friends he knows by name. He is learning how to respect and listen to other adults. When brought to other places with kids, he'll show interest in initiating play. His vocabulary has also improved so much probably because of the various people he interacts with on a daily basis. We also like to think that when it's time for Fourth to attend formal schooling, he will find it easier to adjust (I'm crossing my fingers on this one!).

2. Independence

In daycare, Fourth has friends of different ages, giving him lots of opportunities to play and share toys and time. He is learning how to negotiate, solve a problem, and maneuver his way through the day. He learns how to survive without mommy and daddy the whole day. Since the carers also take turns feeding and tending the kids, he can now feed himself, sleep on his own, and even find ways to entertain himself.

During his time in daycare, Fourth became more independent and even learned to feed himself.

PHOTO BY

courtesy of Alyssa Lara Garcia-Salang

ADVERTISEMENT - CONTINUE READING BELOW

What other parents are reading

3. More quality time with Fourth

Since we have to keep the daycare's operating hours in mind, Third and I seldom do overtime. We (or at least one parent) get home early, eat dinner with Fourth, bathe him, play with him, read books with him, and put him to sleep every single day.

We can't go on spontaneous date nights, but Third and I always remind ourselves that this quality time we spend with Fourth sets the groundwork for later emotional and intellectual strides.

4. Better disposition

This may be an unpopular opinion, but I feel like putting Fourth in daycare and going back to work allowed me to have a better outlook about being a mom. I miss Fourth beyond measure, and I think of him every single day, but our time apart makes our time together more meaningful, and I cherish every second.

Fourth also learned ways to entertain himself.

PHOTO BY

courtesy of Alyssa Lara Garcia-Salang

ADVERTISEMENT - CONTINUE READING BELOW

What other parents are reading

Disadvantages of toddlers being in daycare

1. Exposure to viruses/illnesses

Yes, it's true. Need I say more?

2. Schedule

As I've said, the operating hours for daycares can be very limiting. Our daily schedule has to revolve and adjust with the daycare's schedule. If he gets sick, we have to find an alternative, too, because he can't go to daycare.

3. No individual care

Since childcare is not a one-on-one approach, the children contend with the carer's time. Each carer has to do a lot of things for a number of kids, and the attention given to each child cannot possibly be individualized all the time.

4. Exposure to undesirable behavior

Although children develop good habits in the daycare, they can acquire unpleasant habits as they are exposed to a group of mixed ages. We found that constantly reinforcing discipline and love at home (parallel with daycare) can be a compromise.

What other parents are reading

List of daycare centers in Metro Manila

Here is a list of the daycares that offer full daycare service (not school or playschool) based in Makati. They all usually offer free trial sessions just so you can have a feel if your child can blend in the facility and the other kids. Do note these daycares have complete business registration permits.

Makati

FF Day Care Club (they also have branches in Johnsons & Johnsons headquarters and BF Homes)

Playworks Early Childhood Centers (they're also in BGC)

ADVERTISEMENT - CONTINUE READING BELOW

Colors And Shapes Learning Center

Leaders International Learning Center


I also searched for other areas out of curiosity on how things operate. So I'm also linking their Facebook pages here.

Ortigas

Kids Academy International - Ortigas

Bonifacio Global City

Playworks Early Childhood Centers (also in Makati)

Mandaluyong

Asriel & Isaac's Playmates, Inc.

Marikina

Parañaque

FF Day Care Club (also in Makati)

Alabang

KidsPlay Daycare and Learning Center - Vista City

Should you enroll your child in daycare?

I know that not every kid and not every family will thrive in a daycare set-up for one reason or another. Just because it is working for us now does not mean that it will work for you nor will it continue to work for us in the future. We're just fortunate that Fourth was able to adapt. I really believe every family does what is best for them. As with all things, daycare life is not without challenges and frustrations, but once you find a suitable facility, it can actually be worth the sacrifice, money, and even heartache.

Lastly, I really wish there were more alternatives for quality childcare in the country. There is a huge demand for quality childcare, and I feel like we just don't fully realize and act on the opportunity it presents because of factors like cost, accessibility, and security. Think about your friends, cousins, friends of friends, cousins of cousins — we all know someone who is continuously looking for quality childcare.

ADVERTISEMENT - CONTINUE READING BELOW

What other parents are reading

Celebrate your pregnancy milestones!


Enter your details below and receive weekly email guides on your baby's weight and height in cute illustration of Filipino fruits. PLUS get helpful tips from experts, freebies and more!

You're almost there! Check your inbox.


We sent a verification email. Can't find it? Check your spam, junk, and promotions folder.

Trending in Summit Network