Always On Your Phone While Caring For Baby? How It Can Hurt Your Kids, Say Experts

You may be physically present but are you emotionally-attuned to your children's needs?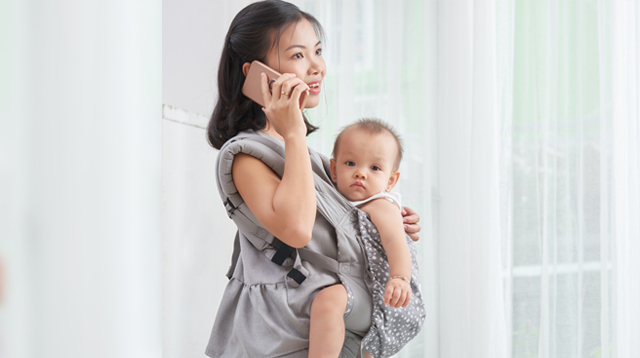 Parents are aware of the dangers of excessive screen time for kids and the importance of setting guidelines for its usage, but more than worrying about raising screen-obsessed children, have you also wondered whether the amount of time you spend on your devices is affecting your child's development, as well as your relationship with them?

While this generation sees parents who are constantly present in their children's lives, experts have noted that it is more of a physical presence rather than being emotionally attuned to their needs. Parents who are always on their phone tend to multitask while they are with their children — this leads to distracted parenting, defined as "parental overuse of hand-held technology, particularly cellphone and tablets, in the presence of children," according to an article published by Michigan State University.

The dangers of distracted parenting

Your smartphone usage doesn't go unnoticed by your kids. In 2015, a global survey of 6,000 children ages 8 to 13 by AVG Technologies found that 52% of the kids thought their parents spend too much time on their mobile phones. Thirty-two percent of them felt unimportant whenever their parents used their phones during meal times, conversations, when watching television, and playing outside.

Here are three more reasons distracted parenting affects your child's development.

It can affect your baby's brain development.

In 2016, a study published in the journal Translational Psychiatry suggested that distracted parenting can affect babies' brain development, particularly their ability to understand pleasure.

Though researchers tested the experiment on mice, they found that one mouse who received distracted attention from its mom ate and played less compared to mice who grew up in an ideal setting with comfy nests. According to the study, the lack of consistent, repetitive, and reliable attention may have affected the mice's ability to develop proper emotional connections to help understand the pleasure. This can mirror a human baby's need for emotional connections at the early stages of his life.

ADVERTISEMENT - CONTINUE READING BELOW

"When a baby is days, weeks, and months old, it can become extraordinarily inconvenient to be constantly needed for hands-on care and heartfelt attention. Yet this is exactly what babies need for a fulfilling, successful, and emotionally satisfying life," said Lisa Rafel, Gary Malkin, and David Surrenda, Ph.D., authors of Safe in the Arms of Love: Deepening the Essential Bond with Your Baby, in their blog.

It can prevent them from learning new words.

Back-and-forth talk between young children and their parents is crucial in developing strong language and communication skills. But if your conversations are always interrupted by gadgets — you pause to reply to a message or get distracted by a notification — it can affect your toddler's cognitive development.

A recent study published in the journal Developmental Psychology found that toddlers were more likely to learn invented words in uninterrupted conditions than toddlers whose parents had to answer a phone call, even just a brief one. Researchers suggest that toddlers learn best when they are directly interacting with parents who attend to them.

"Toddlers cannot learn when we break the flow of conversations by picking up our cellphones or looking at the text that whizzes by our screens," says psychologist Kathy Hirsh-Pasek in an interview with The Atlantic. She is also the second author of the study.

It can lead you to misinterpret your child's emotional needs.

Parents are wary of their kids developing screen dependency disorder (SDD), but they are also susceptible to developing the symptoms as well. Many of those who are addicted to screens prefer to isolate themselves from others and are often agitated and suffer from mood swings.

ADVERTISEMENT - CONTINUE READING BELOW

Recommended Videos

Distracted adults who've become dependent on their phone can grow irritable when their phone use is interrupted. They might think that their toddler is throwing a tantrum because the child is being manipulative, when in reality, their child just needs attention.

Remember: when our children's basic needs go unnoticed, they will resort to negative attention-seeking behavior to shine a light on their needs. Instead of being impatient, our response can be to show that she is loved and to be emotionally present.

We're sure that no parent intentionally chooses their smartphones over their kids. But we should also remember to set aside enough time with them without interruptions. Take time to put your cellphone down, turn off the notifications, and give your child your full attention. This simple action will go a long way for you and for him.

What other parents are reading

Celebrate your pregnancy milestones!


Enter your details below and receive weekly email guides on your baby's weight and height in cute illustration of Filipino fruits. PLUS get helpful tips from experts, freebies and more!

You're almost there! Check your inbox.


We sent a verification email. Can't find it? Check your spam, junk, and promotions folder.

Trending in Summit Network