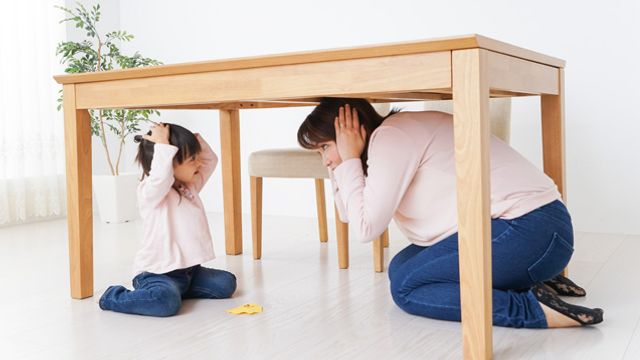 The Philippines is one of the countries most prone to typhoons and flooding, earthquakes, and fires. When disasterstrikes, it's instinct for parents to protect their children. However, no one knows exactly when these would happen — what if they're in school during an earthquake? Sure, they'll be with their teachers who will ensure their safety, but the best protection any parent could give her kids are tools to help them navigate such situations.
For starters, parents should be able to talk to their children about natural disasters and teach them what to do in case that happens. Experts also recommend practice runs, like earthquake drills, so they have an idea of what to expect. So they understand it better, having their favorite cartoon characters show them what to do is also a big help, especially for younger kids.
Safe Steps Kids, a new safety awareness program developed by Prudence Foundation in partnership with Cartoon Network, the International Federation of Red Cross and Red Crescent Societies (IFRC), and the Philippine Red Cross (PRC) has launched a series of videos aimed at providing vital survival tips to young kids to improve disaster preparedness and awareness in response to natural disasters.
The initiative comprises a series of 12 50-second clips. They're kid-centric, practical, and easy-to-understand tips through a medium they know and love: characters from Cartoon Network series, who take the lead in the storytelling process to raise awareness and provide educational information.
The first series of Safe Steps Kids clips focuses on natural disasters. In it, The Powerpuff Girls Blossom, Bubbles, and Buttercup take the lead in teaching kids what to do to be safe when these natural disasters happen. Soon, the characters from We Bare Bares will feature in clips that talk about first aid, while Gumball and his friends from The Amazing World of Gumball will tackle road safety.
Here are three clips from the first series, featuring the Powerpuff Girls.
In case of fire, kids should first activate the fire alarm and call the attention of an adult. Kids should cover their noses and crawl out to safety, but should not open hot doorknobs since this would indicate that there must be fire on the other side as well. In case their clothes catch fire, they should stop, drop, and roll.
In the event of flooding, quickly unplug all electrical appliances. Stock up on food and water, and check updates from reputable sources. Instead of braving the floods, get to higher ground, but also be ready to evacuate.
During an earthquake, stay away from windows, glass walls, and heavy objects. Get under a sturdy desk or door frame. When the shaking has stopped, get out of the house or building, but don't use the elevator.
The videos will air on Cartoon Network on Cignal Digital TV Channel 220 (HD), Sky Direct Channel 15 (HD), SkyCable Channel 178 (HD), and Destiny Cable Channel 178 (HD Digital), on Cartoon Network's social and online video web and app platforms, and on the Safe Steps Kids website (www.safestepskids.com/disasters).