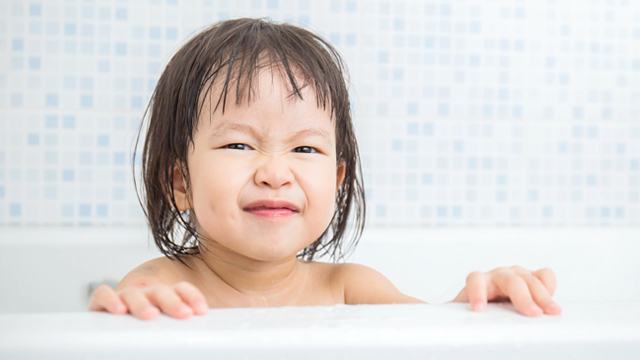 We can all agree that Scarlet Snow Belo is a poster girl for pint-sized freshness. Whether she's running around the house barefoot, playing with farm animals somewhere in Laguna, or spying on squirrels during a trip abroad, Dr. Vicki Belo's three-year-old always looks mabango, as if she's always ready for hugs and kisses!
Besides being the face of her mom's Belo Baby line, she's also an avid user of the brand's bath and body products. In fact, this precocious toddler was recently seen showing off her Belo Baby wares in London—and with a British accent, to boot!
You, too, can help keep your active little ones fresh for longer with the help of the right baby products and by teaching them good grooming habits early on. Here are some lessons on hygiene and cleanliness that you can impart to your child as early as age one:
Ages 1 to 2
Grooming Lesson: Take a bath every day.
Though your toddlers are too young to bathe on their own at this point, you can already start explaining to them the importance of starting the day with a lovely bath. Let them do simple tasks like pumping out product from the shampoo bottle, or teach them how to work up a lather with the soap. For gentle washing, try the delicately scented Belo Baby Hair and Body Wash. 
Ages 2 to 3
Grooming Lesson: Always wash your hands before eating.
Here's how you can make this lesson stick: Withhold any munchies until they've agreed to wash or sanitize their hands first. When they ask why (and they will ask), explain that if they eat with dirty hands, germs can give them an "ouchie tummy."
While washing with soap and running water is ideal, your next best option is to have them spritz on a handy spray like the Belo Baby Hand Sanitizer. While tough on germs, it's safe for sensitive skin and leaves behind a fresh, fruity scent.
Grooming Lesson: Keep your face clean with wipes or a hanky (and not your shirt!).

A snotty nose, a milk mustache, spaghetti smears. It's normal for a young child to have any of these at any given moment. But at this age, your tots can already recognize these as yuckies, which you can use to your advantage. Teach them to keep their face clean by showing them how to wipe with a hanky or disposable wipes, like the gentle Belo Baby Wipes. Remind them that using their shirt to clean themselves up (or blow their nose) is a no-no!
Age 3 to 4
Grooming Lesson: Freshen up after playing or working up a sweat.
Ditch the amoy-pawis by making it your kids' habit to wipe down any sweat after playtime (with a face towel or wet wipes) and by teaching them how to apply powder on themselves. Try the Belo Baby Talc-Free Powder, which absorbs sweat and moisture to keep skin soft, fresh, and dry, so they won't feel sticky. It also comes with its own puff for easy, mess-free application—even for tiny hands!
Grooming Lesson: Splash on some cologne for instant freshness.
No more natural baby smell? No problem. Teach your tots how to give themselves a midday pick-me-up by splashing on some baby cologne. A few pats on the neck, head, and arms ought to do it; just make sure they know just how much to pour into their hand. For on-the-go freshness, pack a small, handy bottle into her school bag, like the Belo Baby Colognes, which offer light, refreshing scents that are guaranteed hypoallergenic and free of harmful ingredients.

Just remember: When it comes to successfully instilling these hygiene habits in a young child's system, consistency is key. Kids learn through repetition, so make sure that once you've established a routine, stick to it. Before you know it, your kids will be doing all these—willingly and automatically—all by themselves.