 Photo from firsttimemommy.net
"The essence of independence is to be able to do something for one's self." – Maria Montessori

In the Philippines, where many households are blessed with additional helping hands in the form of nannies, grandparents, aunts and uncles, it's possible for children to grow up not knowing how to do basic household chores and self-care activities. After all, as infants, there's always someone to help tie their shoes, feed them and put their clothes on them. As they grow up, they see that they don't have to wash the dishes that they've used, make the bed that they've slept on and clean the room that they've messed up with their toys and books.

But children need to learn how to do things for themselves in order to be able to navigate life in the future, to learn that they can take care of themselves, others and their surroundings. We don't want them to grow up helpless and dependent on other people for even the smallest of things.

Certainly, we don't want to live with young adults who let dirty dishes pile up high on the kitchen counter, waiting for you, the mom, to come home tired from work to do it because there's no "Ate" or "Yaya" around.

What can we do about it?
Start them young
We don't want to wait for our children to become resistant tweens and teenagers before we start teaching and training them to care for themselves and to help around the house. In fact,
Maria Montessori
, said that we could already teach life skills to very young children.
Former Montessori teacher and school owner
Mars Medina
, for one, takes inspiration from the popular educational approach in raising her 18-month old daughter. She quotes Montessori in saying that the educational method's Practical Life work is about "help to life," or helping children thrive within a family, culture, society and life.
Mars, who encourages parents to make simple yet purposeful Montessori-inspired activities and materials for their children in her blog Montessori On Mars, says that from Maria Montessori's teachings, "It is clear that the work should start at the beginning of life. Newborns are given opportunities to discover their new world, unrestrained, in a floor bed or movement mat. Infants are given materials that they can use to practice refining their grasp, which help them explore their environment."
As children develop their gross and fine motor skills, Mars says that parents can already set up activities that will help their kids gain independence and confidence. Most will be surprised to see toddlers as young as 18 months old pouring their own drink, making their own snack and dressing themselves up because they have been given the opportunity to "work" within an environment suitable to their capabilities.
Teaching little ones how to do things for themselves
Everyone, little kids or big grownups, learn how to do something by actually doing it, trying their hand it, and not just by reading or hearing about it. It is then important for us to give our children the opportunity to do things on their own.  
There are two ideas that we must remember:
model
and
practice
. Mars shares, "Allowing them to be around us while we do chores and other things around the house, doing things with them instead of to them is the first step. Model and children will naturally want to do the same things by themselves." Yes, we have to do things for ourselves too!
From a Montessori perspective, it is important to provide children with an environment that they can easily manage so that they can move on to the next step, which is practicing what they have seen or what have been modeled to them. But it's not easy to practice something when everything is too big for you to hold or even out of reach.
This is where setting up your home to be accessible to your child comes in.
Preparing a child-friendly environment
Mars has set up their home much like a Montessori classroom, that is, in a way that gives their 18-month-old daughter access to as many things as possible. "If she wants a snack, she can get from a low kitchen drawer; if she wants water, she can pour into a glass on a low table; if she needs to clean up a spill, she can get a mop or a rag that are hung low; if she needs to wear her shoes, they're in a basket beside a low stool she can sit on as she wears her shoes."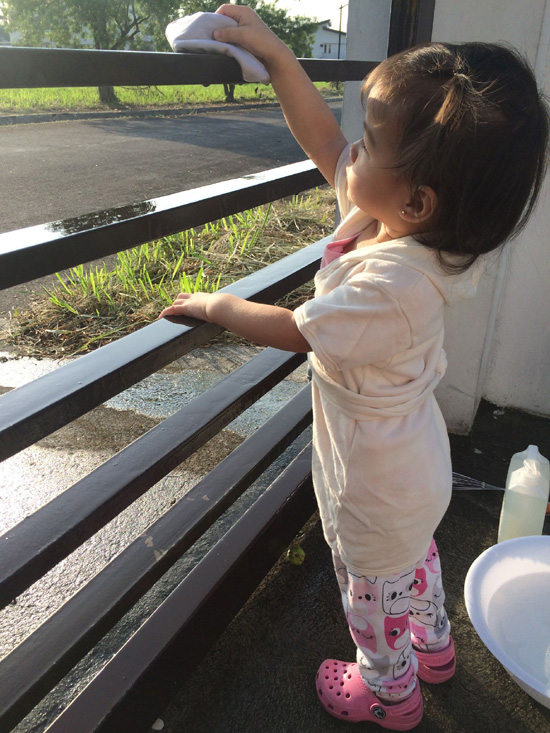 Mars laughs at the number of times that she said the word "low." She also emphasizes, however, that things should not only be within a child's reach (yes, low) and in their proper places. Everything should also be size-appropriate for easy handling and safety. Imagine holding a pitcher that's much too heavy and big for you!

Preparing a child-friendly environment at home, with access and assigned places for things, means not getting worried that your child will fall trying to climb stools and chairs to get something hanging way up high. In setting up your home to be friendly to your child, Mars says, he will be "free to explore her environment and try things on her own rhythm and pace."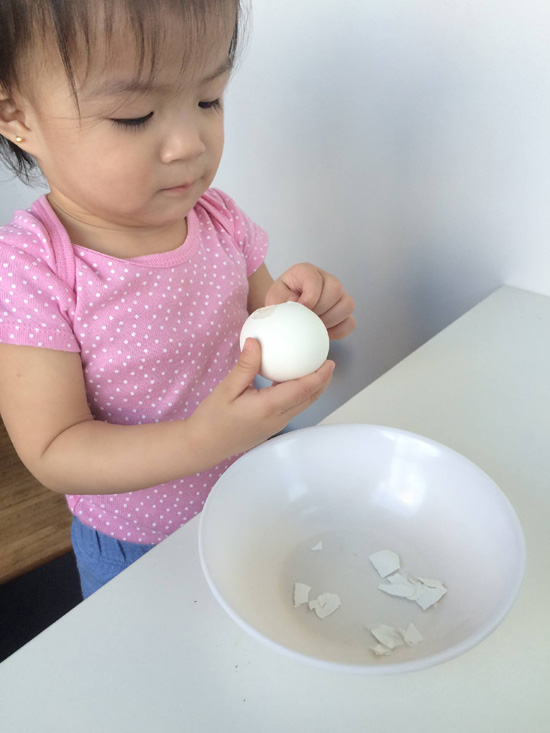 In their home, Mars involves her daughter in work around the house. She shares on her Instagram and Facebook accounts inspiring photos and videos of her toddler mopping, arranging flowers, making herself juice and pouring it into her glass. "When she sees me mop, you can bet that she will get her small mop as well. When we're outside tending to the garden, she'll also water the plants -- filling up a small watering can with water she gets, with a small beaker, from a pail. She's always where the action is, so to speak; where the work is, that's where we are."

Household helpers and eager grandparents are a blessing, no doubt about it. But we should also be mindful of how being helped too much will affect our children's capacity and desire to work and do things on their own. As parents, our role is to guide and teach our children, and we will be able to do that by modeling and giving them the opportunity to actually do things, make mistakes and learn.

Photos courtesy of MontessoriOnMars.com