How to Find the Balance Between Telling Your Toddler, 'Be Careful' and 'Go Dream Big!'

Parents, disciplining your kids is one tool you can give them to achieve their dreams.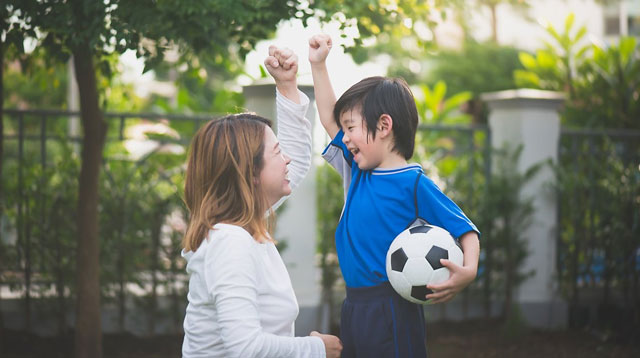 Encouraging your child to try new things while at the same time taking precautions to protect him from harm can be challenging for parents and confusing for young ones! How can mom go from, "You can be whoever you want to be!" to "Stop, you can't do that!" without hindering the child's confidence and ability to dream big? Yet still, how can parents draw the line between freedom to do what they want and discipline?

SmartParenting.com.ph caught up with celebrity moms Nicole Hernandez-de los Angeles, Vanessa Matsunaga, and Cat Arambulo during Nankid's Amazing Possibilities exhibit held last September 9, 2019. We asked them some tips on achieving a balance between encouraging their kids to become their best possible selves and making sure they don't compromise their health or safety, while also instilling discipline. Here's what they have to say.

Be positive

"As much as possible, I want to keep the negativity out and keep 'No' outside of our doors," said Vanessa, mom to Isabella, 3, and David, 1.

Nicole, mom to Alonzo, 6, and Luis, 5, tries her best not to yell and reprimand. Instead, she communicates with the child and breaks down the situation with him. "I try to calm him down, and together we think about what made him act that way, I ask him what could he have done differently? Then, we talk about options," she added.

Nicole admits that she is far from being a perfect mom. "I lose my temper as well!" she says. When this happens, she says she sometimes apologizes, and sometimes not. "I apologize if I need to, but the bottom line is, you should show your child that you are the authority!"

ADVERTISEMENT - CONTINUE READING BELOW

Set reasonable boundaries

"As parents, it is our task to explain to them how things are, in such a way that reality won't get in the way of their dreams," said Vanessa. When her daughter asked her if she could fly, she replied. "Flying is only for birds and for superheroes on TV! Maybe in the future, when you are older, you can figure out a way to make yourself fly, just not right now, okay?"

Nicole uses a similar concept called "The Power of the Yet." "My [first] son Alonzo, 6, is a perfectionist. He gets frustrated easily, so I have to constantly give him a reality check. 'The Power of the Yet' simply says, you might not be able to do it now, but you will be able to do it later," the mom of two continues. "You are not YET amazing now, but you can be, and you will be! You just have to practice and put in the work!"

Allow your kids to make choices

Cat, mom to Danielle, 16, Asher, 7, and Alana, 3, remains to be firm with certain obligations like school, extra-curricular activities, dinners together, and trust, but she allows her kids to make their own choices.

"I encourage my children by letting them live their lives... to be comfortable with who they are!" she said, admitting her parenting style is "very relaxed." She believes it opens up a world full of many possibilities and lets her kids become more self-aware. It also makes her kids stronger and more appreciative of themselves and the things around them. "I just feel that the stricter you are, the more things they will do wrong!" Cat said.

CONTINUE READING BELOW

Recommended Videos

With three kids, sibling fights are inevitable in their home, but Cat lets her kids settle their quarrels. As much as possible, she lets the kids resolve things themselves. By doing everything for the kids, and fighting their fights, it would be difficult for them to learn from the situation they are in. "Thankfully, they almost always fix it themselves. I only have to get involved a few times," she fondly recalls.

Be firm and follow through your word

One of the things Vanessa learned from her mom about discipline is to be firm. "Yes is yes, and no is no. The kids cannot bargain with you," she shared. The mom of two values trust and promises as well, adding that being firm goes both ways. "They have to know that your word stands and that your word is true. If you promise something, you have to keep your promise," Vanessa explained.

Communication is also a must in the household, "If you don't have open communication about boundaries and what's right and wrong at home, they might learn it from outside."

Always try to lead by example

It is also crucial for Vanessa to be a good role model for her children. She looks forward to the day when her child will tell her, "Mom, I want to be like you!"

Cat, likewise, tries to be a good role model. "You have to be careful with what you show them because they can pick up every little thing." Parents must practice what they preach, and through their own actions, be able to teach kids the proper values and attitudes.

ADVERTISEMENT - CONTINUE READING BELOW

 

(L-R) Vanessa Matsunaga, Nicole Hernandez-de los Angeles, and Cat Arambulo believe it takes a village to raise a child, but at the end of the day, they decide what's best for their kids.

PHOTO BY

Courtesy of NanKid

 

It takes a village to raise a child. Apart from their own parents, Vanessa and Nicole also learn and get advice from fellow mom friends.

"I look up to my mom friends, and I feel happy to be going on this journey with them," Vanessa says of fellow celebrity moms Cristalle Belo and Amanda Griffin-Jacob.

Nicole also exchanges parenting tips and advice with her own mom tribe, the members of "Baby Barangay," Kelly Misa-Fernandez, Bianca Santiago-Reinoso, Patty Laurel-Filart, and Cat Juan-Ledesma.

But "at the end of the day, they are your kids! Take whatever advice you think applies to you and your situation, and then go with your gut feel," Cat says. "You are the mom, they are your kids, wing it, and enjoy it!"

ADVERTISEMENT - CONTINUE READING BELOW

What other parents are reading

Celebrate your pregnancy milestones!


Enter your details below and receive weekly email guides on your baby's weight and height in cute illustration of Filipino fruits. PLUS get helpful tips from experts, freebies and more!

You're almost there! Check your inbox.


We sent a verification email. Can't find it? Check your spam, junk, and promotions folder.

Trending in Summit Network