Eating at Least One Meal a Day With Your Kids Can Strengthen Your Bond

Making time for family meals can drastically improve your family dynamic.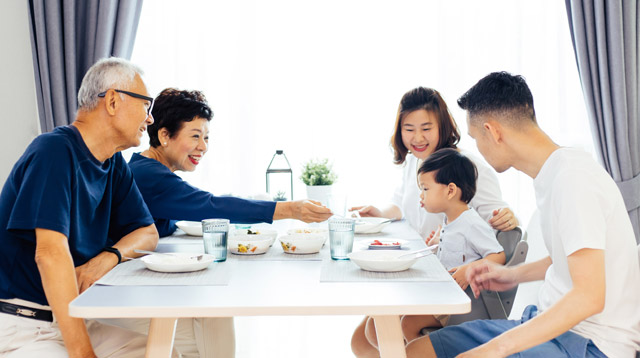 When I was growing up, having dinner with the whole family was part of my daily routine. We hardly have time to eat breakfast and lunch together, but I can always count on the presence of my parents and three siblings when it's time for dinner. In our house, it was like a daily ritual that we couldn't excuse ourselves from even if we had homework to finish. It was hard for me to understand it at that time, but when I finally moved out of our house as an adult, I came to realize how relevant that habit was for our family.

For people who are so used to living fast-paced lives, eating becomes a trivial event. Skipping breakfast to beat the traffic or passing up dinner to catch up on sleep or tackle work is nothing new to many – especially working parents and young professionals. Sadly, this holds true even if there are kids in the picture – some parents miss dinner because of last-minute work. There are a few who believe that as long as they're spending quality time with their kids, it should be enough. Unfortunately, what most parents aren't aware of is having communal meals with the kids can greatly impact their lives.

What other parents are reading

Why is it important to eat with the family

Studies have shown that there are numerous benefits from simply having daily dinners with our children. Starting from when they were just infants who were learning how to chew to when they've grown into their teens, sharing a meal with the family has great significance not only when it comes to their cognitive development, but to their physical and mental health as well. Here are more benefits we can reap when we choose to sit down and have dinner with the family:

ADVERTISEMENT - CONTINUE READING BELOW

It can help the kids achieve developmental milestones

We know that toddlers learn by example – mirroring some of the gestures they often see their parents doing. In the same way, you can help your little one transition into solid food by eating at the same time they do and allowing them to see you eat as well. Especially for toddlers, the influence of seeing you use your utensils will encourage them to exercise their fine motor skills and take up eating independently. Of course, this may take some time and effort, but soon, they'll be able to feed themselves with minimal assistance. Allowing them to listen and take part in dinnertime conversation can help boost their language skills at a very young age as well.

It can teach them the importance of having a healthier diet and lifestyle

Establishing daily dinners with your family can improve the quality of your diets for a couple of reasons. Not only are you able to incorporate more vegetables and fruits into your meals by preparing food at home, but eating them together will encourage your kids to eat new food and ingredients they may not be inclined to try. The frequency of your shared meals can eventually (and hopefully!) result in your little one having better eating habits. Soon, you'll notice them eating their green leafy veggies and seeking out better food choices when you're eating out.

Family dinners can also impact the relationship your children have with food. The dinner table is a great platform where parents can help children understand the health benefits and potential risks of eating some foods and maintaining a particular diet. Research has shown that family dinners can decrease the chances of obesity in children.

ADVERTISEMENT - CONTINUE READING BELOW

Recommended Videos

What other parents are reading

It can help them perform better in school

A study conducted by The National Center on Addiction and Substance Abuse at Columbia University (CASA) about the importance of family meals showed the effects of having frequent family dinners on children. The study states that, "compared to teens who have five to seven family dinners per week, those who have fewer than three family dinners per week are nearly twice as likely to report receiving mostly Cs or lower grades in school."

It's to be believed that the unique interactions families are afforded during dinnertime have a great influence on children's development. During family dinners, families are given the opportunity to have lengthy conversations on different topics. Through these topics, children can learn and grasp new ideas and concepts and grow their interests. Growth in vocabulary and language skills is also a result of simply having a conversation at the dinner table. Dinnertime is also the best time to catch up on school activities and ask them about their day.

It can reduce behavioral problems and mental health issues

We can acknowledge that family interaction is the biggest factor as to why family dinners have such great impact on children. Kids feel more connected to their parents and siblings when they engage in conversation during mealtimes, which can result in a sense of security, identity, and acceptance.

In addition, the same series of studies done by CASA on the importance of family meals have also shown substantial evidence that family dinners can reduce the risk of behavioral problems in teens. It indicates that the quality of relationships produced by having frequent family dinners lessen teens' use of alcohol, tobacco, and marijuana. Another study also found that depressive symptoms and suicide was less present in teens whose families frequently shared meals together.

ADVERTISEMENT - CONTINUE READING BELOW

What other parents are reading

It can strengthen family relationships

Likewise, family dinners can strengthen the bond between parents and children. School and work have ways of keeping families disconnected from one another, but having regular family dinners help in keeping everyone grounded and connected. Researchers from the University of Montreal saw the correlation between children's security and sharing meals with family stating that, "family meals are not solely markers of home environment quality, but are also easy targets for parent education about improving children's well-being."

This daily routine gives parents a channel where they can keep tabs on their kids' lives and similarly allow children to have an open space to ask their parents about certain home matters. It would be advantageous for parents to practice the routine of daily family dinners, but we must be reminded that it's not only about sitting around and having a meal at the same time. Communication and quality interactions make family dinners so invaluable.

What other parents are reading

Celebrate your pregnancy milestones!


Enter your details below and receive weekly email guides on your baby's weight and height in cute illustration of Filipino fruits. PLUS get helpful tips from experts, freebies and more!

You're almost there! Check your inbox.


We sent a verification email. Can't find it? Check your spam, junk, and promotions folder.

Trending in Summit Network