'Wag Mo Kiss Si Papa, Ako Lang': Why Your Child Wants You All To Himself

Here's why your kids get upset when you're affectionate with your partner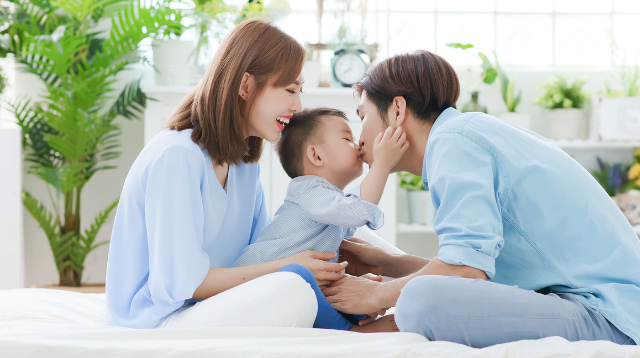 Have you ever witnessed your little one in full jealous mode when you and your partner show affection for each other? It would either be that he wants Mama or Dada all to himself. 

Moms in our Smart Parenting Village group had plenty to share when one mom posted this question: 

"Bakit po may mga toddlers na nagagalit or naiinis kapag nakikita yung mom and dad nila na sweet? Or anak ko lang po ang ganun?" 

The mom said that her two-year-old son would show disappointment each time she and her husband would be 'sweet' with each other.  She added that it became especially challenging to show affection around their child even during their anniversary. 

Jealousy in children is normal

To date, there are 249 comments and counting on her post. Most moms said they experienced the same reaction from their little ones (LO). 

"Hahaha, relate. Napag sabihan ako ng two years old ko, 'Mama wag mo kiss Papa dun sa simbahan. Ako lang dapat kiss mo'" shared one mom.

"Di ka nag-iisa mamsh. My LO is now five years old but still seloso. Nagagalit kapag nakikita niya na niyayakap ako ng Daddy niya," shared another mom. 

Kids can also favor their Dads over their moms. "With my two year-old daughter, sobrang clingy sa Daddy niya. Pag nag ha-hug po kami ayun pupunta siya sa amin at sasabihin niya, hug sabay agaw sa Daddy niya. Yung daddy niya lang."

It happens to babies, too

Feelings of jealousy is common not only among toddlers but even babies. 

ADVERTISEMENT - CONTINUE READING BELOW

"Jealousy is a normal reaction to anyone who threatens a social bond," said Maria Legerstee, director of York University's Infancy Centre for Research in Toronto in an article published in the parenting site, Today's Parent. She adds that only a few bonds can match the importance of that between parent and child.

If toddlers show jealousy through crying, pushing Daddy away, or hugging onto mom tightly, among babies this can manifest in cooing, kicking or screeching with the intent to send the message "look at me," the article added.

Among babies,  jealousy is equivalent to 'survival instinct' according to the same article.  "As babies, we need to keep our parents focused on us because we depend on them for everything we need to survive," says Dundas, Ont., social worker Gary Direnfeld, who specializes in child development and behavior. 

He adds that parents' responsiveness conveys security which is crucial for healthy emotional development.

Jealousy among toddlers and pre-schoolers

For toddlers, jealousy is equated with separation anxiety. "As your toddler begins exercising independence, she will frequently need to charge back and find you still there for her," reads the article.

The response parents give to babies when they are 'jealous' also applies to toddlers. However, there is a difference in the approach because unlike babies, toddlers have the ability to "understand words and practice patience." 

Reassurances such as "I hear you, but you need to wait while I help your sister"—not wait for 10 minutes perhaps, but definitely 10 seconds, suggests the article. 

CONTINUE READING BELOW

Recommended Videos

Direnfeld says that for children ages two to three, showing a little frustration is okay because that's how the child is able to handle unpleasant emotions. 

What to do: acknowledge their need

He warns however that the one thing parents don't want to do is ignore the child. "Non-responsiveness generates insecurity and fuels jealousy," he says. 

Among preschoolers, jealousy is an expression of the need for security. The good news is, around this age, parents can help them start recognizing the emotion of jealousy and handle it, according to the article. 

To calm a preschooler who is throwing a tantrum, it is important to give reassurances without encouraging the bad behavior, says Christina Rinaldi, an associate professor of child psychology at the University of Alberta in Edmonton. 

Words like "I know you want me to carry you but I just have to finish talking to my friend" are reassuring for the child.  

Rinaldi points out parents should send the right message. "Make sure you're not sending the message 'I'm spending time with you because you're [having a tantrum],'" Rinaldi points out. 

Jealousy and envy are different

Jealousy is not the same as envy, terms many parents often interchange. 

According to an article in Psychology Today, envy occurs when we lack a desired attribute enjoyed by another while jealousy occurs when something we already possess (usually a special relationship) is threatened by a third person. 

The same Today's Parent article writes that too much envy—the kind that leads to low self-esteem—is what parents should be wary about in their children. 

ADVERTISEMENT - CONTINUE READING BELOW

Among children, jealousy at different ages is natural but how parents handle these tantrums or meltdowns can determine how they will be able to control their emotions in the future while at the same time giving them the assurance that you will be there for them at all times. 

In the end, Rinaldi says, jealousy goes back to our sense of self. "We all want to feel safe, loved and appreciated." 

Celebrate your pregnancy milestones!


Enter your details below and receive weekly email guides on your baby's weight and height in cute illustration of Filipino fruits. PLUS get helpful tips from experts, freebies and more!

You're almost there! Check your inbox.


We sent a verification email. Can't find it? Check your spam, junk, and promotions folder.
Trending in Summit Network