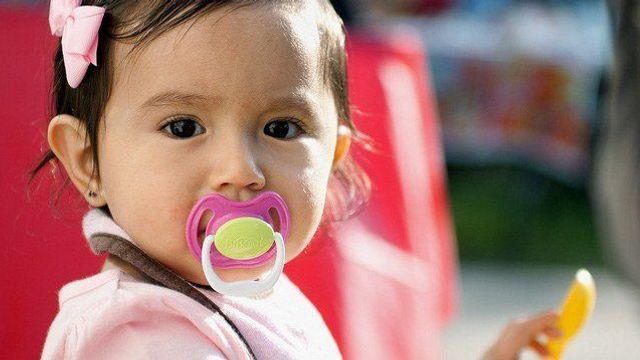 "Tsupon? Magsusungki ngipin niya!" is a phrase Pinoy parents have heard in some form or another. Though there are varied opinions surrounding pacifiers -- it causes crooked teeth, or it's an inattentive parent's way out of a child's tantrum -- it does have its uses when used correctly and when you have a cranky, fussy baby in your arms. 

"All babies are born with the need to suck. This is important because babies need the sucking reflex to eat and drink," says HealthyChildren, a resource site for parents run by the American Academy of Pediatrics (AAP). Moreover, "sucking for some babies can also have a soothing and calming effect," they add. 

Babies will suck nonetheless when a pacifier is not around. They suck on their thumbs, fingers, bottles and mom's breast for comfort. "You'll notice when your baby is sick, you'll be able to give your baby comfort by just putting your baby to the breast, says Dr. Jamie Isip-Cumpas, a pediatrician and lactaction consultant at Parkview Children's Clinic Makati. 
"Young infants have no other mechanism to control their distress," Dr. Richard Dowell, a pediatric neuropsychologist, told Parents. "They can't get a drink; they can't ask for a blanket; they can't use their hands to control things. Sucking provides a way for them to calm themselves."

Pacifiers can also reduce the risk of Sudden Infant Death Syndrome, says the APA. For breastfeeding moms and babies, wait until you and baby have gotten used to latching. It usually takes around three to four weeks, according to the pediatric group.  

"Using a pacifier is acceptable for those babies who need to satisfy their sucking reflex," says Dr. Carina De Los Reyes, a pediatric dentist and former president of the Philippine Pediatric Dental Society, Inc. (PPDSI). However, she still recommends limiting the length of time your baby uses it to avoid dental problems. "A pacifier may affect the swallowing of a child and produce malocclusion," she told SmartParenting.com.ph.

Malocclusion is the misalignment of teeth. A prolonged pacifier use can result in open bites, cross bites and protruded teeth, explained Dr. De Los Reyes. Another pediatric dentist, Dr. Georgina Remulla, director of PPDSI, agrees. "Beyond 2 years old, together with increased frequency and intensity of use, a pacifier may affect the positioning of a child's teeth," Dr. Remulla told SmartParenting.com.ph.
So when should you wean your child from his pacifier? "Withdrawal of the habit should be encouraged gradually by age 1 and stopped altogether by age 4," says Dr. De Los Reyes. The good news is most children will also naturally lose interest in their pacifiers by age 3 or 4.

If you're still concerned about your child's teeth, dental checkups should start by the time your child gets her first tooth, which is around 4 to 7 months old. After this, regular visits may be advised, so your child's dentist will be able to monitor the development of your baby's pearly whites and give advice if need be. 

If you're in search of a pacifier, the APA provides these guidelines: 
The nipple should be soft and comes in 1 piece. Multiple parts can break off and pose as a choking hazard.
The shield should be at least 1 1/2 inches across so your baby can't put the entire pacifier into her mouth. Also, the shield should be made of firm plastic and have airholes.
Before giving a new pacifier to a baby, sterilize it by boiling.
Do not use the nipple from a baby bottle as a pacifier. It can pop out and pose as a choking hazard.
Inspect your child's pacifier every once in a while to see whether the rubber has changed color or has torn. If so, replace. 
Remember that there are many other ways to soothe a fussy baby, says pediatrician Dr. Roselyne M. Balita, founder of the Little Lamb's Pediatric Wellness Place. Address their needs first by giving milk or making sure nothing is bothering your little one. Cuddle, play music or bring out toys, says Dr. Balita. Good luck!

Dr. Carina De Los Reyes holds clinic at St. Luke's Medical Center (401-0335), Quezon City; The Medical City (988-1000 local 5165) and at #33 Sta Catalina St. (631-4932) in Pasig City. 

Dr. Georgina Remulla holds clinic at #1215 Acacia Avenue, Ayala Alabang (850-4260), Muntinlupa City; and #110 Amorsolo Street, Legaspi Village (892-4758), Makati City.

Sources: HealthyChildren 1, Healthy Children 2, BabyCenter, Parenting