One Way to Potty Train Your Toddler Without Stressing Him Out

The Montessori way of toilet learning may be less stressful because the child does it at her own pace.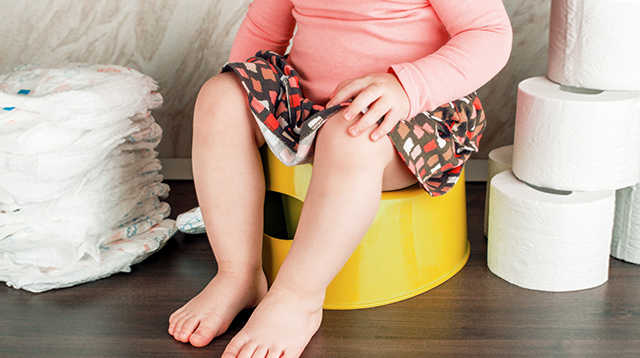 Raising a child the Montessori way has always been about letting the child lead how she wants to explore or learn about life. Parents should act as guides instead of dictating how the child should act, learn, and develop to thrive. 

It's a natural process that your child will learn on her own when she is ready. "We don't train children to use the toilet, we support them when they are ready," wrote Tim Seldin, author of How To Raise An Amazing Child the Montessori Way. 

It means no rewards, punishments, or distractions—just the necessary things your tot would need to go to pee or poop in the toilet unaided. These include:

A potty or a stepstool and potty on top of the adult-sized toilet. If you have space in your bathroom, you can set up a corner for your little one's child-sized toilet. 
Underwear you child helped choose. This can help empower your child to be in control of her own body. 
Garterized bottoms, or any pants that will be easy for your toddler to pull down and up. Avoid bottoms that have zippers or complicated fastenings. 
Wipes for easy tidying up
Rags. Your tot can use this to clean up the floor in case she doesn't make it to the toilet on time. 
Laundry basket and trashcan. Soiled bottoms, of course, go to the basket, while dirty wipes go to the trash bin. 

When you've got everything you need, which you can set up as early as when your baby starts crawling or standing up, here are the steps involved and some reminders on how to not toilet-train your child, but rather, allow her to discover this natural part of human development. 

ADVERTISEMENT - CONTINUE READING BELOW

1. Look for signs of readiness. 

The Montessori way identifies the time that a toddler may be ready to tackle the potty between 12 and 18 months old, or beyond. This age range isn't a deadline but a reminder to check for signs of potty readiness. During these months or years, observe if...

Your child knows when she is peeing or pooping. How do you know? Maybe your child is already actively asking for a diaper change. Perhaps she sits still in a corner while she poops. 
Your child's diapers are more dry than usual during the day. This may be a sign that she's already able to control her pee and poo.
Your child is interested in the toilet. Young kids don't notice it—it's just a chair you sit in when you want to take a break from mothering. Others may start asking what the hole in the chair is for or how the flush works. 
Your child is beginning to be more independent, particularly knowing how to undress and dress herself. This is a sign that she can handle her clothing when she needs to go potty. 

2. Move the nappy changing in the bathroom. 

Get rid of your diaper changing table and change your toddler's diaper in the bathroom. "This is important as it sends a clear message to the child that this is where we go to be changed and use the toilet," explained Tina Wallace, a preschool program director with Early Childhood Montessori credentials. Switching to pull-up diapers is a good idea since it's easier to change those while standing up. 

CONTINUE READING BELOW

Recommended Videos

What other parents are reading

3. Model proper bathroom habits. 

Children are like sponges, and they will remember things they see you do than things you tell them to do. Leading by example is still the best teacher, toilet learning included. This includes standing in front of or sitting on the potty, wiping after doing your business, flushing the toilet, and then hand-washing. 

When your tot sees you do this regularly, she'll become curious and start to copy what you do. Start inviting your little one to sit on the potty every time you change his nappy, or during regular time intervals in the day and before going to bed. An alarm clock set every hour or two may work for your child, too.

4. Encourage your child, but don't force her.

Never force her to do something she may not be developmentally ready for—this is not the Montessori way. Eventually, she will come around.

Be careful how you phrase your words. Use "It's time to use the toilet" rather than, "I think it's time to use the toilet" so the decision is not on the parent but the child. If your child refuses to try to go pee, say, "But you will tell me if you feel like you need to go." Wallace adds. "Be sure to avoid adding, 'Okay?' at the end of this statement because you will be giving them the choice of whether to try again or not." 

Try not to interrupt your child if and when she does her thing on the toilet. Distractions, such as tablets, give children mixed signals. Read books about potty training and do not play while on the potty seat, as much as possible. Sitting on the potty is about learning the body, and not anything else.

ADVERTISEMENT - CONTINUE READING BELOW

Also, don't over-praise—stop the cheering or clapping—when your child agrees to go potty. Keep it neutral and natural, suggests The Montessori Notebook.

What other parents are reading

5. Guide your tot (do not dictate).

"Be sure to follow through with your directions to the child and come back to assist them as needed. If the child is involved in an activity, wait until she is finished, or invite the child to take part in the activity," Wallace recommends. 

If your toddler doesn't like to try sitting on the potty, try again next time. If she doesn't make it on time and makes a mess, just show her how to clean up. It doesn't have to be an unpleasant experience for you or your child, so no shaming or punishments.

Allowing the child to learn and be aware of her own body and bowel movements is the key to a stress-free potty training or learning. It's going to be less stressful for you since you're not imposing a skill on your child that she may not yet be ready for yet. If the initiative to learn how to pee and poop in the potty comes from your toddler, it's highly likely you'll end up with less power struggles. 

What other parents are reading

Celebrate your pregnancy milestones!


Enter your details below and receive weekly email guides on your baby's weight and height in cute illustration of Filipino fruits. PLUS get helpful tips from experts, freebies and more!

You're almost there! Check your inbox.


We sent a verification email. Can't find it? Check your spam, junk, and promotions folder.
Trending in Summit Network