Caught In A Cycle Of Using TV As A Babysister? This Type Of Play Can Be A Solution

It's favorable and beneficial for both parents and their kids.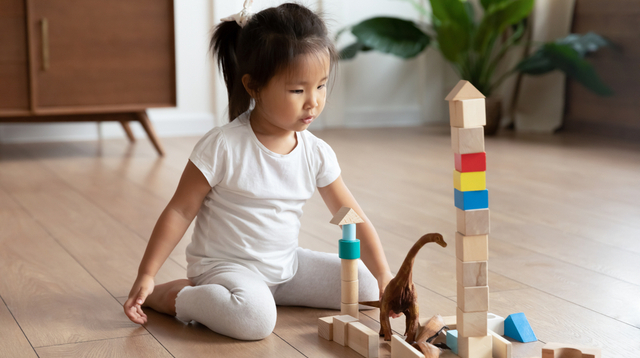 Raise your hand if you are guilty of making the TV as an alternative babysitter for your little one. Promise, no judgement because our hands — both of them — are up in the air, too.

Every parent with a toddler knows that the balancing scale is always tipped towards caring for a child. The rest remains at the backseat unless he is asleep or if hubby or a helper is around. But until then, the TV will be a parent's next best ally. 
 
Articles on parenting delve on the bad effects too much screen time has on a young child, but not too many give sound alternatives or adequately address the issue behind why many parents resort to the medium in the first place. Even parents themselves know it is not a good alternative, but some tend to be caught in a cycle of using the 'electronic nanny' just to get a few more things done, something millions around the world can relate to.

Mommies and daddies, there could be an alternative that is both favorable and beneficial for parents and their young child: Self-directed play.

Also called open-ended play or free play, this is plain and simple play that happens on a child's own terms — where they are left to use their imagination, creativity and motivation instead of being directed by adults.

In defining play, psychologist and author Peter Gray in an interview by geniusofplay.org, said that one of the crucial defining characteristics of play is that it's "directed by the children or players themselves. It's self-directed. Adult-directed games like sports, or activities in school where a teacher is telling children what to do, is not play by my definition," he says.

ADVERTISEMENT - CONTINUE READING BELOW

He goes on to give an example that in the United Kingdom and in countries in Europe, there are Adventure Playgrounds "where fully trained play workers are present but won't intervene unless necessary — like a lifeguard on a beach — and parents are encouraged to leave."

Why encourage self-directed play?

For busy parents with hardly any time for themselves, creating a culture of self-directed play may not only give them a much-needed reprieve from childcare even for a few hours but it will benefit their child tremendously. Here, berkshiremontesori.com enumerates some benefits of self-directed play:

 

It builds their confidence by allowing children to make their own games and their own rules, giving them a sense of accomplishment
It encourages independence at a young age
It teaches problem solving by helping them figure something out on their own—for example making a new game rule work.
It cultivates inner motivation where they are compelled to find 'innate joy' in their play without an adult defining the success of an activity. 

 

What are the characteristics of self-directed play?

Knowing its benefits, here are a few ideas that encourage self-directed play — enough to give mommy and daddy that time to answer an email that they should have gotten back to yesterday. The trick is to create the culture at home so kids can turn to it instead of saying, 'mom, I'm bored' more often that he should.

Give them their very own special play corners

It can be of any size as long as a child can move freely, be active but at the same time safe. Make it a space where they can do as much jumping, dancing, and rolling about as well as spend quiet moments doodling, drawing, writing, or having a cup of hot chocolate with their dolls.

ADVERTISEMENT - CONTINUE READING BELOW

Recommended Videos

Give them open-ended toys that will encourage creativity

Give them wooden blocks, playdough, fabric, marbles, dress up items, balls, and things found in nature like leaves and stones — the list can be endless! All these materials inspire creativity and allow their imagination to soar.

Make them listen to audio books

Audio books make great babysitters and, unlike television or gadgets, they keep children from zoning out. It also helps sharpen their listening skills and allows them to play, create, and move while being entertained.

Avoid the urge to interrupt while they play

Unless they ask for your help in separating a stuck Lego block or you see them munching on a crayon, leave them be and let them figure out how to do and undo things. If they begin to talk gibberish and create characters that you haven't heard of before, avoid interrupting and let them be lost in their own world.

Remember, it's not everyday that a child will want to be playing alone, so focus on what you have to do because the next few minutes or hours will all be about the little one again.

Want happier, well-behaved kids? Click here for another type of play that they can try.




Celebrate your pregnancy milestones!


Enter your details below and receive weekly email guides on your baby's weight and height in cute illustration of Filipino fruits. PLUS get helpful tips from experts, freebies and more!

You're almost there! Check your inbox.


We sent a verification email. Can't find it? Check your spam, junk, and promotions folder.

Trending in Summit Network