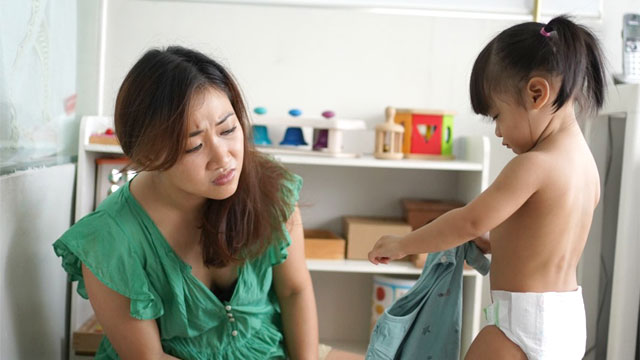 Babies grow up fast — sometimes even too fast for your liking. One moment, they're these tiny newborns who simply sleep and ask for milk every day. Then, you wake up one morning, and they're these cheeky toddlers dominating the whole house with their unmatched energy.
In this article, two moms, Ira Pablo and Khristel Alvarez, talked about some of the things parents — especially new ones — can expect during this period in their children's lives. Ira, 25, is a sports reporter and mom to 2-year-old Kavi and 2-month-old Knight. Khristel, 29, is an entrepreneur and a first-time mom to 22-month-old Lilie.
Based on the stories the moms shared, this baby-to-toddler period is an exciting yet challenging time — and they wouldn't have it any other way. If your babies are at a similar point in their lives, here are some things shared by Ira and Khristel you may want to prepare yourself for as early as now:
Toddlers move and talk a lot
Better to gear up for more active days ahead! According to the moms, at this age, children will be running around the house, playing with their toys nonstop, becoming more curious about their world.
"Newborns only lie on the bed the whole day [and] cry a little when [they're] hungry," Khristel said. "A toddler runs from corner to corner every minute and loves to play with her toys all the time."
They'll also start talking a lot! "It was adorable when Kavi learned how to speak," Ira recalled. "He enjoys singing songs, looking for colors that he recognizes, reading letters, and imitating animal sounds."
Toddlers learn new naptime habits
Since toddlers would rather spend their day moving, it can't be helped that they sleep less — sometimes, not at all — in the afternoon.
"When [Lilie] was still a baby, she [took] long naps throughout the day. She won't [even] notice that I'm not beside her when I get up, and she also fell asleep faster," Khristel said. "[Now that] she's a toddler, it's harder to make her sleep because she's easily distracted. She naps for one to two hours once for the whole day, and she notices when I'm not beside her."
But compared to when they were still babies, some toddlers are also able to fall asleep on their own. In Ira's case, "It was easier to put my toddler to sleep. When Kavi was a baby, I needed to carry him and rock him back and forth until he fell asleep. Now, he has learned how to fall asleep on his own and sleeps for longer hours."
Toddlers can be a little grumpy
According to Ira, Kavi has matured pretty quickly. At 2, he has already displayed an eagerness to do things on his own, giving her a peek into his personality. Still, there are times when he throws a fit. "It's [usually] caused by his frustrations of being unable to do something or when he is lacking sleep," Ira explained.
Similarly, Khristel deals with occasional tantrums, too. "I believe kasi na toddlers in this stage [are] exploring and learning about everything around them. They want to do something or say something but [don't really] know how to convey them, kaya nagiging irritable sila and grumpy minsan."
"I'm lucky enough kay Lilie na hindi siya talaga sobra mag-tantrums," Khristel continued. "Yes, she cries when she doesn't get what she wants or kapag hindi namin ma-gets kung anong gusto niyang gawin. Pero madali sya maka-move on. Matagal na yata 'yung one to two minutes na iyak niya since hindi siya talaga iyakin na baby."
Upon experiencing all these with their own kids, Ira and Khristel also shared a few tips for their fellow moms when it comes to dealing with the so-called Terrible Twos:
1. Be patient when communicating with your toddler
Since toddlers are still learning to articulate their feelings or emotions, chances are, you won't be able to understand them right off the bat. And this, as the two moms said, usually results in grumpy kids.
Ira said: "Whenever we say 'No,' [Kavi] cries. I think he feels offended and takes the word negatively. So, we changed the word that we use to call him out into 'Stop.' [Now], he immediately follows and stops what he is doing without crying or throwing tantrums."
"It was my responsibility as a parent to understand what he is trying to say. I learned about adjusting to my toddler and understanding his personality," she added.
2. Establish a sleep routine at home
Both Ira and Khristel emphasized the value of having a set routine at home, particularly when it comes to naptime and bedtime. It helps the mom and the child develop a healthy sleeping pattern. For example, when it's time to sleep, you and your child draw the curtains close, pack away the toys, and turn off the lights.
"The first week will be such an adjustment," Ira said. "[Like in Kavi's case], [he] cried for all of his toys back. One time, he even cried for an hour! But during the following week, when we [packed away] all his toys, he knew it was time to go to sleep and just lied down in bed and obediently drank his milk. It was the best decision ever!"
"Consistency is the key," advised Khristel. "Medyo mahirap sa una, [but] challenge yourself to do it ng 21 days straight to make it a habit for you and your baby."
"Develop their good habits or daily routines first. Don't rush them about learning 'what animal,' 'what number,' and 'what color is that.' They will learn those when it's time. Remember, they are just babies and toddlers. They love to eat, sleep, and play."
3. Choose a reliable diaper for your toddler
As your child continues exploring the joys of toddlerhood, you need to be a sigurista when it comes to picking a reliable diaper for your child as it helps keep them comfortable and protected.
Ira said, "When Kavi was born, I wanted to be a sigurista mom when it comes to diapers. I heard a lot of horror stories about bad rash cases and I didn't want to deal with that problem." With this in mind, Ira eventually chose the Pampers Baby-Dry Newborn for Kavi, which "really gave that relief to me" because of its 2-in-1 Rash Shield.
Pampers Baby-Dry with 2-in-1 Rash Shield provides up to 99.9% protection versus wetness. It helps prevent skin rashes by pulling away wetness and keeping baby's skin dry (based on standard GAM test methodology). Aside from being kontra babad, it is kontra kulob, too!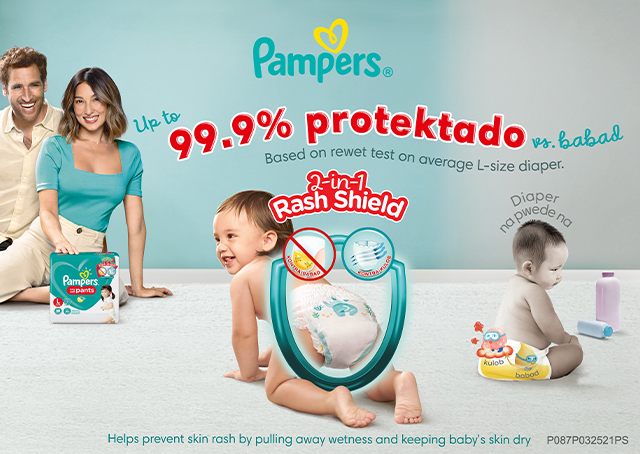 "I've tried a lot of different diaper brands, but only Pampers helps keep him dry through the night," Ira emphasized.
Khristel said she also chose Pampers Baby-Dry Newborn for Lilie because of its 2-in-1 Rash Shield. "[Lilie's] skin is so sensitive. May specific soap lang na we can use for her. [Same] goes for her diapers — nag-try kami ng iba, kaso nag-rashes siya. Kaya sa Pampers na lang talaga kami."
"I'm pretty pleased when I found out that Pampers is endorsed by skin experts like the Skin Health Alliance," Khristel added. "Definitely the brand para sa mga sigurista moms like me."
And since toddlers like Kavi and Lillie like playing around, it was an easy decision for the moms to eventually go for the Pampers Baby-Dry Pants after using the Pampers Baby-Dry Newborn.
According to Khristel, "Since Lilie [became] more active and playful, we opted to move to pants. When your baby is already a toddler, every diaper change feels like a wrestling match. Kaya super big help sa amin ang Pampers Pants."
Ira agreed, saying, "I started buying Pampers Baby-Dry Pants when [Kavi] learned how to remove the taped diapers himself when he turned 1. For Pampers Baby-Dry Pants, hindi lumalawlaw 'yung diaper until it is really full!"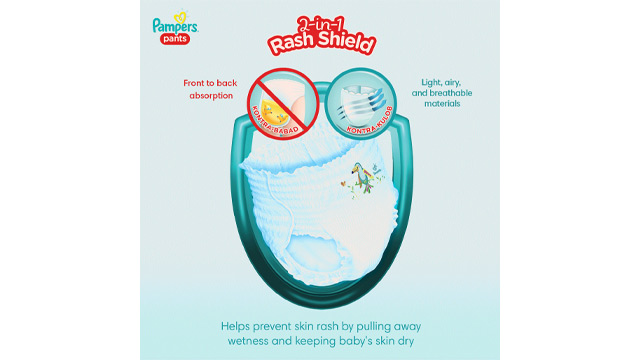 4. Don't be afraid to ask for help
Asking for help does not mean you are unable to care for your child. Keep in mind that at this age, your child seems to never run out of energy, and you'll have to care for him or her all while juggling a job and managing your home.
"Don't be afraid to ask someone for help," Khristel said. "Let hubby na alagaan si baby. Or si lola or si tita [or] tito. Never magiging kabawasan ng isang mabuting ina ang paghingi ng tulong."
It's also okay to reach out to your fellow parents whenever you face concerns that are new to you.
Khristel explained, "When [Lilie] was teething, we [observed] na wala siyang gana kumain. And as a first-time mom, I have no idea that it's normal. Good thing may Smart Parenting Village that helped me and gave me ideas on what to do — like giving her breastmilk, popsicles, and more."
5. Enjoy the process
There will be moments of doubt in motherhood, but don't be too hard on yourself whenever these situations come up! Know that you're doing everything to the best of your ability.
As Ira shared, "Every experience I had, good or bad, taught me a lesson about parenthood: You can never really be perfect. Whatever type of mom you are — stay-at-home mom, working mom, breastfeeding mom, bottle-feeding mom, single mom, etc. — you are going to love it and you are perfect just by being a mom."
Khristel is on the same page as Ira. "In all honesty, as a first-time mom, I won't change anything about my experience with my child's baby-to-toddler period. I became better as a person and as a mom because of my experiences. [I also] learned to appreciate my own mama more."
As you pour your time and energy into taking care of your kids, make sure that you leave a bit for yourself as well. "Love yourself, mommy," said Ira. "Do what makes you happy, because a happy mommy can best take care of her baby. Even on your worst days, you are still the best mom for [them]."
"Self-care is never selfish," Khristel added.
The Terrible Two can really be tough, especially if it's your first time dealing with it. But, it's also an exciting period of learning and discovery so savor every moment! And while you can't exactly be perfect, being a sigurista mom who thinks of only the best for her child is more than enough.
Shop for Pampers Baby-Dry Pants with 2-in-1 Rash Shield from supermarkets near you, or online via Shopee and Lazada. For more information, visit pampers.ph and follow Pampers on Facebook.
ASC REFERENCE CODE: P087P032521PS