7 Lessons From a Mom Who Wanted Her Child to Read Before Preschool

The mom, who shares her 7 secrets to raising a reader, just needed to be patient.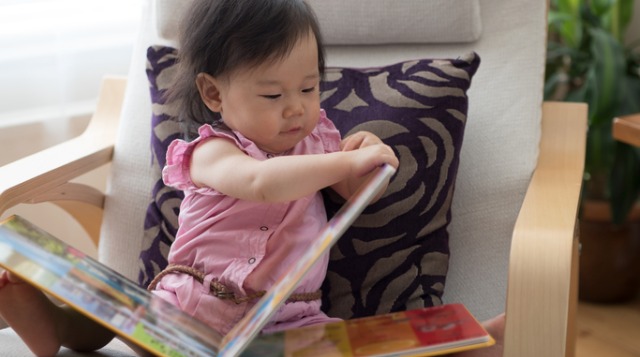 I couldn't wait for my daughter Adriana to start reading. I wanted her to be super smart, so I bought Baby Einstein DVDs, which were expensive at Php500 each. I would sit beside my baby while she watched and waited for the light bulb to appear over her head. 

And nothing. Nothing happened. In fact, Adriana didn't like watching them so we could never finish a DVD. Oh boy. 

Then, I tried to convince her dad that we NEEDED to purchase a set of My Baby Can Read before she turned a year old. Wouldn't it be amazing if Adriana could learn to read before she could walk? He wisely said that reading out loud to her, which we did since she was born, was enough at this stage.

What other parents are reading

 

We enrolled Adriana in preschool when she was 3.5 years old. A year later, she still wasn't reading on her own. I got worried about my choice of school when the teachers assured me she was on track with her developmental skills. Hmmm.

Adriana was 5 when we found Terry Toots by Francesco Pittau in the school library. I asked her if she would like to read it aloud by herself. She started reading it, and the story was so hilarious that we were both laughing from beginning to end. 

It wasn't after she closed the book that I realized Adriana had read it all by herself! I swear there were tears in my eyes — MY DAUGHTER CAN READ! 

What happened next completely caught me off guard. As soon as Adriana figured out how to read, it was like a dam broke — there was no stopping her. She didn't even struggle with complex words; at that point, she had an extensive vocabulary, so it was just a matter of recognizing them in their written form. Within a few months from her first storybook, Adriana was reading Geronimo Stilton chapter books. I read my first chapter book (Nancy Drew The Secret of the Old Clock) in Grade 3!

ADVERTISEMENT - CONTINUE READING BELOW

What other parents are reading

Adriana's 7 now and in first grade. She still has her favorite picture books in her library, but she's also midway in her first Percy Jackson book. Even my mom, who told Adriana's preschool teachers that we, her kids, started reading at 4, was shocked when she saw what she was reading.  

How did this happen? Yes, Adriana had amazing teachers in her preschool (shout-out to Toddler's Unlimited!), but we attribute a huge chunk of her reading skills to one main activity —READING TOGETHER. We've been reading together every single day since she was born. Even now that she can read on her own, she still occasionally asks for mom or dad to read to her because "It's the best." 

Here are some tips on how we sustained reading together through the years. It's not as tedious or as costly as you'd think 10.

1. Make reading together a daily habit. 
We started when Adriana came home from the hospital, and it doesn't necessarily have to be at bedtime or with the same parent. 

2. Reading should be FUN. 
We read together to enjoy a good story. We don't end the book with a spelling or comprehension test. But when we do come across a word Adriana doesn't understand, we make sure to explain it based on how it's used in the story. We discuss the exciting parts and point out interesting details in the books' illustration. We noticed this made her more attentive and curious.

CONTINUE READING BELOW

Recommended Videos

What other parents are reading

3. Focus on emotions.
Reading for us has always been very personal. We decide whether we like a book or not based on how it made us feel. Stories with courageous heroes make Adriana believe that she, too, can do anything. Funny books have her rolling around in stitches, and she asks for the funniest parts to be read over and over again. She loves pouring over reference books as she figures out the world around her. The macabre fascinates her, but so does her Book of Riddles. 

4. Experiment with a diverse selection of books. 
Do not limit your child's reading selection based on current trends or bestsellers. Children's minds are like sponges — they'll absorb everything. And you'll never know what will pique their interest. You don't necessarily have to follow the age recommendation stamped on books either. If it looks like a good story, try it! 

5. Add Filipino children's books to your child's library.
Not only do they teach our kids about our culture, they are great tools for them to learn the Filipino language. Adriana first fell in love with Ayan Na Si Bolet Bulate by Dr. Luis Gatmaitan. I bought it for her when she was a toddler because she kept on eating food off the floor. I wanted to make sure she knew what could happen if she didn't stop. Okay, she still kept on eating food from the floor, but she learned a lot about the human body.

ADVERTISEMENT - CONTINUE READING BELOW

What other parents are reading

6. Books do not have to be expensive.
You can borrow books from your school library or friends. Buying from pre-loved bookstores also saves you a lot of money, and they're a great place to find rare books. Just be sure to wipe them off very well before giving them to your toddler as they sometimes use chemical products to clean the books. 

7. Track down books that you loved as a child. 
I get very excited when I find a book I loved when I was a kid, and my heart melts when Adriana ends up loving it too. Second-hand bookstores or your parents' homes are the best places to find these! 

Alexine Parreño is mom to 7-year-old Adriana, a bookworm who dreams of becoming a ninja, the first Filipina astronaut, a scientist, and a chef. Alexine also runs the online bookstore, Pumplepie Books & Happiness. 

What other parents are reading

 

Celebrate your pregnancy milestones!


Enter your details below and receive weekly email guides on your baby's weight and height in cute illustration of Filipino fruits. PLUS get helpful tips from experts, freebies and more!

You're almost there! Check your inbox.


We sent a verification email. Can't find it? Check your spam, junk, and promotions folder.
Trending in Summit Network