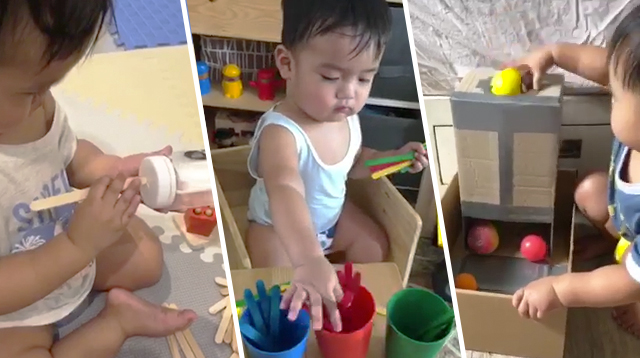 The coronavirus global pandemic's safety protocols are looking to stay longer than anyone had hoped. On top of that, parents are concerned about the kids' education. Should they homeschool, enroll and do online classes, or skip the school year altogether?
Many parents of young ones, children ages 3 to 4, are deciding to skip the school year and be their child's teachers at home. Anybody can teach colors, shapes, and the basic things kids will learn in playschool anyway, right?
Well, sharing is caring! Mommy Audrey Shane Ramos from our Smart Parenting Village Facebook group shared fun but simple toddler activities that are easy to recreate. They're not expensive, too!
"I mostly get my ideas from Pinterest. I have a board of toddlers' activities. I choose activities that are easy to do, and the materials are easy to find," she tells Smartparenting.com.ph via Facebook Messenger.
A lot of the props for her toddler activities were made by Mommy Audrey herself. She bought materials from the online store Shoppe and had them delivered at home. Some elements are also recycled, like the bottles and cores of tissue rolls.
Mommy Audrey also has one crucial tip: "Daily I rotate toys para hindi siya madaling magsawa. I offer different activities daily," she shares. Rotating toys can also help enhance a child's focus and patience.
Learning through play doesn't have to be strictly scheduled, as long as your toddler does different things. "I let him do free play, too," Mommy Audrey added. That's important, too!
By the time your little one goes to kindergarten, he's ready for anything!
Check out the activities that your toddler can do at home in the video below.
Looking for learn-at-home options and wondering about tuition fee? Head to Smart Parenting Classroom now!