5 Ways to Raise a Champion Like Volleyball Player Alyssa Valdez

The three-time UAAP volleyball MVP and her parents trace her path to success.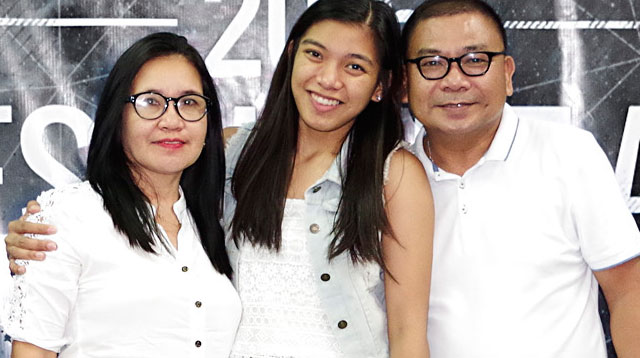 Alyssa Valdez might be a new college graduate, but she already brings with her an impressive resumé. She graduated with academic honors for her AB Psychology degree at the Ateneo de Manila University, was part of the student council, and was voted the Most Valuable Player (MVP) for volleyball at the University Athletic Association of the Philippines (UAAP) three times in a row. Oh, she was also Spin.ph's Top 10 Sports Heroes of 2015. Not bad for someone who just played volleyball with her brother as a hobby. 

Back when Alyssa was just starting to train, international volleyball player Leila Barros of Brazil was the only name that comes to mind when we hear volleyball. The country was more enamored with basketball, and only a few followed the sport and watched competitions locally. Neither Alyssa nor her parents, dad Ruel and mom Lita, saw volleyball as a stepping stone to being a star—until she became one.

ADVERTISEMENT - CONTINUE READING BELOW

Smartparenting.com.ph got a chance to exclusively interview Alyssa and her parents, Lita and Ruel, for the the MILO Moms Never Give Up campaign. Here are the highlights. 


1 They nurtured their daughter's love for the sport   
As a little girl, Alyssa enjoyed playing volleyball with her brothers during weekends, but it was just that, a hobby. She was in grade 3, however, when a coach saw her potential especially with her towering height. "Madaling sumunod, madaling maka-catch up sa mga sinasabi ng coach. Naging favorite pa nga siya ng kanyang coach kasi hindi daw matigas ang ulo," mom Lita recalled.

CONTINUE READING BELOW

Recommended Videos

At 12 years old, Alyssa got offered to play high school volleyball for the University of Santo Tomas (UST). It was a great opportunity, but it meant moving to Manila away from her family in San Juan, Batangas. Her parents didn't say yes or no. Instead, they laid out the choices before her and asked her to choose what she wanted to do. "Tinanong naman namin siya kung gaano siya ka-desidido, kasi nga batang-bata pa siyang mahihiwalay sa amin, 12 years old." Even when she was offered to play for and study at the Ateneo for college, it was Alyssa who made the decision with her parent's guidance.

ADVERTISEMENT - CONTINUE READING BELOW

What other parents are reading

2 They learned to let go (no matter how hard it was) 
When Alyssa started showing huge potential for the sport, the Ateneo Lady Eagle moved to Manila at the early age of 12 to pursue volleyball training while she went to high school at the UST. She lived on her own and, yes, it was very tough. By her own admission, she was a daddy's girl as the lone female among three siblings. In Manila, she had to worry about feeding herself, which meant learning how to budget her allowance. She was also suffered for homesickness.   

"I couldn't show [how hard it was] to my parents because I really wanted to try [volleyball]," she admits. "Every Friday, kahit anong mangyari talaga, I went to Batangas because I got homesick. Then I cried every Sunday afternoon because I was going to go back to Manila. But I couldn't show any feeling or expression because it was also hard for them to let me go and live away from the family."

ADVERTISEMENT - CONTINUE READING BELOW

3 They resisted the urge to baby her and encouraged her to never give up 
Ruel and Lita knew of Alyssa's homesickness, but they knew they weren't helping if they told her to come home each time she cried on the phone. If she was committed to her decision, then she at least needed to try her best. 

 It helped Alyssa stick to her promise that she would do good with her school and training. "I'm just the type of person who's going to stick to one. Kung may ibigay ka sa akin, kailangan magawa ko siya nang maayos, and I'm not going to do another task. You really learn how to balance, how to manage your time," she shares. "Yung trust na binigay nila sa akin is enough motivation for me."

To ease their worries, the couple was in constant communication with Alyssa's fellow trainees and friends and her high school volleyball coach. "Siya talaga 'yung parang naging tatay niya sa Manila. Mahigpit talaga kasi siya kaya nasubaybayan ang paglaki niya kaya 'yun, katulong namin siya sa pagpapalaki sa kanya," dad Ruel shares.  

ADVERTISEMENT - CONTINUE READING BELOW

What other parents are reading

4 They taught their daughter values like discipline and responsibility by example 
By Alyssa's own account, there was no this-is-what-you-can-and-cannot-do lessons growing up. "Nakikita lang naming talaga sa kanila how to show respec, to always be grateful no matter what, and to always believe in yourself." 

Mom Lita would also send gentle reminders to Alyssa via text messages . "Laging magdasal, maging humble, tumanaw ng utang na loob, at maging friendly—yun yung values naman na nakatatak na sa kanya kahit noong bata pa siya," mom Lita shares.

5 They never let her forget what truly matters
Whether Alyssa won or lost a competition, she was always grateful, a lesson she got her parents. "It is still a blessing [to be able to play]. My parents taught me to appreciate all the little things in life so that whenever you get something big, you won't forget anything. Sabi nga nila, kung wala yung mga little things hindi mo mabubuo yung bigger picture." 

ADVERTISEMENT - CONTINUE READING BELOW

Alyssa makes special metnion of her mom, whom she says she never gets to thank publicly for never giving up on her. "Walang kapantay magmahal ang magulang. You can't get that unconditional love from anyone. I will never give up making my mom proud. kahit anong sabihin ng tatay ko, siya pa din yung champion sa family namin. She's really my first ever coach."

 

Trending in Summit Network