6 Ways to Help Your Child Stand Up to a Bully

Parents, it's up to us to help our kids learn the skills to prevent them from being bullied.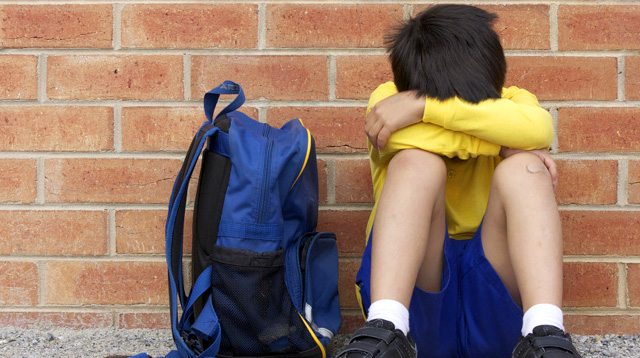 Photo from vocativ.com

What was supposed to be a fun day out with friends turned deadly after a 14-year-old boy was allegedly bullied by fellow minors and consequently drowned in a swimming pool in Project 6, Quezon City. According to a report by GMA News, initial investigations show a couple of other swimmers allegedly ganged up on the victim, identified as Carlos Lake Viray.

The news reporter added that the boy was bullied, a word defined as willfully harming others through verbal harassment (teasing and name-calling), social exclusion  (intentionally rejecting a child from a group), or physical assault (hitting, kicking, and biting).  In this case, the alleged bullying turned deadly.  

How can we, parents, prevent this from happening? We need to first educate ourselves on what constitutes bullying. In an article for Parents magazine, Stacey Colino writes that there's a fine line between thoughtless or selfish actions and true bullying especially among young children. Most experts agree that a child crosses the threshold if his actions are intentional and if they occur habitually.

Colino interviewed W. Michael Nelson, Ph. D., coauthor of Keeping your Cool: The Anger Management Workbook, which is designed to help counselors who work with aggressive kids. He told her, "Bullies lack empathy and have a need to dominate others." Preschoolers are mastering basic social skills; their overly assertive actions may simply be a way of testing the boundaries of what's acceptable.

By the time they're in kindergarten, children begin to grasp the concept of social power among their peers, according to Elizabeth K. Englander, Ph. D., director of The Massachusetts Aggression Reduction Center at Bridgewater State University. That's when aggressive kids start to actively target others whom they see as vulnerable.

Ultimately, it's up to you to help your young child deal with a bully. Be on the lookout for signs that something is bothering him, and gently encourage him to tell you about problems he has had with other kids. Then, be ready to take the appropriate action. Colino's Parents article recommends the following tips:

1. Talk to the child's teacher
If the harassment is happening at preschool or kindergarten, make administrators aware of the problem right away. Many school have a specific protocol for intervening. When you report an incident, be specific about what happened and who was involved.

2. Contact the offender's parents.
This is the right approach only for persistent acts of intimidation and when you feel these parents will be receptive to working with you. Call or e-mail them in a non-confrontational way, making it clear that your goal is to resolve the matter together. You might say something like "I'm phoning because my daughter has come home upset everyday this week. She tells me that Suzy has called her names and excluded her from games at the playground. I don't know whether Suzy has mentioned any of this, but I'd like us to help them get along better. Do you have any suggestions?"

3. Coach him to get help.
No matter how your child is being targeted, fighting back usually isn't the best solution. Rather, teach him to walk away and seek help from an adult. If it happens on the school bus, suggest that he sit next to friends if he can, since a bully is less likely to pick on a kid in a group. However, you may need to get involved.

When Karin Tupaz's daughter Grace started kindergarten, she had problems with a third-grader on her bus. "He grabbed Grace's arms with both hands and twisted it in opposite directions, making the skin red and sore, and tried to make her kiss another boy," says Karin. When she learned that the boy had also bothered other kids, she complained to the school and asked the bus driver to keep an eye on him. He stopped misbehaving within two weeks.

4. Promote positive body language.
By age three, your child is ready to learn tricks that will make her a less inviting target. "Tell your child to practice looking at her friends' eyes and to do the same thing when she's talking to a child who's bothering her," says Michele Borba, Ed. D., author of The Big Book of Parenting Solutions. This will force her to hold her head up so she'll appear more confident. Also practice making sad, brave, and happy faces, and tell her to switch to "brave" if she's being bothered. How you look when you encounter a bully is more important than what you say," says Dr. Borba.

5. Practice a script.
Rehearse how to respond to a tough kid so your child will feel better prepared. Teach him to speak in a strong, firm voice--whining or crying will only encourage a bully. Coach him to say, "Stop bothering me!" or even "Yeah, whatever," and to walk away. "A comeback shouldn't be a put-down, because that aggravates a bully," says Dr. Borba.

Erin Tabuena prepped her three-year-old son Liam on how to cope with two aggressive boys at playschool. "We talked about how if one of them grabs his toy, he should say, 'No, stop!' I'm playing with that," she says. "They stopped right away, and he learned how to stand up for himself.

6. Praise progress.
When your child tells you how she defused a harasser, let her know you're proud. If you see a child standing up to a bully in the park, point it out so your child can learn by example. Above all, emphasize what you were told when you were a kid: If your child shows that he can't be bothered, a bully will usually move on.

ADVERTISEMENT - CONTINUE READING BELOW

CONTINUE READING BELOW

Recommended Videos

This is an excerpt from an article that first appeared in the June 2015 issue of Smart Parenting magazine and syndicated from Parents magazine. Edits have been made by the SmartParenting.com.ph editors.

Trending in Summit Network