I Caught My Child Googling Sex Phrases Because Of Online Games! What Should I Do?

When you've been doing all you can to protect kids from predators, it can truly be a disappointing and scary time. Here's some wisdom and comfort.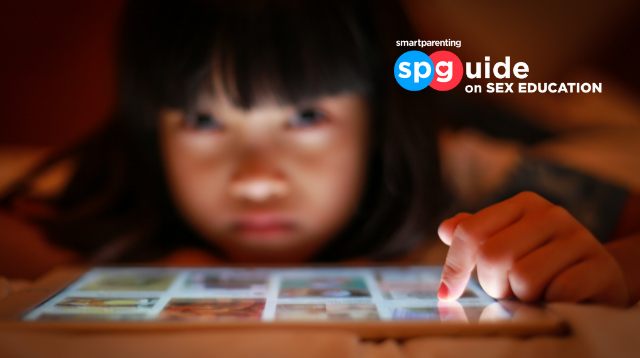 Smart Parenting Guide on Sex Education seeks to empower parents in raising informed tweens and teens who understand their body and their rights with the goal of protecting them from all kinds of sexual abuse. Smart Parenting resident sex education expert, Dr. Rica Cruz is a US-board certified sexologist, a sex and relationships therapist. Together with tween daughter Caia Miella, Dr. Rica, navigates the realities of sex in the eyes of today's teens and tweens and aims to foster honest and healthy conversations between parent and child. 

PHOTO via 

INSTAGRAM /_RICACRUZ

A parent from the Smart Parenting Village posted about catching her daughter searching phrases like "lick my p*ssy" and other inappropriate phrases that her nine-year-old daughter learned from popular gaming sites like Roblox and Gacha Life.

The distressed mom talked to her child about it, had the games uninstalled, but later on discovered her daughter was searching about sex through another device at home.

ADVERTISEMENT - CONTINUE READING BELOW

The post read:

PHOTO BY

FACEBOOK /SMARTPARENTINGVILLAGE

As a mother-daughter team going through life, sharing these experiences with you, and advocating for positive sexuality and age-approriate sex education, my daughter Caia and I thought that it might be helpful to write our own thoughts for the mom who was clearly in distress. Hope they help! 

When curious, Google helps us understand 

Caia's advice: 

First of all, if you try to uninstall apps that your child likes, in my perspective, I would feel resentful, sad, or frustrated. What I'd recommend is to tell her about stranger danger!  

Sites or apps that's targeted to the younger generation, there may be predators who would tell these things to younger people. Kids may then be curious and start to Google it, which would lead them into a rabbit hole. 

I remember I had done this when I was younger because I was curious about why they said that and what it meant. And, yikes! I feel that getting exposed to these things would make you more curious to watch it and make you exposed to pornography, etc.  

CONTINUE READING BELOW

Recommended Videos

But, it's a good thing that I was able to ask Mama about it. And because she answered all my questions, I didn't get curious anymore and I stopped searching. Whenever those thoughts came in my head, I would manage them by busying myself with other things, or I ask Mama, or my Dad about it.  

Stranger danger

—

don't trust anyone online 

A tip I can give you, as a person who plays Roblox, is to tell your child not to trust strangers on the Internet or accept their friend requests. My only friends on Roblox are my friends in real life (irl).  

Next, on the Gacha Life topic, in my experience, there is this thing called Gacha Heat. It is people using Gacha Life to make pornography and upload it on the Internet. What you can do is to tell your child to avoid it. You can also ban it from her gadgets, I believe. 

In conclusion, tell your child the concept of stranger danger. Roblox and Gacha Life are fairly innocent, it's only some of the people that are on it who may prey on children, or make games to prey on them.  

Also, sometimes if you go for the approach of asking your child what are they doing when they play games, or you look at them and ask to get their gadget to see what's happening, for me, it sometimes feels like privacy breaching.  

You should trust your kid enough to not look at their gadgets. In my approach, I'd feel just fine if my parents ask if I met a stranger online, but not all the time (meaning: always asking if I met a stranger online when I'm playing a game). 

ADVERTISEMENT - CONTINUE READING BELOW

I hope that you and your child are fine. :>  

Sincerely just me, 
Caia 

Mom's take—walang mali sa anak mo  

Dr. Rica's advice: 

Oh my. I can feel your worry and pain all the way from here. It is really disappointing to have these things happen to your child, especially when you've been doing all you can to shield and protect them from predators and being "polluted" by sex, and in this case, pornography, because of a gaming platform.  

Let's start with this: walang mali sa anak mo. Wala ring mali na babae siya at na-expose siya sa ganitong bagay. Hindi niya ito ikinasama o ikinadumi. She's still your daughter. And in my perspective, she did not do anything to break your trust. She was merely curious.  

Approach from a place of care, not punishment 

It is important to keep in mind that curiosity about sex is normal, even with kids. However, yun na nga, what they might see on the Internet through pornography can be alarming as these may not be depictions of what a "normal and loving" sex life should be.  

It is also scary that she learns these from strangers who might be predators, and not from you. Thus, it becomes a serious cause for concern. 

But, as parents, we need to approach this from a place of care and not from a place of anger, mistrust, and punishment. Again, your child did nothing wrong by searching these terms.  

She did not know that these would lead her to inappropriate sites. She was curious and thus, she looked for ways to satisfy her curiosity.  

ADVERTISEMENT - CONTINUE READING BELOW

It's uncomfortable, but it's a parent's job 

Now, to help her with this curiosity, it is best that the information comes from you. I know that it is not going to be comfortable, but it is your job as a parent to make it seem like it is, and to normalize these conversations so she need not be searching the Internet for answers.  

Talk to her about it. Ask her about what she saw and what she wants to know about what she watched. Because how you react to these matters will shape the way your child sees them. Here's a sample spiel:

"Hey, I know that you're scared but I want you to know that I'm not angry. But I do want to talk to you about it. There's no punishment, I promise. When you're ready within the day let me know..."

Then ask questions:

- How did you find out about it?

- How did you feel when you saw it?

- What are you curious about?

Then segue to explaining stranger danger and what happens and online and explaining that porn is not for you or your ageg roup to see because you might have misconceptions about it.

I recommend talking to your kids as early as 5-11 years old in this manner.

When should I let my child play online games?

I think the question should be "when should parents allow their kids independence with these games and other media and how can they guide them?"

ADVERTISEMENT - CONTINUE READING BELOW

Developmentally, 5 year olds are already starting to practice their independence. This can manifest through them playing games online and offline by themselves (with friends) and get more exposed to the world.

Thus, it is important that parents know how to guide them through using parental controls, limiting screen time, knowing their playmates and having open discussions about these games and what they do online and offline.

As for Roblox and Gacha, I believe that ratings say that they are suitable for children 10 years and above. However, as stated above, younger kids already spend hours on it due to exposure. Hence, it's up to you to make sure that you are properly informed to protect your child.

Enter your child's world

I allowed Caia to be more independent and have her own phone at the age of six. Partly because I was a single mom during that time and I needed to get in touch with her when other parents would babysit her for me.

At that time, she discovered Roblox and would watch Minecraft videos with her friends. When I found out about it, I asked her to teach me and that became our constant topic of conversation.

I also learned about all these parental controls and gave her rules on playing. She's been very open to me about these games since.

Set guidelines 

You may also want to talk to her about strangers that may be lurking in these gaming sites. Warn her about the dangers of talking to these strangers. Give her boundaries when playing these games. Turn on the safety settings and parental controls in the games.  

ADVERTISEMENT - CONTINUE READING BELOW

But, never ever take away her gadgets or intrude into her privacy. (On that note, let her sleep where she wants to sleep.)  

You need to approach it in a way that she won't be scared of you and she will trust that you will not punish her because of what happened, so that in the future, she knows that she can be open and honest with you when she's curious about something and that you can trust her as much as she can trust you.  

With #loveandlust, 
Doc Rica 

Caia Miella is an 11-year-old student who's undergoing puberty. She has a three-year-old sister Keita. She has grown up under positive influences that have made her confident to talk about sex. She is also a beginner violinist, likes food, and can be found playing the game Cookie Run during her free time.   

Dr. Rica Cruz is Caia's mother. She's known among Caia's friends as Tita Rica, the one you can talk to about sex. She's a US-board certified sexologist, a sex and relationships therapist.  

Celebrate your pregnancy milestones!


Enter your details below and receive weekly email guides on your baby's weight and height in cute illustration of Filipino fruits. PLUS get helpful tips from experts, freebies and more!

You're almost there! Check your inbox.


We sent a verification email. Can't find it? Check your spam, junk, and promotions folder.
Trending in Summit Network