Experts Share How To Help Your Teen Cope With Distance Learning Fatigue

Plus what to do if she has a panic attack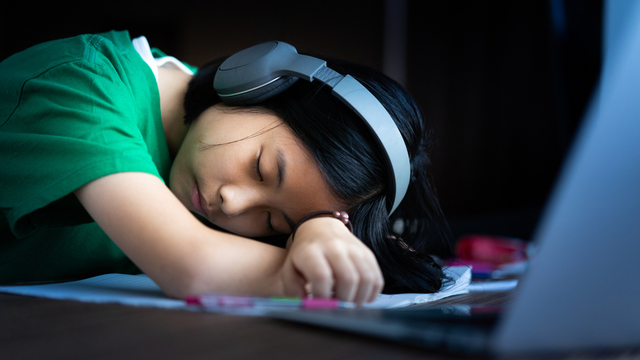 Over the past year, the transition to distance learning has taken a big toll on high school and college students' mental health. Many have complained online that they are suffering from burnout, to the point that they are no longer motivated to study. Some are even having panic attacks or feeling suicidal.

For Anna*, a freshman at Ateneo de Manila University, the distance learning challenges are inefficient communication between students and professors and a lack of structure for asynchronous work. In addition, some professors are unreasonable with the amount of coursework they assign, and unlucky students could end up with heavy workloads for all their subjects.

"Two weeks ago, I had six essays due plus two other requirements, then I had a day with a quiz, a long exam, an oral exam, and a synchronous lab class in 30-minute intervals," Anna shares. "That was the day I had a bad panic attack."

How to help your teen with distance learning burnout 

While we can't control our children's circumstances, we can still help them deal with their situation in healthy ways. We consulted psychologist Raffy Inocencio and mental health advocate Dr. Gia Sison for tips on helping teens deal with distance learning burnout.

As a parent, make sure you're okay before trying to help your child

We're all familiar with the instruction to put on your own oxygen mask before helping others. This applies to mental health as well.

"Parents have to be first and foremost okay with themselves. You can't pour from an empty cup or give something that you don't have. I think parents have to take care of that aspect of themselves," Inocencio explains. "And come into the process knowing there will be a lot of assistance that's needed, there'll be a lot of patience that will be required of them."

ADVERTISEMENT - CONTINUE READING BELOW

Create a safe space for communication

Inocencio and Dr. Sison both stress that the first and most important thing is really listening to your child. This means hearing what they have to say without immediately reacting or going into problem-solving mode. Sometimes it's enough for kids to vent and feel that their parents understand what they're going through.

It's also essential to avoid invalidating them with statements like "In my time…" or "Wala iyan." Teens need to feel that they can open up to their parents without being judged. Comparing your high school or college experiences with your child's is counterproductive because their current situation is entirely different.

Inocencio says, "Essentially, you're saying, 'Your problems don't matter because I had bigger problems, and look where I am.' Not only does it leave the young person feeling bad about themselves more, but it also stops the conversation.

"[They'll think], 'What's the point of me sharing kung maliit lang or insignificant pala yung problema ko? So it's really about listening, taking a curious stance, validating, and not problem solving."

Some parents may mistake validating for coddling, but Inocencio explains coddling is allowing problematic behavior to happen. Validating is simply attempting to understand your child and make them feel heard. That's the time you can try to help them solve their problems.

Inocencio points out, "You have to remember that even on a physical level, your brain as an adult is so much more optimized and developed than a kid's brain. So there are things that they can't see for themselves.

CONTINUE READING BELOW

Recommended Videos

"So it's not about lowering your expectations, it's more about thinking of what your child is capable of and taking it from there, instead of asking your child to problem solve the same way you would."

Dr. Sison suggests sharing your own worries with your teens as well. "It's really more of talking about how you feel so that maiisip nila na 'Ah, Mommy's opening up. So I can pala." 

She further explains, "Parents should reach that point where they create that space for open communication coming from a nonjudgmental place. And be open-minded about things."

Get organized by writing things down on a whiteboard you can both see

Inocencio explains the whiteboard will make it easier for everyone to keep track of their tasks since they're preoccupied with pandemic-related anxieties.

"Think of your mind as real estate. In normal times, you have a lot of empty space that's ready for developing, and you can build on it. You can exercise your creativity, think differently, dream, plan.

"But right now, parts of that land are occupied by your worries. [For example] the big problem a lot of kids have is that they don't get to spend time with their friends. Those are very valid concerns because this is their world.

"[In] normal times you can keep track of several deadlines, but now those parcels of land within the property are overrun by other very pressing and real concerns. There's no room for that."

Inocencio suggests having your teen write down all their deadlines for the next two weeks on the whiteboard. In his experience, many of his clients' anxiety comes from arguments with parents about whether they really submitted assignments or parents finding out about projects two days before they're due.

ADVERTISEMENT - CONTINUE READING BELOW

Being able to see everything on a whiteboard helps families avoid unnecessary conflict. Make sure your teen's schedule includes leisure time, so they do not forget to take breaks.

Establish a routine

A lot of Inocencio's teenage clients have realized they feel good about themselves when they're productive. In that case, it's best to space their productivity throughout the day. Often, when teens try to get all their work done without any breaks, they wind up too exhausted to even appreciate the fact that they were productive.

"It's very tempting to say, 'Okay, if you have online school from 8 to 12, let's get all your homework done after lunch.' But then if you're coming from online school, yes, you had a lunch break, but then you're diving back in kaagad.

"So it's about putting intervals and shorter work times and then interspersing that with leisure. [Establishing] a routine that meets your family's needs helps," Inocencio says.

For college students, the "Tomato Timer" method may be helpful. This involves 25-minute study sessions with 5-minute breaks between and a 15-minute break after the fourth study session.

However, Inocencio says the Tomato Timer might not be suitable for middle and high school students. Instead, he suggests lengthening younger teens' study time to 45 minutes with 20 to 30-minute breaks in between. Several tomato timer apps allow you to customize the length of study and break time intervals.

Dr. Sison also suggests setting aside a dedicated space for study and not doing any schoolwork outside of that space. This helps re-establish the boundaries between school and home that were lost due to the pandemic. She also stresses the importance of checking on your kids and including exercise and rest in their routine.

ADVERTISEMENT - CONTINUE READING BELOW

What to do if your teen has a panic attack because of exhaustion

"Panic attacks need to be grounded. It's like you're grounding appliances — putting a live wire into the ground so that the energy dissipates safely. It's a lot of helping them calm down, helping them catch their breath," Inocencio explains.

He recommends techniques such as slowing down your breathing, five senses exercises, and finger tapping to distract your teen from whatever is making them panic. Once they calm down, that's the time you can ask them what happened and talk about how to deal with similar situations in the future.

When your teen with signs of fatigue needs professional help

When seeking help from a psychologist or psychiatrist, Inocencio says parents should take the lead from their kids. In his experience, most of the time, seeing a professional is actually the teen's idea.

Another sign to seek help is when you are having a hard time dealing with your child. "That's not failure as a parent, that's actually being a person. We all have our limits, and recognizing that is so much more valuable than covering it up," Inocencio explains.

"A lot of times [parents think], 'If we bring them to therapy, I'll look bad because I can't take care of my kids or I'll get blamed in therapy.' But then you don't have to be blamed at all. I think parents need to understand [that] we're not here to judge you. We're here to help your kid, we're all here for that."

ADVERTISEMENT - CONTINUE READING BELOW

Dr. Sison also recommends watching out for abrupt behavioral changes. "It can also be as discreet as changes in appetite or even sleep patterns, if they sleep too much," she says.

"It all boils down to quality of life. If you see that he's deteriorating or he can't function, those are cues that your child may need help. And we have to be sensitive to those behavioral cues because sometimes they don't talk but you see [those cues] more. It's really more of observing how they are or how they're behaving."

Distance learning problems have undoubtedly been challenging for everyone involved, and it's difficult to tell when we can return to face-to-face classes. But Inocencio says to remember that this situation won't last forever.

"At this point, it's not only about survival, it's not even about flourishing right now. Let's make the most out of this reassuring ourselves that no matter how ugly, desperately weird and hopeless this is, it still is a temporary situation," Inocencio explains.

"We're seeing other places who have their act together start to get out of what was for the past year. So [there is] hope that [this] is a temporary situation. And of course when you're having a hard time, when you don't quite know what to do, you can always ask for help."

Raffy Inocencio is the managing director of Better Steps Psychology. If you'd like to book an appointment, email Better Steps Psychology at wellness@BetterSteps.org or call +632 7216-1586, or +63 917 894-3988.

ADVERTISEMENT - CONTINUE READING BELOW

Dr. Gia Sison is a mental health advocate and head of MakatiMed Wellness Center. Follow her on Twitter.

*Name changed upon interviewee's request

What other parents are reading

Celebrate your pregnancy milestones!


Enter your details below and receive weekly email guides on your baby's weight and height in cute illustration of Filipino fruits. PLUS get helpful tips from experts, freebies and more!

You're almost there! Check your inbox.


We sent a verification email. Can't find it? Check your spam, junk, and promotions folder.

Trending in Summit Network