When Is the Right Time to Let Kuya or Ate Babysit Bunso? What You Need to Know

Plus, what you need to remember when preparing your child for his first babysitting job.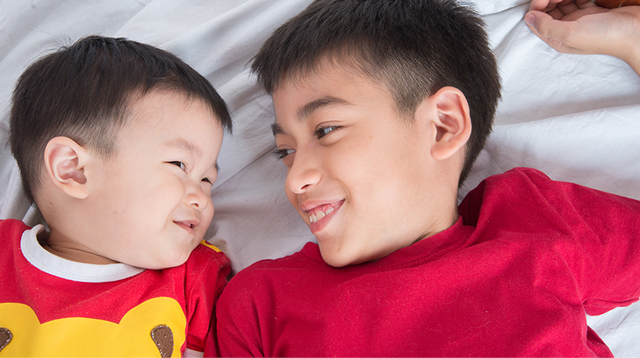 Moms know having two or more two will be helpful when you need an extra hand, especially when it comes to looking after the bunso. Maybe you need to cook or start the laundry — the point is your eyes will be away from your baby for a few minutes. Scary, but if you don't have a yaya or house helper, your eldest child might be the only support system you have at that moment. But is he ready for that serious responsibility?

When is the right time to let Kuya babysit Bunso?

According to clinical psychologist Jennifer Powell-Lunder, Psy.D., 12 years old is about the right age to ask your eldest child to babysit his siblings. However, she also emphasizes there are several factors that can impact a preteen's readiness for babysitting. Firstborn kids with siblings usually become more responsible at a younger age., and girls typically mature earlier than boys the same age.

"We never see as much developmental variation [again] as we do during the tween years, so it's not consistent," Dr. Powell-Lunder tells Real Simple. "You can have an 11-year-old who is babysitting while another 11-year-old still needs a babysitter. It's so specific to the individual child and their own experience and their natural level of maturity."

What other parents are reading

How to prepare your child for babysitting his sibling

Looking for a reliable babysitter to look after your children can be a long process because there are plenty of different qualities and characteristics you need to look for. The same goes when you are considering letting your eldest child care for his siblings temporarily. Here are six reminders to keep in mind.

ADVERTISEMENT - CONTINUE READING BELOW

See if your child is mature enough

Though, according to WebMD, many experts say it is okay for preteens ages 10 to 11 years to be left alone to care for their younger siblings for a short period of time, it is vital to gauge your child's maturity. Look out for these signs of responsibility:

Can he finish his homework and his chores without having to be asked?
Does he show initiative in helping mom and dad look after his younger sibling?
Have there been past situations where he exhibited good judgment and decision-making skills?

If your answers to these questions are 'Yes,' then your preteen might be ready to babysit by himself.

Find out how Bunso feels about Kuya babysitting him

It is also essential to find out how your younger child feels about being babysat by his older sibling. "The biggest problem I see is when the younger sibling[s] refuses to listen to the older one, so you need to make sure [all] kids are firm on allowing the authority of the older child," Dr. Powell-Lunder tells Real Simple.

Lay down the ground rules

As you would with any babysitter, make sure to set a specific set of rules that your child needs to follow during the time he has to serve as his sibling's babysitter.

How much time can they spend watching TV or playing video games?
What shows and games are they allowed to watch and play?
Is he allowed to have his friends come over? If so, how many can he ask to come?
What snacks can they eat?
What is he supposed to do if the phone rings or if a guest comes over?
How often should he update you via calls or text messages?

ADVERTISEMENT - CONTINUE READING BELOW

Recommended Videos

Don't forget to write down these rules and to place the piece of paper somewhere your child can see easily. "It's always helpful for families to keep a written copy of house rules in a centrally located place that a child can re-review with the younger sibling[s] when they're in charge," says Dr. Powell-Lunder.

"It's a good idea to review those house rules with all of the kids before going out, and that way you can clarify any questions about bedtimes, electronics, etc. so everyone is on the same page and the younger ones understand the expectations."

Make the necessary preparations

Make sure to furnish your home with everything your child will need to care for his sibling. Aside from the list of rules, don't forget to also provide a list of contact details, including yours and phone numbers of your trusted neighbors, your relatives who live nearby, your local clinic or hospital and barangay hall, and even your pediatrician. A fully-equipped first-aid kit is vital — just make sure to orient your child on how to use it.

With regards to food, WebMD advises stocking your kitchen with healthy meals and snacks, particularly those that don't require cooking. If there is cooking required, don't forget to teach your child how to use your microwave, stove, and other kitchen equipment. Finally, items that can be hazardous in a child's hands, such as lighters, should be kept out of their sight.

Ask a neighbor (or relative) for backup

ADVERTISEMENT - CONTINUE READING BELOW

Since you won't be around to assist your child, a trusted neighbor or friend who lives in the same area as you can be the next best thing. It is a good idea to have another adult your child can contact if he needs help or if an emergency occurs. If you have relatives who reside nearby, you can also ask for their assistance.

Do a trial run

Finally, give your child the chance to practice! Try leaving him alone with his younger sibling for less than an hour while you run an errand. When you return home, take the time to talk with your preteen about what happened while you were away and what problems came up. If you find that your child does well, that's when you can slowly ease your preteen into babysitting his sibling alone for longer periods of time.

What other parents are reading

Celebrate your pregnancy milestones!


Enter your details below and receive weekly email guides on your baby's weight and height in cute illustration of Filipino fruits. PLUS get helpful tips from experts, freebies and more!

You're almost there! Check your inbox.


We sent a verification email. Can't find it? Check your spam, junk, and promotions folder.

Trending in Summit Network