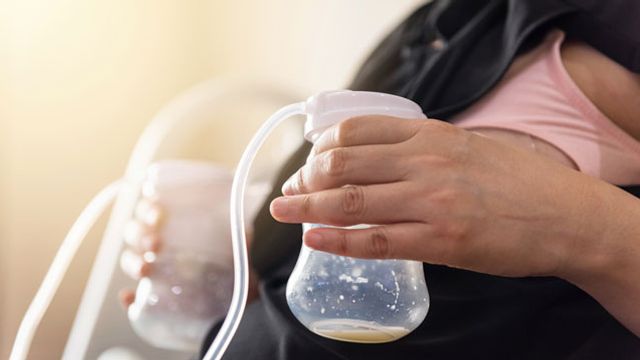 Going back to work from maternity leave or merely leaving home for work is difficult for working moms. For breastfeeding moms, there's the separation anxiety from your baby, and you also have to figure out how to continue your breastfeeding journey while you're at work. Pumping at work can be tricky, time-consuming and sometimes it is a stressful experience. Here are five hacks to help you working moms minimize effort or time placed in pumping and help you continue on your breastfeeding journey.
1. Go for double and make it hands-free
Use a nursing bra or try to DIY your hands-free bra by cutting holes in an old bra, then whip up a nursing cover over it so you can pump anywhere, anytime. By using this, you can still multitask and get to work during your pump session.
Cut pump time by using a double electric pump. Many moms recommend the Spectra 9+ or Medela Freestyle (above).
2. Have your pump ritual
Work can be tiring, which negatively affect your letdown. Try to destress before and during pumping. Most moms love to look at their baby's photos. You can also listen to your favorite Spotify playlist or watch an episode of your favorite series. Destressing while pumping can help you to have better milk production.
3. Test different pump schedules to find your "magic number"
The magic number is the number of times each day you need to drain your milk because different moms have different storage capacity for milk. So before you set a definite pump schedule, try to pump milk every 2, 3 or even 4 hours to see what time will give you the most number of milk. Some moms who pump three times a day may have the same output if they pump twice a day only. Figuring out your magic number may help you save time and effort.
4. Use wipes to clean parts and place it in the fridge in between sessions
This trick came from a fellow pumping mom in our office. She saves time by not washing pump parts every after a session. Instead, she wipes it with food graded wipes (try Pigeon Hand and Mouth Wet Tissues) and seals it in a pump container. Place it in the fridge or cooler once you're done. As long as you don't have a preemie or a medically vulnerable baby, this should be fine.
 5. Get your cooler on your office cube
Instead of going back and forth to the office pantry to store your milk, have your cooler in your work cube. Use a freezable lunch bag and add some ice sheets to serve as temporary storage for your liquid gold. This trick can help your milk last for 12 hours!
Lastly, pat yourself on the back. We know that breastfeeding is a significant commitment that can be time-consuming and it can disrupt your daily work routine. Hopefully, these hacks can help you working moms save time and a little bit of effort.