Can Breast Milk Treat Diaper Rash or Eczema? Here's What Really Works

Experts, fellow moms, and studies offer feedback on claims that breast milk is a cure-all solution.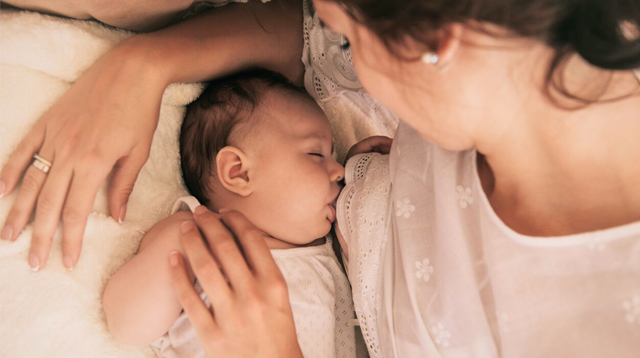 There is a reason why moms call breast milk liquid gold. It's so precious and beneficial to your baby (and you!) that every drop counts, literally. But can breast milk heal diaper rash? You may have also heard from your mom, mother-in-law or fellow mom that breast milk can supposedly work as, well, a topical treatment for baby's eczema, a nipple crack, and more.

Breast milk has been proven to contain antibodies that the mom passes on to her child for protection, but is it a cure-all solution? We wouldn't go that far, but there has been positive feedback from real moms from the Smart Parenting (SP) Village Facebook group. We break down below where, according to the moms, breast milk worked and what doctors say to leave alone. Bottom line: we always advise caution and to seek your child's pediatrician counsel.  

Can breast milk heal diaper rash?

There is a 2013 study published in the journal Pediatric Dermatology that showed the p0tential of breast milk as hydrocortisone to treat the common nappy rash. If the rash, however, is due to a yeast infection, the use of breast milk is not advised.

Many SP Village moms have actually tried breast milk for their baby's diaper rash — and it worked for most of them. They apply it on their baby's bottom — don't rub, just pat, they advise. They make sure it completely dries before they put on their little one's nappy.

Newborn acne

Infant acne, which presents as tiny whiteheads or pimples on a newborn's skin, usually appears on the baby's cheeks, forehead, or chin around three weeks after birth and disappears on its own within three months. What causes it is unclear, but it is believed to be due to hormones the babies received from their moms during childbirth. 

ADVERTISEMENT - CONTINUE READING BELOW

Doctors usually advise you to leave the acne alone as it will resolve itself in a few days or weeks. Don't scratch, rub, or pop those acne-like bumps, and just continue to bath and wash your baby's skin with hypoallergenic soap.

More than one mom in SP Village, however, swear though that breast milk worked faster than just washing with soap. 

Cradle cap

Infantile seborrheic dermatitis, or cradle cap, looks like a severe case of dandruff — flaky, greasy or crusty skin that may be white, yellow or brown. Like infant acne, its cause is unknown and believed to have been caused by mom's hormones. Experts assured parents, though, that it's not a bacterial infection and not due to allergies or poor hygiene. 

Cradle cap is harmless and does not cause any discomfort to your baby, and it usually goes away on its own, usually before your baby's first birthday. It may look itchy (it's really not), but don't peel it off.

Based on the feedback from moms, breast milk had no effect on cradle cap.

What other parents are reading

Infant eczema

Almost half on babies today have had a bout with eczema or atopic dermatitis, which is typically characterized as severe redness, itchiness, and dryness of the skin. There are many reasons why a child exhibits these symptoms, and the best way to address it is to find what's triggering it in the first place. 

A 2015 study published in the International Journal of Dermatology did link the effectiveness of breast milk with "hydrocortisone 1% ointment" for mild to moderate atopic dermatitis or eczema. (Dip cotton ball on breast milk and apply it to the affected area).

Kidspot recommends testing plain breast milk on your baby's skin, particularly on the face, for a reaction. "If your baby's eczema is caused by a dairy sensitivity, breast milk that contains dairy may cause a reaction."

One mom said breast milk did help reduce her daughter's inflammation quickly. If you want to try this, make sure your baby's rash is not a bacterial infection. Again, it is best to consult your doctor.

CONTINUE READING BELOW

Recommended Videos

Insect bites, minor scrapes, and mild burns

Based on the moms' feedback, skin conditions such as these typically benefit from breast milk application, although there are no formal studies to back it up 

Breast milk, as one mom puts it, erased marks of an insect bite on her baby. One mom poured her breast milk on an ice cube tray to help soothe mild burns. Another mom would mix her breast milk with coconut oil, grapeseed oil or castor oil, and vitamin E oil to make breast milk balm to help relieve and treat insect bites, nappy rashes, and minor wounds. 

What other parents are reading

Sore, cracked nipples

Breast milk is a good alternative for nipple creams and ointments to combat sore nipples. "When your nipples are sore, apply some of your own milk on your nipples. Your milk has healing properties to relieve soreness," advises La Leche League International (LLLI). 

However, it is a temporary solution. Sore nipples are often a result of a bad latch or positioning. Correct your baby's latch and position before your sore nipples worsen and crack. Breast milk on cracked nipples may work, too, but again, it's a band-aid solution. 

When you apply breast milk to your nipple, remember to let it air-dry before putting on your bra. Again, if the soreness or the wounds are caused by yeast or any other bacteria, breast milk could only aggravate your condition. 

What other parents are reading

Sore eyes and ear infections

The Department of Health (DOH) has warned people that breast milk is not a cure for sore eyes. Sore eyes, or conjunctivitis, is an inflammation of the outer layer of the eye and the inner eyelid. It usually resolves on its own, but if it persists for more than five days, then it may be a bacterial infection and requires antibiotics. 

ADVERTISEMENT - CONTINUE READING BELOW

"I have tons of [patients] who had viral conjunctivitis that acquired secondary bacterial infection because mommies [applied] breast milk," warns Frances Marei, an ophthalmology resident at Amang Rodriguez Memorial Medical Center and breastfeeding advocate.

"Viral conjunctivitis will resolve on its own, we just have to prevent secondary bacterial infection and [applying] breast milk will not help in preventing that," she explained. 

Some moms also offered a word of caution against using breast milk, either frozen or fresh from the breast, to treat sore eyes and ear infections. One stressed that her baby's doctor advised explicitly against it. Most bacterial infections need antibiotics. While breast milk has antibodies to help babies fight infections, it could also be a way for bacteria to thrive, and thus worsen your condition. 

What other parents are reading

Nasal congestion

American Academy of Pediatrics (AAP) spokesperson Tanya Altmann, M.D., recommends a drop or two of breast milk in the nose to help loosen congestion. Unlike salty saline, babies also recognize the taste of breast milk, so they aren't as weirded out by it when they swallow some of it in the process. "Let baby sniff it up, then give him tummy time; when he lifts his head, it'll drain out," Dr. Altman suggested. 

You may want to try this when the baby is eating well, and he shows no sign of fever or a cough. Call your doctor if congestion persists and if you notice your baby is breathing using stomach muscles, flared nostrils, quick breaths, high-pitched wheezing, and pale or blue skin.

Can breast milk heal diaper rash? Perhaps, yes. But while breast milk is best for your baby, don't rely on it like you would an ointment. You don't want an infection to worsen because you didn't know better. And we can't say it enough: when in doubt, ask your child's pediatrician. 

ADVERTISEMENT - CONTINUE READING BELOW

What other parents are reading

Celebrate your pregnancy milestones!


Enter your details below and receive weekly email guides on your baby's weight and height in cute illustration of Filipino fruits. PLUS get helpful tips from experts, freebies and more!

You're almost there! Check your inbox.


We sent a verification email. Can't find it? Check your spam, junk, and promotions folder.

Trending in Summit Network